STORY HIGHLIGHTS
"Lord of the Rings" animation manager turns to the app store with "The Happy Apps"

The $1.99 app, for Apple products, combines light, sound and color therapies

Creator says her time on two "Lord of the Rings" movies helped inspire the app
(CNN) -- It's an epic journey from Middle Earth to the app store. But Monica Singh Haley has done it.
Haley, who was manager of the animation department for 2003's "The Lord of the Rings: Return of the King" and animation coordinator for the previous year's "The Two Towers," has rolled out a mobile app.
And, in its own way, it, too, is about fighting the powers of darkness.
"The Happy Apps," for the iPad and iPhone, is a set of mood-enhancement tools that include light therapy, color therapy and a "Help Yourself Happiness Guide" to help you decide which are right for you.
The $1.99 app, which Haley says is probably most effective on the iPad, also includes a sleep therapy app which combines several of the tools for what she calls a more restful way to get to sleep and wake up.
The project is the first for Haley, who before "Lord of the Rings" worked with the video-game division at DreamWorks. More recently she's been taking some time to be a stay-at-home mom to her two children.
"I'd never really thought about apps, per se, but I thought about how I could use my background in visual effects and games to do something that was important and valuable in some way," she said.
"This was our first step. It's a tiny, little, fun app, but it's very me."
The app's therapy techniques are inspired by personal interests, including yoga and her Indian roots, Haley said.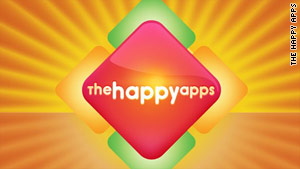 "The Happy Apps" is available for the iPhone and iPad for $1.99 starting Friday.
She says her time on the "Lord of the Rings" projects also played a role in inspiring the pick-me-up app. (And it wasn't just from helping animate those cheery hobbits).
"We worked seven days a week for a year at a time," said Haley, who said she was considered the office "mom" for a 60-member animation crew. "People get weak and they need a little encouragement and praise and to be taken care of."
That team's work creating Academy Award-winning effects for the fantasy films provided some more practical guidance, she says.
"They were looking at those shots over and over again and they'd pick out these little things -- these little details," she said. "After a while, you'd start noticing all these little glitches. "I think I developed a better eye and better attention to detail that I was able to use for this."
Also inspirational? Watching director Peter Jackson turn the classic fantasy trilogy by J.R.R. Tolkien into a set of films. For decades, studios had shied away from such a massive undertaking, with some saying no movie (or movies) would ever be able to capture the epic scope of the good-versus-evil tale.
"It was a great experience," she said. "Coming from games, where there are tight budgets and you're accountable to a million people ... this was Peter Jackson's movie, his company, and he wanted it done right.
"I really took that to heart," she added. "There are always reasons you can't do something. It's always harder to do the very best thing. I decided right there that that's what I believe in."
"The Happy Apps" was released Friday in Apple's app store. Haley said that if the app is successful there, versions for Android and other operating systems may be added.
FOLLOW THIS TOPIC