STORY HIGHLIGHTS
"GagaVille" is not enough -- we've got five more video-game ideas for Lady Gaga

Many would enjoy flinging Gaga through the air at narrow-minded pigs in "Angry Birds"

She could replace the calculating GlaDOS in "Portal" or don Samus' armor in "Metroid"

"GagaVille," an offshoot of "FarmVille," will debut on May 17
(CNN) -- The news that Lady Gaga has inspired an online game, "GagaVille," has got us thinking: Let's face it -- Gaga already sort of is a video game character.
The flashy costumes. The fantasy story lines. The monsters. The ... uh ... sparkling unicorns. ("Robot Unicorn Attack," anyone?)
I mean, check out this dialogue from the extended"Born This Way" video:
"This is the manifesto of Mother Monster. On G.O.A.T, a Government Owned Alien Territory in space, a birth of magnificent and magical proportions took place ... . But on that same day, as the eternal mother hovered in the multiverse, another more terrifying birth took place -- the birth of Evil."
That sounds to us like it could be the interstitial chat from a fantasy role-playing game or futuristic first-person shooter.
Love her or hate her, you have to admit that it was just a matter of time before Gaga made her way into the video-game world.
So it finally happened. But ... "FarmVille"?
The offbeat pop star and Zynga -- makers of the social game everyone on Facebook seems to either love or love to hate -- announced that "GagaVille" will launch May 17 as a section of "FarmVille."
Visitors will be able to listen to new songs, win concert tickets and earn special virtual goods.
That's all well and good. But we can't help thinking that She of the Meat Dress has lots more video-game potential than just giving folks a break from harvesting digital crops.
So here are five ideas for other video-game franchises Lady Gaga could invade.
1. "Angry Birds"
As ridiculously addictive games go, "FarmVille" is so 2009. These days, it's all about "Angry Birds."
Why not turn Gaga into one of the vengeful birds who hurtle through the air, smashing what we can only imagine are a bunch of narrow-minded, hateful pigs?
Seems like she'd be into that. Plus, she probably has plenty of outfits with feathers.
Replacing that stupid, green boomerang bird with a flying Gaga would also give haters ample opportunity to make jokes about her "beak." (Don't blame us for the hate -- a Google search for "Lady Gaga" and "nose" returns 13.5 million pages).
2. "Metroid: Other M"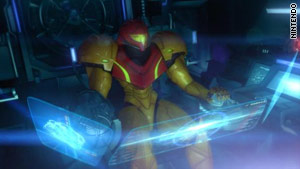 Samus' power armor could double as a stage costume for Gaga. Beats a meat dress.
Samus Aran, protagonist of the "Metroid" series, is a soldier turned bounty hunter who was raised by aliens and can magically transform into a big, rolling, metallic ball.
Lady Gaga is a pop star turned cultural icon who was raised in New York and can transform into a 2011 version of Madonna.
Close enough.
Both have played roles in gender politics: Samus by being one of the first female main characters in video games and Gaga through her activism and lyrics.
The wardrobe is a factor here. Samus' Power Armor would look right at home onstage at a Gaga concert.
3. "Portal"
Listen to the spoken-word monotone Lady Gaga uses in her videos and stage show and it's not that big of a leap to GlaDOS, the delightfully malicious artificial-intelligence program that "helps" you through the puzzles in the "Portal" games.
Plus, they already have very similar dialogue:
GlaDOS: "I've been really busy being dead. You know ... after you murdered me ... . But I think we can put our differences behind us. For science. You monster."
Gaga: "He ate my heart. That little monster."
Let her narrate GlaDOS's next outing, and even the most diehard Gaga-hater won't miss a beat.
4. "Bayonetta"
Take a look at that photo below. There's virtually no adaptation needed here.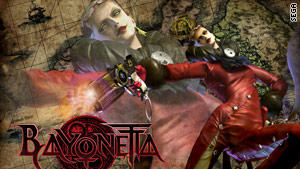 Lady Gaga would fit right in with characters like Jeane, a witch from "Bayonetta."
Gaga sort of already is a character from "Bayonetta."
Last year's outing from Platinum Games and Sega features a flashily attired witch who fights with everything from magic spells to chainsaws to her own hair.
The game is set in a fantastical quasi-Europe where angels, devils, witches and warlocks abound.
If there's a sequel, we think Gaga would fit right in.
5. "Kingdom of Loathing"
This text-based, tongue-in-cheek MMORPG (massively multi-player online role-playing game) might seem a weird fit for Gaga.
But it's the only game we can think of where you can make your own outfit out of meat. That's right, meat. Because that's how "Kingdom of Loathing" rolls.
The game's already chock full of pop-culture references.
And who knows? It's a big Kingdom. There may already be a secret Gaga lair where the queen and her "monsters" rip apart your poorly armored stick figure with meat weapons (yep, you can make those too) and socially relevant lyrics.
FOLLOW THIS TOPIC