Sony restoring its PlayStation services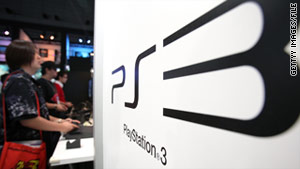 Visitors try out PlayStation 3 consoles during the 2010 Tokyo Game Show.
STORY HIGHLIGHTS
The company is working to resume normal operations after a security breach
The breach exposed personal information of up to 77 million users to hackers
Sony says it is making data protection a priority
(CNN) -- Sony began a gradual restoration of its PlayStation services Sunday as the company works to resume normal operations following a security breach that exposed personal details of 77 million users.
"I'd like to send my sincere regret for the inconvenience this incident has caused you, and want to thank you all for the kind patience you've shown as we worked through the restoration process," said Kazuo Hirai, the executive deputy president of Sony Corp.
"I can't thank you enough for your patience and support during this time."
PlayStation users eager to resume games
Sunday's restoration of the PlayStation Network appeared to end an outage that lasted four weeks, angered users and stained Sony's reputation among gamers.
However, the network's return was not without glitches. In an update Sunday, Sony said it had to turn off services again for about half an hour as it struggled to accommodate users.
"We're currently experiencing an extremely heavy load of password resets, and so we recently had to turn off services for approximately 30 minutes to clear the queue," wrote Sony spokesman Patrick Seybold in a blog post.
Twitter was abuzz Monday with PlayStation users excited to be back online, although others complained they were still waiting for Sony to send them their new passwords.
Sony announced this month that gamers will receive compensation for not being able to log on.
The PlayStation Network -- which allows users to play games with friends around the world and download movies and games over the Internet -- went offline on April 20 after officials learned days before that a hacker stole personal information from its 77 million users.

Sony CEO apologizes for hack attack

Playstation hacked, 70 million at risk
Sony officials did not disclose the breach until April 22.
Breach may be linked to Anonymous hacker group
Hirai said that the company is making data protection a priority.
"We are taking aggressive action at all levels to address the concerns that were raised by this incident, and are making consumer data protection a full-time, company wide commitment," he said in a statement Sunday.
The Japanese electronics company said it will start by restoring services in the Americas, Europe, Australia, New Zealand and the Middle East.
Restoration will be done in phases, with services expected everywhere by the end of May, the company said.
FOLLOW THIS TOPIC