Is geek spring break getting too big?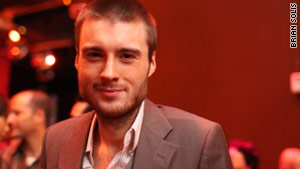 Mashable's Pete Cashmore says the South by Southwest festival is akin to spring break for the technology crowd.
STORY HIGHLIGHTS
SXSW is five days of nonstop meetups, talks and a copious number of parties
Pete Cashmore: Some regulars believe the event has grown "too big" and is "too corporate"
This year, the smart money is on "group-messaging," Cashmore says
Editor's note: Pete Cashmore is founder and CEO of Mashable, a popular blog about social media. He writes a weekly column about social networking and tech for CNN.com.
(CNN) -- On Thursday, I'll join more than 12,000 geeks on an annual pilgrimage to Austin, Texas. The "Interactive" portion of the South by Southwest festival -- referred to by attendees as "South by" or "SXSW" -- is akin to spring break for the technology crowd.
The lure of the event is obvious: Five days of nonstop meetups, talks and a copious number of parties. But beyond a buoyant social scene, does SXSW serve a more noble purpose?
For the companies throwing those parties, the answer is "Yes": SXSW has become the barometer of what's hot in tech in any given year. For that, we can credit Twitter: The messaging service "broke out" during SXSW 2007, with usage increasing threefold from 20,000 tweets per day to 60,000. In 2009, meanwhile, that title went to Foursquare, a mobile service for sharing your location with friends.
This year, the smart money is on "group-messaging": Services such as GroupMe and FastSociety allow friends to start a private mobile chatroom. For those looking to stay in touch with a close group of contacts during the chaos of SXSW, these applications are likely to be a hit.
SXSW isn't without its critics, however. At last year's event I heard murmurings from regular attendees that the event was simply becoming "too big." What was once a cozy gathering of friends attracts more newcomers each and every year. Another refrain: "It's too corporate."
While once the domain of Web startups, SXSW Interactive now includes sponsored events from the likes of MillerLite and Ford as global brands spot the opportunity to create buzz among some of the world's most digitally connected consumers.
What SXSW has never been, however, is ostentatious. A free drink, a T-shirt or some pin badges are usually the extent of the "freebies" gifted upon SXSW attendees, while the dress code is jeans, a T-shirt and sneakers.
There's still a jostling for status, of course, but this is usually expressed through a desire to be invited to the smaller and more obscure parties -- or to arrange your own at midnight in a randomly selected bar.
And -- although the SXSW organizers would rather you didn't know about it -- there's a certain contingent each year who choose to elude the event's $450 to $750 fee by attending only unofficial events and parties.
What's more, SXSW is invariably accompanied by an unglamorous guest: Thanks to the late nights and copious social events, attendees often catch colds or flu immediately after the event. My peers have variously labeled this trend the "SXSW SARS" or "SXSW scurvy" -- the inevitable price of an eventful trip.
The critics of SXSW's rapid growth will likely be provided more fodder this year: The digital industry is booming, and attendance is likely to be at an all-time high. Depending on whom you ask, that either signals the start of a blockbuster year for Web companies, or the overconfidence that precedes a fall.
FOLLOW THIS TOPIC