STORY HIGHLIGHTS
Silicon Valley companies are again competing to hire the best young computer scientists

The valley produced 1,200 jobs last month, and thousands more openings are expected

Companies like Facebook and Google are expanding their workforces in 2011
(CNN) -- When Marty Hu graduates from Stanford University's computer science program in June, he'll enter the hottest Silicon Valley job market for software engineers since the dot.com crash a decade ago.
In fact, times are so good that Hu, 21, turned down interview requests from several blue-chip companies, including Google and Microsoft.
"At this point, I've sort of taken it [the interest from tech firms] for granted," Hu said.
Instead of joining an established company, Hu, who still gets weekly invitations for interviews from would-be employers, has opted to launch his own company.
"We're still in stealth mode, but it's in the e-commerce space," he said.
Hu's story illustrates the fierce competition among Silicon Valley companies to hire the best young engineering talent. It also coincides with a Silicon Valley hiring boom, as big players like Facebook and Google expand and medium-sized companies advertise a steady stream of job openings.
The Bay Area tech hotbed has not yet fully escaped the grips of the recession. Silicon Valley still has a 10.6% unemployment rate -- higher than last month's national average of 8.8%.
But the valley produced 1,200 jobs last month, and its biggest companies are on track to add thousands more in 2011.
LinkedIn, the social-networking site for professionals, hired nearly 500 workers last year -- almost doubling its workforce.
"As we grow the company, we're always on the lookout for top talent," said Jeff Weiner, LinkedIn's CEO.
SimplyHired.com, a search engine for job listings, says that nearly 40 percent of the 130,000 open positions in Silicon Valley are for software engineers. Innovations in social media, mobile and cloud computing are driving the growth, said Dion Lim, SimplyHired's president.
"Silicon Valley is this amazing place that is able to invent itself out of recession," he told CNN.
According to SimplyHired's statistics, since July of 2009 there's been a 245% increase in openings that have "Facebook" as a keyword and a whopping 421% increase in "Twitter" job postings -- evidence that the fast-growing social-networking sites are creating jobs outside their own companies.
All these rosy hiring forecasts, mixed with new infusions of venture capital, have even created talk of another dot.com "bubble" like the one that popped in 2000, bringing many overvalued tech startups down with it.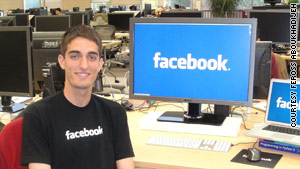 Feross Aboukhadijeh, a Stanford junior, interned at Facebook last summer and is already fielding job offers.
Professionals and analysts alike say the valley's job market feels like it's loosening. Demand is especially strong for candidates who know computer-programming languages like Python, Ruby, PHP and Java.
The hope is that these new positions will produce a positive ripple effect by also creating jobs for those who may not be as skilled or educated, says Russell Hancock, who runs Joint Venture: Silicon Valley Network, an organization that promotes economic development.
"No question, the seeds of a turnaround are in place. I don't think that's hype," Hancock said. "But [as a job candidate] you don't want to be a generalist. You want to have a niche to get hired."
Feross Aboukhadijeh, a Stanford junior, will have few worries about finding work when he graduates next year.
After the 20-year-old created a real-time search engine last year for YouTube, he says he was contacted by numerous companies interested in hiring him. Then-YouTube CEO Chad Hurley even offered Aboukhadijeh a job without ever meeting him.
"It's pretty crazy, actually. It's the right time to be studying computer science," Aboukhadijeh said.
The student says he considered dropping out of school early to take advantage of some lucrative offers, but decided against it. While interning at Facebook last summer, he got a glimpse of the perks offered at a prestigious company, including free food and drinks around the clock.
"Everyone's trying to compete to be the coolest place to work," he told CNN. "Whichever company that can sell themselves as the best place to work really hard [and] make a huge impact -- but at the same time has people that play hard as well, is the place that usually gets the best hires."
FOLLOW THIS TOPIC