STORY HIGHLIGHTS
Mainsail takes a look at some of the fastest things on the water
"L'Hydroptere" is the fastest sailing boat in the world with a hull that "flies" above the water
"Spirit of Australia" has held the world water speed record since 1978
Kite surfer Robert Douglas is the fastest sailor in the world
(CNN) -- Call it a need for speed. For some sailors, breaking water speed records is more than a hobby -- it's a competitive and dangerous obsession.
New technology has constantly pushed the limits of what's possible on water, but with every new record set comes another challenger -- and in the competitive world of speed sailing, innovation and adaptability are the keys to staying on top.
Here, MainSail takes a look at some of the fastest things on water.

"L'Hydroptere"
Aptly nicknamed the flying boat, "L'Hydroptere" is currently the fastest sailing boat in the world.

Hydroptere beats all speed records
Not only did she become the first sailboat to beak the 50-knot (93 km/h) speed barrier, in 2008, but in September 2009 "L'Hydroptere" proved her dominance by breaking the world speed sailing record with an incredible speed of 52.86 knots (97 km/h) -- a title usually dominated by wind and kite surfers. (Kite surfer Robert Douglas currently holds the title.)
French sailor and inventor Alain Thebault began designing the revolutionary boat 25 years ago.
"Many years ago when I said I wanted to make a boat fly people said I was crazy," he told CNN in an interview last year.
"When you sail at very high speeds, around 100 km/h, the water becomes like a rock," he continued. "So yes, it is dangerous."
The boat is designed using principles similar to those of an airplane, and is equipped with underwater "wings" that lift the trimaran's hull above the water when it reaches a certain speed. That creates less drag and allows the 18-by-24-meter boat to achieve previously unimaginable speeds.
"The Spirit of Australia"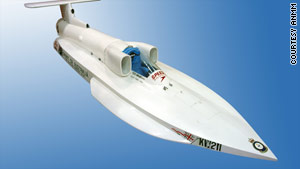 It smashed the world water speed record in 1978 and remains the fastest boat in the world to this day.
Motorboat racer Ken Warby built "The Spirit of Australia" in his backyard and on October 8, 1978, broke the world water speed record when he reached an incredible 511km/h on Blowering Dam, New South Wales.
Despite having little engineering experience, Warby crafted "The Spirit of Australia" out of wood, designing a three-point hydroplane, which made little contact with the water when it reached its record-breaking speed.
Constantly trying to improve his boat's design, Warby cut six centimeters off the rudder the night before the record-breaking attempt, in order to reduce the boat's drag.
The record has never been bested, despite several attempts. Some have even died trying, with high speeds and adverse weather conditions making for a lethal combination.
Kite surfer Robert Douglas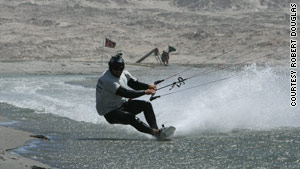 He is the fastest sailor in the world.
Kite surfer Robert Douglas is the official world speed sailing record holder after sailing an incredible 55.65 knots (103 km/h) at the Luderitz Speed Challenge in Namibia, on October 28 2010.
"To break records we need three things," Douglas says. "We need wind, around 40 to 50 miles an hour, we need flat water and we need the correct angle of wind to the water."
But this is not his first record. In 2008 Douglas was the first kite surfer to hold the world speed sailing record, but lost the title only two weeks later.
"Once a record is set, then you'll see the sailboats and the surfers make adjustments," he says.
"It's interesting to battle against something like the Hydroptere, which is a multi million dollar sailboat. But the biggest advantage a kite surfer has is that we're able to do a lot of runs, rather inexpensively, and we're able to make adjustments to get faster."
Douglas says: "It's an extreme mental challenge, and there is an extreme amount of adrenaline, but to be at the top of the sport, that's what drew me to it and that's what keeps me going."
"The World Is Not Enough"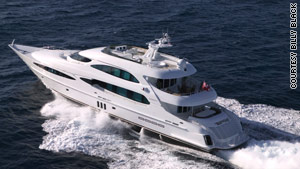 If you want to speed in style then "The World Is Not Enough" is the boat for you.
The fastest superyacht on the waters, the James Bond-inspired vessel is the only luxury yacht to have topped speeds of 68 knots (126 km/h), all without compromising on style.
Launched in 2004, the 140-foot yacht can accommodate 10 guests and comes complete with cabins with walk-in closets, his and her baths, a Jacuzzi tub, entertainment area, sky lounge with wet bar and VIP stateroom with three large hull windows.
The ultimate mix of high speed and luxury, the powerful superyacht, has a cruising speed in excess of 50 knots (92 km/h) with no vibration and minimal noise levels, ensuring your martini is neither shaken nor stirred.
"Turanor"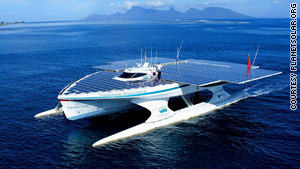 OK, so this is no speed demon. In fact, it travels at average speed of just 7.5 knots (14 km/h) -- but it is still a record holder.

Aptly named the "Turanor," this environmentally friendly yacht takes it's name from the "Lord of the Rings" books written by J.R.R. Tolkien and means "the power of the sun" or "victory."
Currently on her way to becoming the first yacht to circumnavigate the globe powered only by the sun, the "Turanor" is officially the fastest solar boat to have crossed the Atlantic Ocean, taking 26 days.
The 31-meter boat carries over 536 square meters of photovoltaic panels and can sail for up to five nights without direct sunlight, supported by reserves stored in the world's largest rechargeable lithium battery.
The 60-ton vessel cost around $16 million to produce and has two hulls in order to save energy by slicing, rather than riding, the waves.
FOLLOW THIS TOPIC