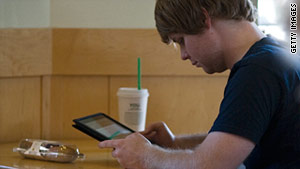 The Daily will launch its iPad-only news publication at a New York event on Wednesday.
STORY HIGHLIGHTS
The Daily, an iPad news publication, will officially launch on Wednesday in New York
CNN obtained a recent issue of the app, and details how it works
Customers will be able to buy issues at 99 cents each or subscribe for delivery
(CNN) -- News Corporation owns several publications that are more than a century old. On Wednesday, the company will announce and then begin distributing its brand-new take on a news outfit built for the 21st century.
Instead of devoting an hour or so flipping through ink-printed paper, this new publication, called The Daily, will ask you to devote that time at the kitchen table to tapping and poking an iPad.
The fruit of a collaboration between News Corp. and Apple, The Daily will be available for download exclusively for the iPad.
Together, the media and technology giants will officially announce the new venture, which has been followed closely by media reporters and not-so-subtly acknowledged by News Corp. executives. Rupert Murdoch, News Corp.'s CEO, referred to The Daily in November as his "No. 1 most exciting project" in an interview with Fox Business.
Murdoch and Eddy Cue, Apple's vice president of internet services, will take the stage Wednesday morning at the Guggenheim Museum in New York.
The plan is to offer iPad owners issues for 99 cents in Apple's App Store. The Daily will also pioneer a new subscription service from Apple, which will provide those customers with instant access to each new issue.
CNN was given an unofficial sneak peek at a recent issue of The Daily.
In the version we saw, users are presented with a video when the application first loads. In it, a young woman stands in front of the camera and reads some of the day's top stories.
After that, the main screen resembles newspaper front page, revolving around a centerpiece photo. Users navigate by flipping pages, clicking on section names at the top, or dragging a finger along that top timeline to see previews of pages.
Not unlike News Corp.'s New York Post publication, headlines are pithy and witty. One issue's sports section led with a story about the Minnesota Vikings quarterback, titled "A Bridge Too Favre."
Coverage areas are general and U.S.-focused, with sections pertaining to sports, entertainment and technology.
The app's content is a blend of written reports, high-resolution images and video. You can cycle through a gallery of pictures embedded alongside articles with a swipe of a finger or a tap to see a full-screen version.
This melding of multimedia is natural for News Corp., which operates an array of newspapers, magazines, television networks and movie studios. It's also become a common style for other iPad news apps, which tend to encompass all media.
Despite the cost to download The Daily app, individual news stories can be shared with friends via e-mail, including a full version of the article, or through the most popular social media channels, using a button onscreen. The Daily has created a Twitter page to promote the product.
The social-networking integration goes a step further. Widgets pulling in conversations from Twitter that are related to a story are embedded alongside pictures and video in some articles.
There are also crossword puzzles, sudoku games and a section for local weather, which has sleek graphics and the option to automatically detect the user's location using the iPad's GPS function.
The version we used was mostly complete, except for a few trivial functions. The app would crash occasionally, but developers on the project were still ironing out kinks with about a week left before the scheduled launch.
Some of The Daily's staff of reportedly more than 100 have been pumping out trial editions for a small test group.
Murdoch was holding an event Tuesday night at his New York apartment for a small crowd to get an early look at The Daily, according to a report in the News Corp.-owned website All Things Digital.
FOLLOW THIS TOPIC