STORY HIGHLIGHTS
A smartphone app allows specialists to accurately diagnose a stroke, a study says

Doctors reach the same diagnosis using phone as when on a terminal in 94% of trials

Experts have been skeptical about the utility of using such a small screen

The FDA is currently deliberating on whether to approve the app for U.S. use
(CNN) -- When a patient suffers an acute stroke, the outcome often rests on how quickly they receive expert care.
Now, by using a medical application for the iPhone or Android, doctors don't need to be at a hospital to diagnose a stroke patient and begin prescribing treatment.
Specialists can determine how to treat strokes based on brain-scan images reviewed from their smartphones with nearly the same accuracy as when they use a full diagnostic workstation, according to a study by researchers at the University of Calgary.
"Now they can bring a distant expert to bear on the problem," said Ross Mitchell, a medical professor at the Canada university who worked on the study. "There's huge, huge rewards to be had here."
Medical experts have been skeptical about using a 3.5-inch screen, like the one on an iPhone, for emergency diagnoses. But thanks to advancements in image compression, microprocessors and wireless-data bandwidth, the smartphone may prove to be, like beepers, an essential tool for on-the-go doctors.
The app is called ResolutionMD Mobile and can be downloaded via the App Store for the iPhone and iPad or on the Android Market for phones running Google software. It's already being used by some neuro-radiological specialists at hospitals in Europe, said Byron Osing, the CEO of Calgary Scientific.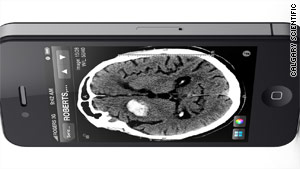 The iPhone app displays brain-scan images in high resolution on the iPhone 4.
In a phone interview, Osing said his company develops the software and licenses the technology to equipment manufacturers, including Siemens AG.
Calgary Scientific's process takes imagery from a computerized tomography (CT) scan machine and feeds it into a companion server, which then compresses the data so it can be transmitted in high quality over the Internet. The information can be streamed to a mobile app or Web browser, where doctors can zoom in on and manipulate brain-scan imagery.
In the tech industry, this is called virtualization, or, in fluffier terms, using the cloud. The concept is not unlike services that let you pull up a window on your home laptop that looks just like the desktop at work or stream music over the Web.
That compression method is crucial for high-resolution brain imagery in time-sensitive situations because it allows it to be loaded much quicker, Osing said.
"If you've only got access to 3G and Wi-Fi, it would take an hour to download one of these images," Osing said. "Digital images are massive, and they get bigger and bigger and bigger every year."
For the study, researchers ran the app on an iPhone 3GS, which produced somewhat choppy images. Apple's iPhone 4 hadn't come out yet, but researchers discovered later that the experience is almost flawless on that newer model, said Mitchell, the professor. He is also the founding scientist at Calgary Scientific and an investor in the company.
The Mayo Clinic, the widely respected medical research organization, has been testing ResolutionMD Mobile in parts of Arizona and is enthusiastic about the program, according to a report in the executive trade publication CIO.
"It's saving lives in rural Arizona," Mitchell said. "The patients are being treated remotely, and they stay remote."
The program has won regulatory approval in Canada and Europe but has yet to get the OK from the U.S. Food and Drug Administration. Calgary Scientific's FDA approval process has lasted about two years, and Osing said he thinks it's nearing the finish line. An FDA spokeswoman didn't respond to a request for comment.
Mitchell's report, which was peer reviewed and published this month in the Journal of Medical Internet Research, should provide adequate research to push the FDA approval over any final hurdles, Osing said. The study asked two neuro-radiologists to evaluate 190 images for possible signs of stroke. They reached the same diagnosis using a phone as when on a terminal in at least 94% of trials.
Before administering treatment to stroke patients, a doctor must figure out what type of stroke that person has had, because using the wrong drug can be fatal. That's when a specialist is usually called in to review CT scans.
But many small-town hospitals don't have the expertise on hand. More crucial: the effectiveness of the drugs is reduced by half every 15 minutes the patient is waiting, Mitchell said.
So Mitchell came up with the idea for the app. Despite colleagues telling him it was impractical to diagnose using a hand-held screen, Mitchell pushed on. Perhaps doctors would embrace it as a way to demonstrate the 3-D brain images to patients at their bedside, he reasoned.
But development quickly matured. Now the goal is to get medics to walk around hospitals holding iPads instead of clipboards, and going home with an iPhone or Android in their pockets so they can review the images within minutes, Mitchell said.
"People would tell me, 'Oh, that's sci-fi!' No, it's not anymore," Mitchell said. "It's here now. We built the technology, and it works."
FOLLOW THIS TOPIC