Square seeks to replace cash register with revamped app
STORY HIGHLIGHTS
Square's new app lets people pay at stores without needing cash or a credit card

People can check in to a location with an app on their phones and put it on "a tab"

Square has been around for more than a year with its credit-card reader for phones
San Francisco (CNN) -- Like countless others, Jack Dorsey thinks cell phones can replace wallets.
But the Square co-founder, who also invented Twitter, is introducing an unusual system for accomplishing that task -- one that looks more like Foursquare than the popular tap-and-pay model.
Square's new system works through its updated app, available for iPhone, Android and iPad. Tap on the icon, check into a store from a list of nearby locations and take your items to the register. The cashier finds your name in the list, and payment is taken from your account, which is linked to your credit card.
Under the system, you no longer need to tap your phone against a scanner or swipe your credit card through Square's little plastic reader. Once you're signed up, you don't even need to carry a credit card.
Square announced the new version of its mobile application Monday at a news conference at its office in the San Francisco Chronicle building here. It's available for free from the Apple and Google app stores.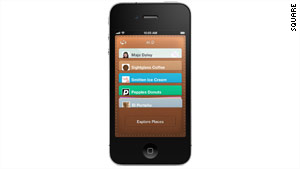 After checking in to a shop using the Square app, users can get a sort of digital frequent-shopper card.
This check-in payment service, a process Dorsey compares to creating a running tab at a bar, launched with 50 coffee shops and other stores in New York, Los Angeles, San Francisco, Washington and St. Louis.
It's a departure from the tap-and-pay model that's been championed by makers of mobile operating systems -- including Google and Research in Motion -- and cellular operators such as Verizon Wireless, AT&T Mobility and T-Mobile USA. These companies prefer to add a chip to a smartphone that lets customers tap a phone to a terminal at a check-out counter, which then debits money from a bank or credit account. This process is called near-field communications.
"We don't think that's the right way to go," Dorsey said Monday. "In order to do it right, you have to have one system."
Fortune.com: Watch Dorsey explain Square's new payment system
Square launched in 2009 as a way for people to take credit-card payments by swiping cards in a small plastic reader that plugs into the headphone jack of a cell phone. The company has shipped about 500,000 of the free card readers to customers, Dorsey said. Signatures are drawn with a finger on the gadget's touch screen, and receipts are sent via e-mail.
The company processes $1 billion in purchases annually and has handled 1 million transactions so far this month, Dorsey said.
"We want to make paying with your credit card even more magical," he said. "We want to take away all of this clutter, all of the paper, all of the mess."
The company is now encouraging retailers to drop their cash registers in favor of the Square Register, an app for the iPad that can track inventory and take purchases on Square users tabs or with the card reader. Stores would ideally mount the iPad on the counter and place cash in a drawer, Dorsey has said.
FOLLOW THIS TOPIC