STORY HIGHLIGHTS
Our Netiquette columnists survey musicians for digital advice, pet peeves
Don't be a spam bot or a faceless troll, musicians say
Musician: I hate when people retweet compliments about themselves
Editor's note: Brenna Ehrlich and Andrea Bartz are the sarcastic brains behind humor blog and book Stuff Hipsters Hate. When they're not trolling Brooklyn for new material, Ehrlich works as an associate editor at Mashable.com and Bartz is news editor at Psychology Today.
(CNN) -- South by Southwest is a long, winding "spring break!" (yelled in frat-boy fashion) for tech nerds and music fans alike. The fest has since wrapped, leaving attendees with glowing memories, emotional and physical scars and suitcases bursting with ripe clothing.
While it would seem instinctive to offer up some netiquette wisdom from the tech set down in Austin (they packed the Texas capital for SXSW Interactive), we decided instead to pick some band kids' brains from last weekend's music fest.
After all, musicians nowadays have to be much more plugged into the digital realm than their predecessors -- even if they are just spending a goodly amount of time stream-of-consciousness tweeting (cough Kanyecough).
Without further ado, here are 10 tips from acts both up-and-coming and better-known, and an accompanying soundtrack to see you through the learning.
1. Get a room, not a wall.
"I've never been a fan of PDA on my PDA... Especially when a girlfriend will just post a '<3' on her boyfriend's wall. It's even weirder when the boyfriend puts a '<3' in the comments of that wall post."
-- Robert Perlick-Molinari, French Horn Rebellion
2. Don't make your friends look bad.
"[I hate] getting tagged in super ugly, sweaty photos on Facebook."
-- Eric Victorino, The Limousines
3. Don't encourage mundane rambling.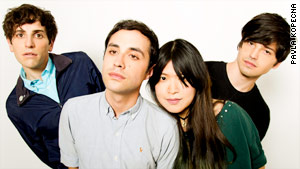 The Pains of Being Pure at Heart
"Inane status updates about food [are annoying] ... And even more perplexing are the comments ('you should eat that carrot' or, invariably, 'yum'). It's the need to engage and validate that initial watery stool of thought that really makes me long for the day when there is a 'really?' button next to the 'like' one."
-- Kip Berman, The Pains of Being Pure at Heart
4. Don't be a creeper.
"A random friend request with no message or supplemental explanation of where we met or how I'm supposed to know this person is unfair. I'm always happy to be someone's friend, especially to learn more about what they're doing musically, but have a heart and first tell me who you are!"
-- Kiran Gandhi, label manager, Rhythm & Culture Music DC
5. Don't torrential-tweet.
"Twitter drives us crazy. Too many updates, and if you're in a band, you have to constantly tell the world what you're doing all the time. Boring."
-- Megane Quashie, Black Cherry
5. Say it once, then shut up.
"The 'broken record syndrome' is difficult to avoid while promoting yourself or your business through an outlet as vast as Twitter or Facebook. Still, repeating yourself on your business's blog or in a tweet can quickly label you as a neophyte and alienates your current and future followers."
-- Eric Hehr, Gold Motel
6). Don't be a vain pain.
"[I hate] when people retweet compliments about themselves. If you did that in real life, you'd be sitting alone at the lunch table, eating mystery meat."
-- K.Flay
7. Take a joke.
"The typed word can often be taken out of context, and the actual tone of what is written cannot be determined. As a band we have a lot of 'in jokes' between ourselves and as such will often put daft messages on each others' walls on Facebook or in messages between each other on Twitter.
The problem is that other people will then see these messages, and they don't understand that it's just a joke between ourselves and that we don't mean it seriously."
-- Paddy Considine, The Lines
8. Being passive-aggressive makes your friends plain aggressive.
"Indirect tweets about a specific person -- say, an ex-girlfriend who is always going out of her way to tweet catty things about her ex without mentioning his name -- [are annoying]. A la, 'Someone thinks they can do anything they want.' It's so lame."
-- Kerli
9). Don't be a spam bot.
"When someone sends a Facebook message to you and 30 other people and you're constantly getting replies from a ton of people you probably don't know ... I feel all popular, like I'm getting all these personal messages, but that's not the case at all!"
-- Christina Schroeter, Family of the Year
10). Don't be a faceless troll.
"[I'm not into] anonymous bloggers that only blog about things they dislike."
-- Sarah Jaffe
Columnists' Note: Hey, at least we're not anonymous!
Bonus deep thought:
"Many stories I hear that begin with, 'Oh my God, so the other day on Facebook ... ' are immediately interrupted by the concession, 'I'm, like, hardly ever on Facebook, but anyway ...'
It seems people utilize the exact same pre-emptive defense for stories about things they saw on television, which begs the notion that the former has fast attained both the stature and social stigmas of the latter."
-- Ben Lovett of Lovett
FOLLOW THIS TOPIC