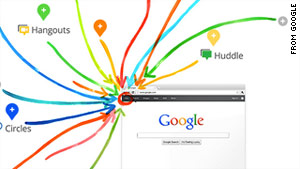 On Tuesday the search giant unveiled a social networking "project" called Google+.
STORY HIGHLIGHTS
Google unveils Google+, a new social network

Critics say it's just like Facebook, but less likely to succeed

Some blogs say we should hold judgment until people have a chance to use Google+

Google has given out only limited invitations to the online network so far
(CNN) -- There's an old joke in the tech world:
Google is socially awkward.
Coming from people who stare at computer screens for a living, this is pretty funny. Well, at the very least it has double meaning. Meaning one: Tech geeks and code masters aren't always the life of the party. And two: Perhaps consequently, the Mountain View, California, company is really bad, its critics say, at creating online social networks that real people actually want to use.
But, like any pimply but determined teenager, Google keeps trying.
On Tuesday the search giant unveiled a "project" called Google+. Pronounced "Google Plus," this online network, according to Google, is nothing like Facebook. According to the tech bloggers who have been rushing to review it, Google+ is trying to be a lot like Facebook -- it's just not succeeding.
This opinion is not unanimous, of course. MG Siegler, a prominent blogger at TechCrunch, for instance, wrote of Google+: "It's social, it's bold, it's fun, and it looks good."
But many bloggers are quite skeptical of the Google effort.
The Business Insider, a Silicon Valley blog, declared it a "long-awaited Facebook clone."
"Google has fallen on its face repeatedly as it tries to build social networks," that blog says. "Google+ might have a better design than the rest, but we haven't read a compelling reason to use "+" over Facebook or Twitter."
SearchEngineLand, a blog focused on Google and its search engine competitors, says Facebook users have little reason to turn away from that already-dominant network..
"If you're already happy using Facebook, you may have no more incentive to use Google's new social network than someone already happy using Google has to switch over to Bing," the blog writes. "What you're using is doing the job just fine."
Scripting News, a blog written by Dave Winer, who is a visiting scholar at New York University, was perhaps most scathing of all: "Today's Google thing is making me yawn," he wrote.
He says the problem is Google's top-down approach to social networking:
"The thing that makes Facebook great is that it incubated in the market with real users. It was made by real users. It was formed by actual use. One day at a time, one feature at a time, in public, every home run visible, and every misstep.
"Products like the one Google just announced are hatched at off-sites at resorts near Monterey or in the Sierra, and were designed to meet the needs of the corporation that created it. A huge scared angry corporation."
Google says it's not trying to copy Facebook.
"We realize that today people are increasingly connecting with one another on the Web," the company said in a statement e-mailed to CNN. "But the ways in which we connect online are limited and don't mimic our real-life relationships. The Google+ project is our attempt to make online sharing even better. We aren't trying to replace what's currently available, we just want to introduce a new way to connect online with the people that matter to you."
Google is trying to improve on its past efforts at creating social networking products, some of which "did not nearly live up to expectations," a spokeswoman said in the written statement.
"We feel that there's more we can and should do to make the social experience better for users -- and we are just getting started with the Google+ project."
ZDNet says tech blogs should withhold judgment for now.
Google+, after all, is supposed to be a social network.
"How can you possibly consider a social service before people are using it? And moreover, how can you assume that how it's intended to be used will actually be the reality?" the site writes.
Google has given out only limited invitations, which means many tech bloggers, including those at CNN, have only seen online demos so far.
For the unchosen, Danny Sullivan, from SearchEngineLand, offered this advice:
"Dear world. if you don't have a google+ invite, perhaps you should consider facebook," Sullivan wrote -- ahem -- on Twitter.
FOLLOW THIS TOPIC