CES roundup: Steve Martin, Lady Gaga, Ballmer's digital diet
STORY HIGHLIGHTS
Steve Martin's tweets poke fun at the breathless hype surrounding CES's tech toys
Pop star Lady Gaga is expected in Las Vegas today
Steve Ballmer's avatar dropped quite a few pounds before his speech
(CNN) -- We're not sure if actor-author-comedian-musician Steve Martin is really at the International Consumer Electronics Show in Las Vegas this week, but if his tweets about CES are all this funny it doesn't matter.
Martin sent Twitter updates to his more than 423,000 followers Wednesday, poking fun at the breathless hype surrounding CES's tech toys while describing gadgets he'd supposedly seen at the massive expo, which officially opens today.
His tweets:
• "Report from Vegas Consumer Electronics Show: Saw demonstration of 'bow' modular unit that can direct an 'arrow' into bale of straw 'pad.'"
• "At Vegas Electronics Show: Pet 'cat' that you feed and will 'die' if you don't. Also needs air, kitty litter. Gives birth and has feelings."
• "At Vegas Consumer Electronics Show: Saw large wooden device that can fling boulders over castle walls. iPad killer."
• "At Vegas Consumer Electronics Show: electronic wired 'voice' phone, with 'touch' rotary dial surface. Weighs a ton. Wow factor. 3-D."
These "reports" follow a series of humorous tweets Martin supposedly sent last month from jury duty in Los Angeles. His publicist later told Reuters that the silver-haired funnyman was not serving on a jury but was just joking around.
Martin is no stranger to today's technology. Last year he used an iPad onstage to check setlists, and make jokes, during bluegrass concerts with the Steep Canyon Rangers.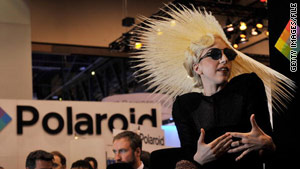 Lady Gaga at CES 2010 in her new role as Polaroid's creative director.
Gaga for Polaroid
Speaking of prolific tweeters, pop star Lady Gaga is expected in Las Vegas today for an announcement by Polaroid, for which she serves as creative director. Says Polaroid of Gaga's secretive "Grey Label" project, "we will finally be starting to let everyone see what we have been up to all year."
Gaga made a rather famous appearance at Polaroid's CES booth last January, wearing a spiky hat made of human hair.
Strangely enough, the world's most popular Twitterer has been quiet on the microblogging service since New Year's Day. That will probably change after today.
Ballmer's digital diet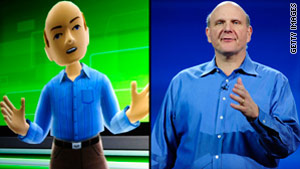 Steve Ballmer's avatar, left, doesn't quite measure up to his real-life counterpart.
Microsoft CEO Steve Ballmer is a not a small man.
During his CES keynote Wednesday night, he illustrated updates to the company's Kinect gaming system by projecting his Kinect avatar on large screens above the stage.
The avatar had Ballmer's bald head, blue shirt and brown slacks. But he appeared much slimmer than the hefty corporate honcho. If only dieting were this easy.
FOLLOW THIS TOPIC