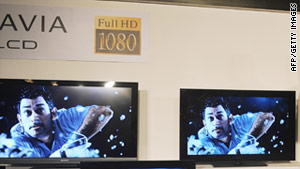 Sony is planning to use its TVs and PlayStation 3 game console as platforms to promote its new music service.
STORY HIGHLIGHTS
Sony is launching its music streaming service, Qriocity, in new countries Thursday
Sony adds the U.S., New Zealand and Australia to its growing list
The service provides access to more than 6 million songs for $10 per month
San Francisco (CNN) -- With MTV now focused less on music and more on hard-partying Italian-Americans from New Jersey beaches, Sony sees an opportunity to bring music back into the living room.
Sony plans to leverage its role as a top television and video game console manufacturer to promote a new music-streaming service with the unwieldy name of Music Unlimited, powered by Qriocity.
Bent on a quick international rollout, Sony was set to launch Music Unlimited on its Qriocity site in the United States, Australia and New Zealand at 6 p.m. ET (11 a.m. GMT) Thursday, company spokespeople said.
Music Unlimited opened to the United Kingdom and Ireland in December, and expanded to France, Germany, Italy and Spain in January. It adds musical offerings to Qriocity, which Sony launched last year as an on-demand video service.
The goal is to swiftly cover most regions where Sony operates, said Shawn Layden, the chief operating officer for Sony Network Entertainment, a new venture encompassing some of Sony's online divisions.
But operating in each country generally requires cutting new deals with record labels and publishers there.
That stipulation is what has slowed the expansion of Spotify, a competing music service that is popular in many of the European countries Qriocity is in.
Sony has had an easier time negotiating deals with the four major record labels, allowing Qriocity to offer more than 6 million tracks on demand. It helps that Sony owns one of those major labels, Sony Music Entertainment.
But Qriocity is not out to shake up the streaming subscription model, which makes it an even easier sell to record companies.
Like Napster, Rhapsody, MOG and Rdio, Sony's on-demand streaming plan costs $10 a month.
These services, which give access to millions of songs pulled from the internet rather than downloading them to a hard drive, have largely failed to hit critical mass or steal many customers away from Apple's iTunes. When you stop paying monthly dues, your songs disappear.
Sony declined to provide details about how many people have subscribed to Qriocity in Europe.
Spotify has succeeded in attracting people to its subscription offering by giving away a computer program that does on-demand streaming and then charging $10 (the price for when it launches in the U.S.) for access to smartphone players.
"We would not just launch a subscription model -- because we don't think that's going to work," Spotify CEO Daniel Ek said at a conference in December. "We really believe in our model."
Sony Music has already agreed to offer its catalog to Spotify in the U.S., reports say.
Qriocity also offers a $4 monthly basic subscription for what's essentially an internet radio service. By contrast, popular internet radio service Pandora is free, although it offers an upgraded version for $3 per month that contains no ads.
Most of the major streaming-music competitors already have apps for the most popular smartphone platforms.
Sony plans to come out with an app for Android later this year, and it's considering other platforms after that, Layden said. The PlayStation Portable game system will get the service in the spring, he said.
Qriocity's Music Unlimited offers Web-based streaming and is accessible from any computer. But a feature that lets users synchronize their downloaded music library so those songs are readily available won't work at first on the Mac.
Layden hopes consumers' living rooms will serve as the doorway that helps Sony gain traction elsewhere. Sony is aiming to promote Qriocity through display ads in stores, plus ads embedded into its TV sets, video players and the PlayStation 3 gaming console -- places where competitors have struggled to go.
"None of them have association with a hardware provider," Layden said."Let's take music back into the home."
FOLLOW THIS TOPIC