STORY HIGHLIGHTS
130,000 pages of Playboy content will be available online
The service is called iPlayboy and contains 57 years of images and stories
Subscriptions cost $8 per month, $60 per year, $100 for two years
(CNN) -- If you've long harbored tender memories of Miss February 1988 but misplaced your dusty old box of Playboys, take heart.
The House that Hef built is putting all its magazines -- from the inaugural December 1953 issue with cover girl Marilyn Monroe, to the current one with rock heiress Lizzy Jagger -- into an online searchable database.
Playboy Enterprises on Thursday announced a subscription service that provides online access to every page of every issue, giving readers everywhere the chance to catch up with those, um, fiction excerpts, interviews and investigative articles.
The service, called iPlayboy, contains every last photo image, news story, interview, work of fiction, advertisement and nude centerfold published in monthly magazines over the span of 57 years, according to a statement released by the Chicago-based Playboy Enterprises.
More than 130,000 pages of content have been rendered viewable, readable and searchable online and optimized for electronic tablets including the Apple iPad, according to the statement.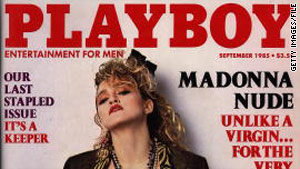 This 1985 issue featured nude photos of Madonna, taken years earlier before she became famous.
"Readers can search for a groundbreaking interview they read years ago, find classic fiction, or read about the most recent celebrity cover model, all in one place," the statement added.
Playboy's motivation for creating the service was due in large part to the handful of electronic tablet devices that have hit the market, according to chief content officer Jimmy Jellinek.
"The iPad and the tablet is the most transformative piece of technology since the invention of the personal computer," Jellinek said. "This is changing the way people consume media, so it's really the perfect platform for our consumers to engage with the totality of the Playboy experience."
Subscriptions are available for $8 per month, $60 per year and $100 for two years. The service is optimized for the iPad and will be updated with each monthly issue.
Playboy currently sells an app that abides by Apple's content restrictions and doesn't show nudity. Customers can, however, access uncensored content on iPlayboy through their iPad's web browser.
An Apple media representative declined comment on the matter.
In addition to Playboy's magazine archives, the service offers customers a wide range of exclusive video content that featuring monthly cover models as well as clips handpicked from what Jellinek calls a "treasure trove of video archives" that go back to the inception of the brand.
Vintage footage from inside the old Chicago Playboy mansion of the 1960s and of Playmates donning mermaid costumes and swimming in founder Hugh Hefner's pool are just a few choice examples of footage Jellinek says is intended to give iPlayboy customers unprecedented insight into the brand.
But if you're nostalgic for the classic experience of thumbing through a glossy, you need not worry about the hard copy version of the magazine going anywhere anytime soon. "This is just one offering to the Playboy consumer." Jellinek said.
"The magazine remains central to our business model... it's the engine of our company."
Though the service has only been available for a day, Playboy says its undertaking has gotten an enthusiastic reception from the public, with thousands of subscriptions received so far.
"We've already recouped our investment in the product itself in a single day," Jellinek said. "It's already a resounding success for the company from a commercial standpoint."
The long list of celebrities who have posed nude for Playboy include Bo Derek, Pamela Anderson, Farrah Fawcett and Sharon Stone.
The magazine was founded in 1953 by Hugh Hefner, who built it into an entertainment empire. But circulation of the printed magazine has dipped since Playboy's 1970s heyday, and its Web offerings have struggled to compete with explicit pornography sites.
Playboy.com has about 6 million monthly visitors. Last year Playboy launched The Smoking Jacket, a nudity-free, "safe-for-work" website.