Podcast: New domains; Amish tech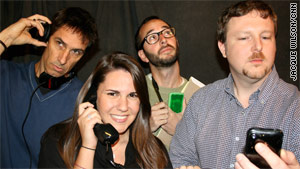 Tech Check: New domain endings on the Web, Amish tech and "Pottermore"
STORY HIGHLIGHTS
Tech Check: CNN.com's Doug Gross, John Sutter and Stephanie Goldberg on tech

New domain endings and Amish technology (you read that right) are discussed
(CNN) -- On this week's Tech Check podcast, Doug Gross, John Sutter and Stephanie Goldberg discuss the approval of new Internet domain endings.
This means the tired, old ".com" might be getting some company from the likes of ".cocacola," ".apple" and ".nyc."
Also, in a Tech Check first, we break down the secret world of Amish technology. Yes ... Amish technology.
News that a man was allegedly sending slimy text messages from a horse and buggy highlighted the fact that not all members of the religious group are as tech-free as you might think.
Our Reader Comments of the Week come from our story on author JK Rowling introducing "Pottermore," an online and e-reader experience that will continue the Harry Potter story. Inevitably, this leads to discussion of fanfic. We don't feel good about this.
And in our Tech Fail of the Week, we give a "wag of the finger" to Google for what feels like a half-measure on a non-doodle for Gay Pride Month.
To listen, click on the audio box to the left. To subscribe, you can find the Tech Check RSS feed here or subscribe on iTunes.