STORY HIGHLIGHTS
This is the year to mount a camel and tackle the mighty Himalayas
For a great foodie trip, try the Sichuan capital of Chengdu in China
France offers the best gambling trip
Looking to get away with kids? Vancouver, British, Columbia, is the place to be
(CNNGo) -- While it's true that most travel destinations aren't like haute couture -- "in" one year and "out" the next -- there are some points on the map particularly worth visiting in 2011.
For good reasons, this is the year to mount a camel, trip through Palau's underwater psychedelia and -- yes, you can -- tackle the mighty Himalayas.
Here's a planner for the year's best trips.
Best adventure trip: Everest base camp
The thrill of high-altitude trekking in Nepal was once available only to a gung-ho few. Recently, the journey has become more accessible.
In April 2011, co-host of international television show Word Travels and travel writer Robin Esrock will lead a trek to the Everest Base Camp with World Expeditions.
The journey begins in Kathmandu Valley and ascends through Sherpa villages to Tengboche Monastery, where awestruck hikers get panoramic views of the rock star mountains of the Himalayas: Tawache, Everest, Nuptse, Lhotse, Ama Dablam.
Hikers will traverse part of the treacherous Khumbu Glacier, followed by an ascent of Kala Pattar (18,192 feet), before stopping at Everest Base Camp.
"In Nepal, acclimatizing is going to be key, as is exercising for several months beforehand to ensure your body can take it," Esrock cautions. "Wearing in your gear is a must, although those incredible Sherpas will no doubt be worth their weight in stardust."
The World Expeditions hike to Everest Base Camp runs April 4-24, 2011, and begins in Kathmandu.
Price is $2,768 per person, including food, trek pack, porters and accommodation.
CNNGo: Where to be, when to go, what to do in 2011
Best foodie trip: Chengdu, Sichuan province, China
In August 2010, the Sichuan capital of Chengdu was honored as a UNESCO City of Gastronomy.
That same month on Twitter, American TV host Andrew Zimmern could barely contain his enthusiasm for the budding food scene. He uploaded a photo of local dumplings that could be mistaken for giant jellyfish. Chengdu's meat market was packed with every type of dried pork, including pig skin face.
For those less adventuresome, an easy first stop on the Chengdu food safari is the bustling Chuan Chuan Xiang hotpot restaurant. Here, meat and vegetables are cooked together rather than piecemeal. (Chuan Chuan Xiang, 45 Double Bridge Road, Chengdu)
Another Chengdu favorite: Grandma Jin's Handmade Noodles (Xiaojiahe St, Chengdu), where hand-pulled "bedspread" noodles resemble a large and chewy sheet. The most popular order is noodles topped with spicy red braised beef.
Located near Wen Shu Temple, the intimate BuddhaZen hotel is highly rated on TripAdvisor and other web forums. The spacious rooms go for $64-$76. (BuddhaZen hotel, B6-6, Wenshufang Street, Qingyang District, Chengdu)
CNNGo: 10 food and drink trends for 2011
Best road trip: Ireland clockwise
The endless highways of North America or Australia are inviting, but in 2011, the Emerald Isle makes for a more mystical (and affordable) setting for a long, freewheeling drive.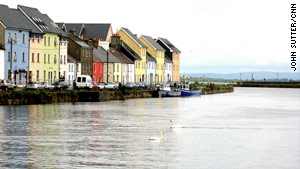 Ireland native Herbie Brennan is the bestselling author of more than 100 books, many with themes of mystic exploration.
For a short trip, Brennan recommends driving 32 kilometers (about 20 miles) northwest from Dublin to Newgrange.
"It is probably the most spectacular megalithic site on the planet, beating Britain's Stonehenge," he says.
Far more satisfying is a ten-day, 1,320-kilometer (820-mile) Ireland clockwise road trip starting from Dublin. First big stop is Kilkenny, a preserved medieval village, followed by a session with the Blarney Stone.
The route takes in Kerry's 4,000-year-old stone forts, majestic Cliffs of Moher and rugged Connemara, then zips back around to Belfast. Along the way you'll get your fill of sodden bogs, picturesque towns, Irish music, charming country pubs and, yes, green, green, green hills.
Visitors can lease a ride from Dublin-based Argus Car Rentals for as low as $10 a day (See what we mean about affordable?) Go Ireland lists rates and specials for hotels all over the country.
How to make the most of the drive?
"Visit the country pubs and talk to people," advises Brennan. "Or rather, listen. With the Irish it's difficult to get a word in edgeways."
Best eco trip: Borneo
Described by Charles Darwin as a "great luxuriant hothouse made by nature for herself," Borneo is one of the world's most eco-diverse zones. For now.
On Sipadan Island, the most famous island off Borneo, divers can swim with exotic creatures -- batfish, clownfish, lionfish, harlequin ghost piefish. To get there, fly to Kota Kinabalu or Tawau, then continue for one hour by car to Semporna for a boat launch.
Animal lovers can play with primates at Sepilok Orangutan Sanctuary, a rehabilitation center that re-trains the displaced animals for life in the jungle. The sanctuary is reached by bus or taxi, a 23-kilometer (14-mile) ride from Sandakan town. (Sepilok Orangutan Sanctuary, Batu 14, Jalan Labuk Sandakan Sabah, admission $10.)
Selingan Island is home to green and hawksbill turtles that creep onto the beaches after dark to lay their eggs.
Since access to Selingan Island is restricted, joining a day tour is the best option. There are several tour operators at the floating village on the Sandakan waterfront. A guided tour and overnight stay from Journey Malaysia begins at $280.
Another way to help preserve the island's future: stay at an ecolodge. North Borneo's Sukau Rainforest Lodge has its own generators and uses solar-heated water. Down south, Rimba Orangutan Eco Lodges offer rainforest strolls and wooden boat rides.
Best tropical island trip: Palau
In 2010, Palau withdrew support for Japanese whaling, called for an end to shark finning and became the third country worldwide to ban the bottom-trawling fishing method of dragging nets across the sea floor.
That commitment to marine health put the Pacific Island nation on the 2010 Ethical Traveler's list of 10 best destinations in the developing world.
With ongoing eco-initiatives in 2011, Palau is preserving its reputation as a destination for undersea exploration.
Jellyfish Lake is famed for the millions of harmless gold jellies that pulse through its waters. To reach the lake, take a 45-minute boat ride from Koror to Eil Malk island. Highly regarded Sam's Tours offers a full day of diving and snorkeling for $139. (Sam's Tours, P.O. Box 7076, Koror, Palau)
Sam's also operates land tours of the "big island" Badeldoab, best known for its 98-foot high Ngardmau Falls. Also of note: ancient stone monoliths and WWII gun emplacements. Sam's Tours has $150 day trips.
The only hotel with its own beach is the Palau Pacific Resort. Rooms with oceanfront views begin at $280, and the hotel is conveniently located in the business district of Koror. (Palau Pacific Resort, PO Box 308, Koror 96940, Palau)
Best budget trip: Morocco
Owing to a certain Humphrey Bogart film, many think of Morocco as a mysterious and extravagant place. However, once travelers touch down in North Africa, the sightseeing costs are surprisingly bearable.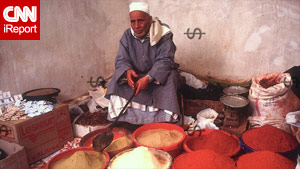 In Marrakesh, foodies can fill up at the vegetarian Earth Café for $5-$8 (Earth Café Marrakesh, N 2, Derb Zawak, Riad Zitoun Kedim, Medina, Marrakesh). The restaurant is known for its fresh juices and generous portions of flavorful food, such as pastille (savory pie) and amlou, a thick almond dip.
A camel trek is a classic Moroccan experience that won't break the bank. For $20, travelers can ride up the Sahara dunes at sunrise and catch a glowing red view of the desert.
At sunset, your Ship of the Desert ambles to a desert hotel, where you can relax and listen to live Berber drumming.
To access the Camel Tours takeoff point, take a bus from Bab Doukala station in Marrakesh to Rissani; it departs at 3 p.m. and arrives 7 a.m., and costs $21. Guides will then transport you to the Erg Chebbi dunes.
The Riad Charlott has four-star-quality rooms for $98-$183. Visitors enter a classic courtyard and are greeted with mint tea and biscuits, and rose petals on the bed. (Riad Charlott, Derb Sidi Ahmed Bennacer, Kaat Bennahid, Marrakesh 40000, Morocco)
Morocco's best hostels and riads (family run guesthouses) are ranked in this article.
Best gambling trip: France
Gambling in France is a classy affair, with nearly 200 upscale casinos around the country populated by elegant socialites imbued with the highbrow 'tude of the Riviera.
In February 2011, the France Poker Series finals play out at Cercle Haussmann's 25 tables. (Cercle Haussmann, 22 rue de la Michodière, 75002, Paris)
Blackjack originated in 17th-century Paris, and Cercle Wagram's paneled walls and chandeliers keep the old-time feel. (Cercle Wagram, 47 avenue de Wagram, 75017, Paris)
The casino in Divonne-les-Bains, a spa town bordering Switzerland, is the largest in France. Gamblers can choose between French and English roulette, and shift from Texas hold 'em to stud poker. (Domaine de Divonne, Avenue des Thermes, 01220 Divonne les Bains)
Lorraine's Casino de Contrexéville was established in 1900, its Baroque architecture inspired by the Paris Opera House. The casino recently added a hall for nearly 200 slot machines. (Domaine de Contrexeville, 13 Rue de Metz, 88140 Contrexéville)
Best trip with kids: Vancouver, Canada
Prettiest big city setting on the planet? Vancouver, British Columbia, has got to be in that discussion.
And the scenery isn't just for show -- in British Columbia, kids can wet their pants over the towering Coast Mountains while getting up close to wild animals, such as whales, eagles, sea lion and deer.
"Outdoor activities, like hiking and kayaking, are available right from the city, and at fairly affordable rates," says Asta Mail, a marine biologist at Vancouver Science World.
Mail recommends a walk in Richmond Nature Park, which has four easy trails totaling seven kilometers in length. The "Nature House" has a small collection of live animals and an active beehive. (Richmond Nature Park, 11851 Westminster Highway, Richmond, BC)
After catching age-appropriate buzzes on Tim Hortons famous coffee and/or donuts, families can hit Deer Lake Boat Rentals to rent canoes, rowboats or pedal boats for about $17 an hour, while blue herons, beavers, turtles and other creatures dart between the lily pads. (Deer Lake Boat Rentals, 5435 Sperling Ave., Burnaby, BC)
Several kid-friendly music and theater festivals are slated for summer 2011.
The popular Children's Festival moves to Granville Island for the first time in 2011, increasing the number of performers and stage capabilities. The May 30-June 5 lineup includes Al Simmon's Juno Award-winning musical comedy.
Best revolutionary trip: Che Guevara's Route, Bolivia
Because of its high, isolated plateaus and devout, indigenous population, Bolivia is sometimes called the "Tibet of South America."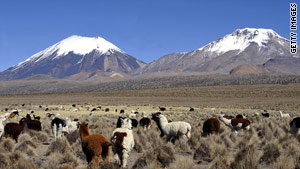 The trails are welcoming to backpackers, and the living is easy: trekkers can eat and sleep well for $25 a day.
On one of those trails, modern history buffs can relive a Che Guevara journey on "La Ruta Che," which follows the guerrilla fighter's path as he tried to advance a socialist revolution in South America.
Swiss Bolivian Adventures (Swiss Bolivian Adventures, Avenida Mariscal Santa Cruz, Handal Center Planta Baja, Oficina 6, La Paz, Bolivia) offers three- and six-day tours of the trail, beginning at $125.
From Santa Cruz, the path leads to the Vallegrande laundry where the leader was exposed, to Abra del Picacho where his guerrillas fought, and finally to La Higuera, the site of Guevara's execution in 1967. The route is fine for beginners.
Hostels such as Jodanga in Santa Cruz are tailored specifically to backpackers. The communal atmosphere and Spanish lessons let fellow trekkers meet and exchange info.
A bed in the dorm is $10; a private bathroom and room with air-conditioning is $31 a night. (Jodanga Backpackers Hostel, El Fuerte N0 1380, Barrio Los Choferes, Santa Cruz, Bolivia)
Best volunteer trip: Cambodia
In November 2010, the Cambodian bridge stampede that killed hundreds drew attention to both the country's beauty and incessant troubles.
"Cambodia faces problems of health, corruption, poverty and lack of education," laments Chi Lo, a travel blogger and volunteer at the Women's Media Centre.
Opportunities for visitors to help Cambodians are plentiful. Visitors can do human rights work, dig wells and latrines and teach everything from English to hospitality to hairdressing.
Travelersphilanthrophy.com has tips on giving responsibly.
Star Kampuchea's volunteer programs are four to 24 weeks long, with volunteers working 30-40 hours per week. The organization helps visitors acquire visas (about $43) and connect with host families. Cost begins at $770 per month; an independent stay is $490 per month. Training begins the first and third Monday of each month. (Star Kampuchea, No. 67, Street 123, Sangkat Toul Tompoung 1, Khan Chamkar Morn, Phnom Penh)
For more volunteer vacations check out these 6 inspiring trips in Asia.
© 2011 Cable News Network Turner Broadcasting System, Inc. All Rights Reserved
FOLLOW THIS TOPIC