Judge says government need not disclose air traveler security images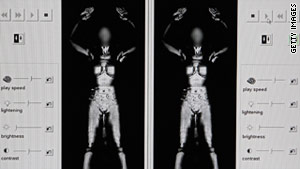 The scans have prompted privacy concerns for some travelers and organizations.
STORY HIGHLIGHTS
The 2,000 "whole-body" images were used to show the devices' effectiveness
The Electronic Privacy Information Center seeks their release
The judge says the government's objections were reasonable
Washington (CNN) -- A federal judge in Washington has ruled the Department of Homeland Security can keep from public view 2,000 "whole-body" images taken to test the machines used to screen travelers at airport checkpoints.
The decision is a setback for the Electronic Privacy Information Center, which had sued the government for release of material to determine how the technology would impact privacy and civil liberty concerns.
But Judge Ricardo Urbina, in a 15-page opinion issued Wednesday, said the Homeland Security Department has no obligation under the Freedom of Information Act to disclose the images or related training materials.
The images were created to give officials at the Transportation Security Administration an idea of the effectiveness of its detection technology. Government lawyers had argued release of the material was exempt from Freedom of Information Act since release "would constitute a threat of transportation security" that might highlight vulnerabilities of the body-scanning's effectiveness.
Urbina agreed, saying the government had made a "reasonable conclusion that disclosure of the images may provide terrorists and others with increased abilities to circumvent detection by TSA and carry threatening contraband" onto an airplane."
The government agencies had already disclosed nearly 1,800 pages of documents as part of the litigation. The images themselves contained "various threat objects dispersed over the bodies," according to federal officials, and were used to test how well the screening machines worked. Various private companies have contracted with the Transportation Security Administration to provide the technology.
DHS told CNN the images in question were taken during various stages of testing the technology. The machines used in airports cannot store images
The Electronic Privacy Information Center said Wednesday it is considering an appeal. In its legal brief in the case, lawyers for the group argued that "the TSA has acted outside of its regulatory authority and with profound disregard for the statutory and constitutional rights of air travelers," and "the agency's rule should be set aside and further deployment of the body scanners should be suspended."
The group had argued that because the agency had already released a limited number of images to the media, the government could no longer make a claim of preserving transportation security.
The case is Electronic Privacy Information Center v. U.S. Department of Homeland Security (cv09-2084).