Airport carpets stir online passion
STORY HIGHLIGHTS
Website features photos of the strange carpets at airports around the world
The reader-submitted photos are accompanied by poetic descriptions of the rugs
Founder wants to remain anonymous; he got the idea after his flight was delayed
(CNN) -- There's something underfoot at airports around the world that most travelers ignore, but that's getting a lot of attention.
Cast your eyes downward and behold the wonder that is the airport carpet, a rug that often features colors and patterns so odd and awkward that they've inspired their own website.
The introduction of Carpets for Airports sets the irreverent tone of the project.
"Ever since the dawn of time man has separated himself from the lifeless earth beneath him with carpets," it reads.
"The airport carpet sings out its inviolable song, a sign of man's refusal to go drably into that dark night of international travel. Such aesthetic intimacy, poetry and passion, has for too long gone unnoticed by the modern traveler. Until now."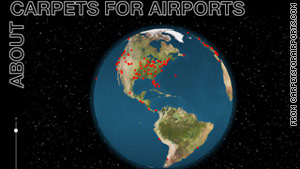 The site features a spinning globe with red dots representing airports around the globe. Click on a dot and get a reader-submitted image of the carpet in that location, along with a poetic description of the rug in question.
Take the entry for Mineta San Jose International Airport in California, featuring a brown and beige carpet:
"A two-tone cream and chocolate flatweave, SJC is suggestive of a half-drunk cup of coffee cooling at the end of an unsuccessful day of selling insurance door-to door.
"One can almost sense the loneliness and frustration seeping out from it. It is a carpet that fails to achieve greatness, but is obsessed by it."
Or the description of the alarmingly colorful rug at Bermuda's L.F. Wade International Airport:
"The carpet of BDA both comforts and interrogates the identity of the weary traveler. ... The result is an exploration of the relationship between artist, subject, and carpet. 'You stand on me,' it seems to say, 'Why?' "
The founder of the site prefers to remain anonymous, he said in an e-mail.
He came up with the idea for the project several years ago after a "fateful ingestion of Xanax and alcohol at an airport" before he found out his flight was delayed. He then found himself "sitting in the terminal staring at the carpet in a slightly altered state," he wrote.
The site was created in 2009 and has since collected 150 airport carpet photos, as well as hundreds of duplicates from some of the most frequented airports such as JFK International in New York and London Heathrow in England.
The site encourages "carpeteers" -- travelers fascinated by the airport carpets or simply those "trapped in an airport" -- to submit photos from their journeys.
Feeling the itch to see even more busy carpets? You're in luck.
Rugs in destinations frequented by travelers have attracted a lot of attention in recent months. Last fall, a photographer focused his lens on the motley and wildly colorful carpets of Las Vegas casinos, calling them "surreal."