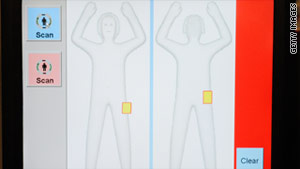 Yellow boxes on the scanned images highlight areas that need further investigation.
STORY HIGHLIGHTS
New whole-body scanning software is aimed at resolving privacy concerns
No image would appear if nothing questionable is found
Only a human outline with boxes indicating areas of concern would be shown in other cases
In tests, officials will look for "any diminution of efficiency in terms of what we're doing"
Washington (CNN) -- Tests are beginning on a software change in airport passenger scanning machines that will discontinue the display of personal body characteristics while still promising to catch questionable objects, the Transportation Security Administration said Tuesday.
"We believe it addresses the privacy issues," Administrator John Pistole told reporters at a demonstration of the new software, now being tested at Reagan Washington National Airport, Hartsfield-Jackson Atlanta International Airport and McCarran International Airport in Las Vegas.
If the field trials are successful, the software will be put into the advanced imaging technology machines already being used at airports across the country.
Privacy advocates and many air passengers have expressed concern about the level of personal detail the machines provide in their current configuration, even though the agency tried to mitigate those concerns by having the officers who viewed the images sit in a remote location so they could not connect any image to a particular passenger.
In Tuesday's demonstration, Transportation Security staffers walked into one of the newly configured machines and stopped with their arms raised, as passenger being scanned are asked to do. A small video monitor near the unit's exit displayed the results for both the passenger and the security officer operating the machine.
Those who deliberately carried objects were detected and portrayed as generic human outlines, with regions of their body highlighted by a box indicating additional security attention was warranted.
Those who carried no questionable objects saw a screen that was green with "OK" in the middle.
Pistole acknowledged Transportation Security workers will no longer be able to see the shape and size of the questionable objects that are detected by the machines.
"That's one of the things we'll be assessing in our pilot testing at the three airports," he said. "How do the security officers engage the passenger based on what they're seeing, and is there any diminution of efficiency in terms of what we're doing?"
The software upgrade takes several hours per scanning machine, but involves very little additional cost, officials said. When the new software is installed, it will no longer be possible for TSA workers to observe detailed characteristics of the subjects' bodies.
"We don't intend to leave the monitors in place when we go to retrofit the software," said Robin Kane, the Transportation Security Administration's chief technology officer. "The way we will have them in the field they will not run concurrently."
Kane ruled out reinstating a detailed visual capability even when a threat level is raised.
Sen. Susan Collins, the ranking member of the Homeland Security and Governmental Affairs Committee, welcomed the new software. She has been among the most vocal of the critics calling for a change in the whole-body scanning procedure to address privacy concerns.
"We have the technology that will eliminate the need for American air travelers to choose between their privacy and security when they choose to fly," she said in a news release.
"I understand that the machines being installed in this pilot program do not emit radiation," she added. "Although the TSA assures me that some of the machines in use that emit radiation do not pose a health risk, it is preferable to use technology that avoids exposure."
Some 2,000 "whole body" test images from advanced imaging technology machines were the subject of a recent court challenge by people concerned about an invasion of privacy, but a judge ruled against releasing those images, saying it might disclose capabilities to potential terrorists.
Machines in use for the general public do not record images, authorities say.
Last month's federal court decision was a setback for the Electronic Privacy Information Center, which had sued the government for release of material to determine how the technology would affect privacy and civil liberty concerns.
FOLLOW THIS TOPIC