STORY HIGHLIGHTS
Airlines cancel thousands of flights for Wednesday
Air traffic comes to a halt in some places
More than 2,200 flights canceled at Chicago's O'Hare International
Share your snow images with CNN iReport. Follow CNNTravel on Twitter for the latest updates.
(CNN) -- Airlines canceled thousands of flights for a second day and began to regroup as a historic winter storm pushed from the upper Midwest to the Northeast on Wednesday.
For many travelers, that meant packing patience and waiting for conditions to improve.
"It was horrible," said Shannen Park, who was on her way to Minneapolis-St. Paul, Minnesota, when she got stuck at O'Hare International Airport in Chicago. She's been there for two days.
"People are treating me like [I'm] homeless. There was a guy who gave me food... I slept a while, but I couldn't really sleep. It's not comfortable."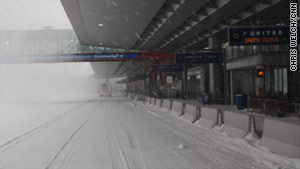 Chicago's O'Hare International Airport looks like a ghost town on Wednesday.
Wei Min Zhang was traveling from China to Knoxville, Tennessee, when the bad weather interrupted his journey at O'Hare. He wanted to find a hotel room, but there were no vacancies. He tried to sleep on seats in the baggage claim area.
"I hope I can leave today, but [there's] nothing I can do about it," he said.
Both travelers may be stuck at the airport for a while longer.
O'Hare International -- where more than 19 inches of snow has fallen so far -- is expected to have limited or no flight operations on Wednesday, said Gregg Cunningham, a spokesman for the Chicago Department of Aviation. More than 2,200 flights have been canceled.

Blizzard in Chicago

Massive storm blankets US with snow

Stranded motorists rescued

Buffalo braces for winter snow
Chicago's Midway Airport, saw 400 flight cancellations. Airlines at both airports expect to resume operations on Thursday morning, Cunningham said.
Boston's Logan International Airport had to close for several hours because of icing on the runways.
Tulsa International Airport in Oklahoma resumed flights at noon on Wednesday, according to affiliate KOTV.
Airlines have canceled more than 11,000 flights over the past two days as the massive storm surged out of the southern Plains, spreading snow and ice from Texas to the Ohio Valley.
"It's going to take days to clear out this storm," said CNN meteorologist Jacqui Jeras. "This is a monster."
Delta has canceled more than 1,175 flights for Wednesday, while American Airlines scrubbed more than 1,000 flights.
American Airlines is allowing travelers who are scheduled to fly from more than 30 airports in the Midwest -- including those in Chicago, Detroit and Milwaukee, Wisconsin -- to change their plans without penalty.
Southwest Airlines canceled more than 900 flights on Tuesday, according to spokeswoman Marilee McInnis, who said hundreds of flights will likely be grounded for Wednesday.
Passengers with reservations for travel through Chicago, St. Louis, Detroit and other cities are eligible to reschedule their flights.
AirTran Airways scrubbed 185 flights for Tuesday and has canceled another 75 flights on Wednesday, spokesman Christopher White said.
AirTran passengers traveling through two dozen cities in the region -- including Chicago, St. Louis and Boston -- can change their reservation without penalty.
Delta issued a winter weather advisory for the northern United States. Passengers traveling to airports in 20 states through Friday can reschedule their itineraries without a fee or get a refund if their flights are canceled or significantly delayed.
Continental Airlines will allow changes for travel to, through and from nearly three dozen airports, including the airline's hubs in Newark, New Jersey, and Cleveland for travelers scheduled to fly through Thursday.
Continental said operations at Newark would be suspended through noon Wednesday.
US Airways also has relaxed its change-fee policies for passengers scheduled to fly through Thursday to or from 27 cities from Portland, Maine, to Akron, Ohio.
Travelers on JetBlue flights to and from six cities and metropolitan areas in the Northeast on Tuesday and Wednesday will also be able to change their plans with no fees.
United Airlines has issued travel waivers for passengers traveling to, from or through 19 states in the Midwest and Northeast as well as five Canadian cities. Travelers will be able to alter their plans without fees or get a full refund if their flight is canceled.
CNN's A. Pawlowski and Chris Welch contributed to this report.
FOLLOW THIS TOPIC