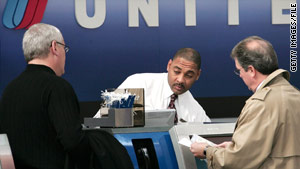 Upgrades are a huge perk of elite frequent flier status.
STORY HIGHLIGHTS
Road warriors who rack up lots of miles often have more than they can burn for award travel

Upgrades to first class are the true benefit for elite fliers

Airlines with premium economy class offer more options for lower-tier frequent fliers
Editor's note: Brett Snyder writes a weekly CNN.com travel column. Snyder is the founder of air travel assistance site Cranky Concierge, and he writes the consumer air travel blog, The Cranky Flier.
(CNN) -- For most road warriors, frequent flier mileage redemption is a minor perk. The real benefit is the upgrade.
Delta's announcement last week eliminating the expiration date on its SkyMiles program means nothing to anyone who flew the airline at least once a year since any activity within a two-year period kept the miles from expiring anyway. In fact, if you're a frequent flier, it might even make things worse by keeping more miles in the system to compete against you when you look to redeem yours.
But frequent fliers know that if miles were issued in paper, they'd be able to fill a swimming pool with them. When you fly a lot, you earn a lot, and you usually earn more than you can burn. Besides, if you're always on the road, your idea of a vacation is often just staying home for seven consecutive days instead of using miles to go anywhere. So why bother to keep flying one airline over the others? Two words: elite status.
Elite status has become so powerful that even formerly-egalitarian Southwest has created its own status levels to treat its most frequent fliers better. On most airlines, once you fly more than 25,000 miles in a year, you get into the elite program. This entitles you to premium check-in and security lines, access to the most desirable seats, and on nearly every airline with a first class cabin (save American), unlimited free domestic upgrades.
The upgrade is the primary motivation for nearly every frequent flier. Flying in the pointy end of the plane makes grueling business trips a lot less painful. The only problem is that there are only a certain number of first class seats on each airplane. Airlines have given out lower level elite status like candy, so it can make getting upgrades difficult for all but the highest fliers.
How can you get around that? There are a couple strategies to consider.
This may sound counterintuitive, but if you live in a hub, don't fly the hub airline unless you're a top frequent flier. Let's say you live in San Francisco, for example. United rules the roost at SFO and it has the most nonstop flights to the most destinations from the airport. Because of the convenience factor, United has built a very large following of elite travelers.
Try showing up on a Monday morning. The elite security lines can sometimes be longer than the regular ones. And look at the upgrade list for that early flight to Chicago. It's a long one. If you're not a top tier elite flier, you aren't getting that cushy seat. But try flying on one of the airlines without as large of a presence in your city, and you're likely competing with fewer people for that upgrade.
Of course, there's a tradeoff there. Would you rather go nonstop in coach or connect in first class? That's something each traveler has to decide on his own.
United realizes upgrades can be elusive, so it offers a different proposition. Elite travelers get free access to its premium economy section, Economy Plus, with a few extra inches of legroom. So if you have no chance of a first-class upgrade, then flying United will at least get you more room for your legs to breathe. The airline's recent announcement that Economy Plus will survive the merger with Continental means this should continue to be a successful strategy.
But there is a tradeoff when you fly United. The airline often has fewer first class seats than its competitors, so that might make you want to look elsewhere in order to score that upgrade. United puts 12 first class seats on its mid-size A320 aircraft. On American's and Delta's similarly-sized 737, however, there are 16 first class seats. It's also not uncommon to see United using smaller 70-seat jets with only six first class seats.
But at least those airplanes have any first class offering at all. While United has aggressively added first class to the 70-seaters that are operated for the airline, not everyone has followed that strategy. US Airways has no first class on its airplanes with fewer than 100 seats. Delta has committed to having first class on its 70 seaters, as has American, but American has very few of those in the network.
And nobody offers first class on those 50-seat regional jets. Do your homework to see what kind of airplanes are being flown on the routes you fly most to get an idea of what your upgrade chances will be.
You've earned the right to get that upgrade, but you'll need a strategy to compete with the other frequent fliers jockeying for those seats.
FOLLOW THIS TOPIC