System glitch delays some Southwest flights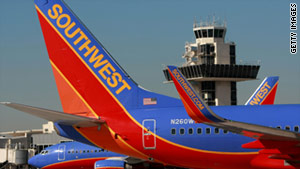 A telecommunications glitch caused delays of less than an hour for some Southwest Airlines flights Tuesday night.
STORY HIGHLIGHTS
The incident occurs at 7 p.m. ET and was solved in less than an hour
A spokeswoman says the delays were caused by a telecommunications outage
As many as 600 flights may have been affected
(CNN) -- A telecommunications glitch at Southwest Airlines ticket counters caused delays to some flights Tuesday night.
"We had a temporary telecommunications systems outage that caused some customer service issues at our ticket counters throughout the system and we had to implement a manual system," said Ashley Dillon, spokeswoman for the airline. "It caused some short delays, less than an hour."
Using the manual system means in part that workers at the ticket counter had to issue handwritten boarding passes, Dillon said.
The incident occurred about 7 p.m. ET and was solved in less than an hour.
About 300 flights were operating at the time of the outage, but Dillon said it was not clear how many were affected.
FOLLOW THIS TOPIC