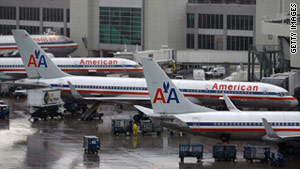 Radiation attributed to medical supplies was detected on an American Airlines plane Wednesday.
STORY HIGHLIGHTS
U.S. officials have increased radiation testing on planes arriving from Japan

Cargo areas in several planes have tested positive

Radiation alerts often are caused by medical isotopes

Last year, officials cleared more than 500,000 radiation alerts on planes
(CNN) -- Heightened radiation screening on flights arriving in the United States from Japan has triggered several low-level alerts.
An American Airlines plane that arrived at Dallas-Fort Worth International Airport from Tokyo on Wednesday created a blip on equipment being used by U.S. Customs and Border Protection to screen inbound flights for radioactivity.
Officials found a very low level of radiation in the plane's cargo compartment, with isotopes consistent with medical supplies, said American Airlines spokesman Tim Smith.
"We later came up with a pretty high certainty that it was related to a medical shipment headed to Mexico," Smith said.
Testing yielded no evidence of radiation on passengers or bags on that flight, and there was no indication of radioactivity on the next arrival at DFW from Japan, Smith said.
"No aircraft entering the United States has tested positive for radiation at harmful levels," according to a CBP statement Thursday.

U.S. radiation levels monitored 24/7

Radiation fears in the U.S.

Japan radiation health risks

Nuke plant workers facing high radiation
Outside of the current radiation threat, CBP routinely screens planes for security purposes. Last year, 580,000 radiation alerts were detected, according to a Department of Homeland Security official. All of the alerts were cleared and most were attributed to medical isotopes or naturally occurring radiation, the official said.
The American Airlines plane was cleared to operate and put back in service. In a separate incident, an empty American Airlines cargo container prompted an alert Wednesday afternoon, Smith said. Nothing was found on that particular flight that would have caused a radiation reading, but officials determined the alert was consistent with medical shipments.
Those two findings are the only incidents Smith is aware of at American Airlines since the government boosted screening earlier this week.
"And this is very very consistent with what we would expect based on the pretty sophisticated monitoring of radiation levels in Tokyo, which is where we fly in Japan," Smith said.
Also on Wednesday, cargo being unloaded from flights from Japan tested positive for radiation in Chicago, the DHS official said. The levels were deemed safe.
United and Continental airlines operate 183 flights from Japan to the United States each week, according to United spokesman Mike Trevino. No passengers or baggage have tested positive for radiation, he said.
"All cargo has cleared screenings," Trevino said. He declined to elaborate on whether the airline had experienced any slow-downs with cargo screening.
On Wednesday, CBP announced close monitoring of flights from Japan "out of an abundance of caution."
"CBP has issued field guidance reiterating its operational protocols and directing field personnel to specifically monitor maritime and air traffic from Japan," the agency said in a statement.
CNN's Mike Ahlers, Dave Alsup and Kara Devlin contributed to this report