STORY HIGHLIGHTS
The Sun Dial Restaurant Bar and View on top of the Westin has the best view of the city
Little Five Points is eclectic, hopping and pedestrian
Neighboring Decatur is walkable with a good mix of non-chain cafes
Editor's note: CNN's Insider Trip Tips taps staffers around the globe for a local's look at places where they work and live. Tell us about your favorite spots in Atlanta in the comments section below.
Atlanta, Georgia (CNN) -- In a city rife with transplants, staying put for 10 years means you're practically a native. HLN anchor Robin Meade, who hails from "a cornfield in Ohio," has lived in Atlanta for nearly a decade.
We asked Meade to share her tips for visitors to CNN's hometown:
Where can you get the best view of the city?
Go to the Sun Dial Restaurant Bar and View on top of the Westin hotel tower downtown. The restaurant slowly rotates, so you don't even have to swivel your head to see a different view!
Where is the best place to people watch?
Little Five Points if you like seeing artsy-types with lots of tattoos and a few piercings. The neighborhood is eclectic, hopping and pedestrian.
Lenox Mall in Buckhead offers great people-watching if you want to see peeps from all walks of life, getting their shopping on. You'll see everything from proper southern ladies in their church heels on a Sunday afternoon, to label-conscious clubbers picking out blingy-wear for a night out.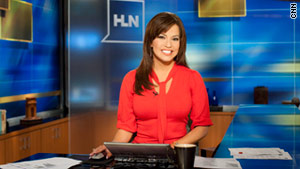 HLN's Robin Meade is a Midwestern transplant to Atlanta.
Which restaurant would you take your loved one to for an anniversary or other special occasion?
I enjoy Seasons 52 with their seasonal approach to menus and nice wine selection. But Canoe, a restaurant on the Chattahoochee River, gets rave reviews for romance.
What is your favorite neighborhood?
I think Decatur, a small town within metro Atlanta, is a good neighborhood for visitors. It's walkable with a good mix of non-chain cafes and patio seating and quirky unexpected stores mixed in. Some live music venues are sprinkled amongst the food. Pet friendly, child friendly, what's not to like?
How do tourists stick out and what's the best way to blend in?
Drive the speed limit, and you stick out. Atlantans drive FAST.
What's the biggest misconception about your city?
That everyone here talks with a genteel southern accent. It's actually such a cosmopolitan mix, with people moving in and moving out for their jobs with the big companies here. It's noticeable when you do hear someone with a drawl. You can bet they're probably the rare native Atlantan you'll meet.
Where do you go to relax?
I drive about 100 miles away to one of Georgia's lakes.
What essential thing should visitors see/experience if they only have a few hours?
Here's the must-do list:
- Georgia Aquarium (go online to reserve your entry time so you don't wait in line)
- CNN Center tour (Hey, there's a VIP Robin Meade Morning Express tour too, on Thursdays only at CNN Center!)
- The Coke museum, World of Coca-Cola
- Mary Mac's Tea Room (for good old-fashioned southern food)
- The international Dekalb Farmers Market (wait until you see the selection of stuff from all over the world)
Are there local specialty dishes or drinks that visitors must try?
Sweet tea and anything with a good Georgia peach in it!
Have an Atlanta tip? Share your favorite spots in the comments section below.
FOLLOW THIS TOPIC