STORY HIGHLIGHTS
Fort Lauderdale's best views are of the water with cocktails in hand

Don't forget sunscreen -- the pink people stand out as tourists

Get a look at the glitzy side of the city from the Jungle Queen riverboat

Editor's note: Kim Segal is a CNN supervising producer. She has lived on Fort Lauderdale Beach for 24 years. Share your tips for visitors to this Florida beach town in the comments section below.
Fort Lauderdale, Florida (CNN) -- When I'm not on the road working, I want to feel as if I'm on vacation. That's why I live in Fort Lauderdale. I travel a lot for work and for pleasure, but every time I walk through my door, I say to my husband, "I love our home."
Fort Lauderdale, just north of Miami, is a beautiful oceanfront town known for seven miles of sandy beach. When I'm in town, I take advantage of a path that gives bicyclists an ocean view while they exercise.
This inviting stretch of sand became popular when it was shown on the big screen in the 1960 film "Where the Boys Are," starring Connie Frances and George Hamilton. Things have changed a lot in Fort Lauderdale since that movie.
The strip, the section along the beach where most of the shops, hotels and restaurants are congregated, is still there, and the businesses have gone upscale over the past few years. But you still don't have to dress fancy even for the finest restaurants.
Fort Lauderdale has embraced the laid-back beach culture where a nice pair of jeans with a presentable shirt is fine in almost any establishment.
Where can you get the best view of the city?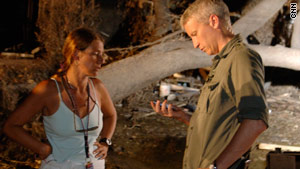 Kim Segal, a CNN supervising producer, on assignment with "AC360°'s" Anderson Cooper.
No one cares about the city views when you can look at the beach and the blue Atlantic Ocean. So, I'll tell you the best place to sit, have a drink and look at the beach. The recently opened deck at McSorley's Beach Pub has a great unobstructed view of the ocean and is walking distance from the strip.
On a night when the moon is not reflecting off the water and the ocean is obscure, you need to travel only a block or two from the beach to the Intracoastal Waterway. There, you can sit at any of the restaurants or bars on the waterway and watch the boats go by. If you're traveling with children, the best place to go is to Benihana; when you aren't being entertained by the chef, you can look out the window and watch boats of all sizes go by.
International correspondent shares Moscow tips
Which restaurant would you take your loved one to for an anniversary or other special occasion?
We would go to one of several restaurants, depending on our mood and how much we want to spend. I know I'm going to get in trouble with some locals for making this public, but Sage French Café and Café Vico are two very good restaurants off the tourist trail. They are a few minutes from the beach in strip malls.
Sage French Café never disappoints. The price is right, and the meal is always good. You can bring your own bottle of wine for a $15 corkage fee. The bar serves only beer and wine.
Great food and a captivating jellyfish tank bring visitors to Steak 954 at the W hotel.
If you want a full bar and great Italian food, go to Café Vico. It is also hard to resist a maître de, who is really the owner, greeting you as if you grew up in the old country together. We always order a plate of gnocchi as an appetizer to share with the table. It's wonderful, but it's too rich to eat as a meal.
If it's seafood you crave, then you must go see chef Dean Max at 3030 Ocean in the Marriott Harbor Beach hotel. While you're there, make sure you congratulate the chef for wining last year's Great American Seafood Cook-Off. He was handpicked by the governor to represent Florida and compete against chefs from 13 states. I am proud to tell you that chef Max brought home the bacon -- bragging rights for the Sunshine State.
Speaking of bacon, if it's meat you're hungry for and you have plenty of money to spend, order the Kobe beef at Steak 954 in the W hotel. An 8-ounce Kobe fillet is $65, but the entire menu is not that expensive. You can get a regular 8-ounce fillet for $35. Aside from the food, a highlight here is the jellyfish tank; it's worth, at the least, going to the bar for a drink.
What is your favorite neighborhood?
I'm not sure it has a name, but all my friends know where to find me when I'm in town. I call it my favorite beach block. It is on the beach and Sunrise Boulevard, about a mile north of the strip. This three-block radius has something for everyone.
After the sun goes down and you get a drink at McSorley's, you can walk across the street to the Parrot Lounge. I recently became the Foursquare "mayor" of the Parrot Lounge, although my mother thinks I should own the place by now. The friendly staff has retained me as a loyal customer for decades.
For many locals, this is our version of Cheers. But instead of a Norm, we have a Rich who can always be found at the end of the bar. The Parrot is known by locals as a "Philly bar." It caters to Philadelphia's sports teams, and the place is packed when the Flyers, Phillies, Eagles or even Penn State has a televised game. The extensive menu includes foods that Philadelphia is known for such as cheesesteak and soft pretzels. Even if you can't find Philadelphia on a map, it's a fun place where tourists and locals mix.
Doors away from the Parrot, you will find a Thai restaurant, smoke shop, kava bar, St. Barts coffee shop, tattoo parlors, bar/restaurant Cafe Bluefish, Yo Mama's homemade ice cream shop and a couple of shops selling T-shirts and souvenirs. It's also where you'll see my husband every Sunday at about 6 p.m. picking up pizza from my favorite spot, Primanti Bros. This beachfront sandwich shop is open 24 hours a day and serves the best pizza in town.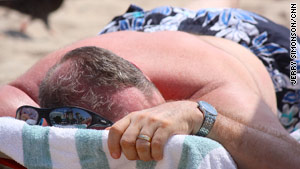 The "pink people" are usually tourists.
How do tourists stick out?
Knowing a person is a tourist is easy in Florida. I think our engineer Max Lewis said it best: "You look for the pink people. We used to call them flamingos when I was a kid."
I'm not sure that the term is still used, but the pink people continue to be one good way to tell when someone is in town on vacation. If their sunburn doesn't give them away, things like a Hawaiian shirt or camera around the neck will. A tip: Save your money on the new shirt and buy good sunscreen!
Is there a tourist trap actually worth seeing?
The Jungle Queen riverboat has been transporting tourists around Fort Lauderdale's canals and New River for as long as I can remember. The tour guides are funny and informative as they point out the multimillion-dollar homes on the water and the names of famous residents who live there. This tour allows you to see these residences from behind the gates. They also stop on their own island, where you can watch an alligator being wrestled.
If you want to see an alligator in its natural habitat, I advise you to rent a car and drive to Shark Valley in the Florida Everglades. It's not in Fort Lauderdale but worth the trip! It was only last year when I discovered this spot, and I haven't stopped talking about it since. I have never seen so many alligators in one place. I was so amazed by what I saw that I wrote a story for CNN's Travel page.
Have you been to Fort Lauderdale? Share your tips in the comments section below.
FOLLOW THIS TOPIC