STORY HIGHLIGHTS
When couples who reside in different cities fall in love, travel becomes the focus of their lives
Careers, studies and economic realities can keep lovers from living in the same place
"We are always trying to figure out how to see each other," woman says
Long-distance lovers soon become experts on airfares, cheapest routes
(CNN) -- Joe Whitfield catches a flight from St. Louis to Atlanta so often he knows some of the airport gate agents by name. They're convinced he's a business traveler, but work isn't the reason he's shuttling back and forth so urgently between the two cities.
Whitfield is on the road for love.
Like many people these days, he lives in one part of the country, while his sweetheart, Chandra Thomas, lives in another.
They use phones, webcams and online chats to stay in touch as often as possible, but they long for the time when a plane or a car can finally take the distance out of their long-distance relationship -- if only for a while.
"We manage it by keeping our eye on the next trip ... knowing there's another trip around the corner and knowing that because we don't have as much time as others, that the trip is going to be full of romance," said Whitfield, who attends law school in St. Louis.
"We are always trying to figure out how to see each other," added Thomas, a freelance journalist in Atlanta.
It's a familiar scenario for many couples as careers, studies and economic realities keep them from living in the same place. The U.S. Department of State, which sends its workers all over the world, calls such lovers "geographic singles."
Another label that has stuck is the "commuter marriage," in which nonseparated spouses maintain households in different cities, often for job reasons. More than 3 million Americans are estimated to live in such an arrangement.
But long-distance relationships are also big among young people: up to half of college students are dating from afar and as many as three-quarters will be at some point in time, according to a study published last year in the journal Communication Research.
No matter what their age, travel becomes the focus of long-distance lovers' lives.
Hunting for airfare deals
Thomas and Whitfield, who are both in their 30s, have been able to see each other at least once a month, but usually just for the weekend.
They met in 2006 when he came to Atlanta for his grandfather's funeral. His parents knew her family and she was asked to show him around the city. Thomas reached out to him -- reluctantly. She had plans, but invited him out for coffee. Something clicked.
They began dating long-distance several months later, with him doing the bulk of the travel, she said.
"Even to this day, we have a regular pickup spot at Hartsfield-Jackson (Atlanta International Airport). When I pick him up, he knows to go to the spot and I know to go to the spot," Thomas said.
The couple, who became engaged last year, carefully monitors travel websites to get the best deals. They soon learned a long-distance romance will turn you into an airfare expert -- fast.
"I had a total willingness to go for the cheapest rate ever," said Shannon Houghton, who dated her husband-to-be while she lived in Detroit and he lived 2,000 miles away in Seattle.
"I would travel on 'Funky Larry's Discount Trips Out West' if that was what would get me the best rate."
Houghton, 27, literally tripped over her love while they were still in high school. Both were attending the International Thespian Festival in Lincoln, Nebraska, and she was on her way to see a play when she stumbled over his 6-foot-7-inch frame. They began dating two years later in 2002.
Airport adventures
Lots of travel lessons followed the start of their long-distance relationship.
It was hard to find reasonably priced tickets between Seattle and Detroit, for example, Houghton found.
She is now an air travel veteran, but the first time she flew to Seattle and back, there was a big snag.
It was my first time being out of the state on my own and I was really freaked out.
--Shannon Houghton
On her return trip, Houghton had a layover in Chicago, but she was such a flying newbie she didn't realize she had to switch airports. She had arrived at Chicago Midway, but her next flight was leaving from O'Hare.
"I had to take a shuttle bus and it was my first time being out of the state on my own and I was really freaked out, but I didn't know any better at the time," Houghton said.
The trip soon turned into a familiar routine. She knew the sights by heart as the plane approached Seattle -- I-5, the mountains, Puget Sound -- and she knew her beau would always be waiting for her at the airport with a chai latte from Starbucks.
The couple chose to take less frequent trips to see each other -- once every few months -- and to stay together for longer periods. But after meeting only in their respective cities, they began yearning for a new place to visit.
"We wanted to take an actual vacation. We were a little tired of vacations being limited to Detroit and to Seattle," Houghton said.
"We went on a trip to San Francisco and that was like the most amazing thing ever, to actually be traveling together as co-travelers rather than going to see one another."
The couple married this month and lives in Seattle.
Travel costs add up
When a long-distance romance spans continents, the couple really has to get creative about airfares and meeting places.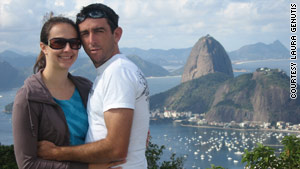 Laura Genutis and her fiancé spend time together in Rio de Janeiro in his native Brazil.
Laura Genutis, who resides in Pennsylvania, and her fiance, who lives near Florianopolis, Brazil, have been meeting all over the world as they work through the U.S. immigration process that will allow him to move and marry her. Genutis preferred not to give his name while that process continues.
She's been chronicling their long-distance relationship in her blog, Travel for Love.
The couple started dating after meeting at a Pittsburgh bar in 2008 when he was in the United States on a temporary visa, Genutis said.
After he returned to his country, they promised each other they would do everything they could to meet every three months, she said. They've since vacationed in France, Spain, Bolivia, Argentina and the Caribbean -- their halfway rendezvous place. Genutis also regularly visits her beau in Brazil.
The trips have been wonderful, but costly, Genutis said.
"It gets difficult, but we really try to make it a priority in our lives. There may be better things I could do with my finances but I've tried to save money in other ways and cut back on other things so that I can afford the travel and he's been able to do the same," Genutis said.
"I'm proud that our relationship has done really well."
Just another couple on the road for love.
FOLLOW THIS TOPIC