The world's biggest bun fight
STORY HIGHLIGHTS
Cheung Chau bun festival takes place in Hong Kong each year
Roots go back to Qing dynasty when locals gave thanks for end of plague
Recent incarnation of festival has parades and bun scrambling contest
In 1978 the tower of buns fell over injuring many
Hong Kong (CNN) -- It's midnight on May 11 on the island of Cheung Chau. Twelve competitors circle a 45-foot (14m) bamboo tower covered in buns. They focus on the task in front of them: scaling the top of "Bun Mountain" while collecting as many buns as they can in two minutes.
"You're not allowed to push the others off," said competitor Yau Ka-chun before the race started. But, admitted the 18-year-old rock climbing enthusiast, "things happen" in the heat of the bun scramble.
The event on Bun Mountain is the high point of the Cheung Chau Bun Carnival that for one day each year transforms the sleepy island 30 minutes from central Hong Kong into an odd bounty of squidgy, white buns and the world's biggest bun fight.
Coinciding with Buddha's birthday and a public holiday in Hong Kong, the celebration brings thousands of visitors to the island for the baked items, each imprinted with a lucky stamp, who also snap up bun-shaped souvenirs and watch lion dances and parades.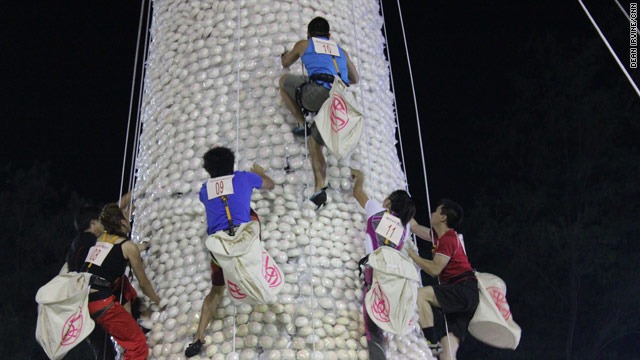 Gallery: Hong Kong's bun festival
You're not allowed to push others off, but things happen.
--Yau Ka-chun, competitor
The origins of the festival are slightly murky, but are commonly believed to date back the late Qing dynasty when the island was a haven for South China Sea pirates.
Some believe that villagers prayed to Taoist deities and dressed up local children as small gods to scare away the evil spirits they believed were responsible for a plague.
The buns were an offering to thank the gods for ending the plague and the ritual of parades and bun-baking continued each year to ensure it didn't return.
As for the bun scrambling contest, it is thought to have developed later as an additional bit of local competition between villages. Rumors abound that in previous years more than local pride was at stake, with some low level triad and betting interest in the event.
But tragedy struck in 1978 when the bamboo Bun Mountain collapsed, injuring scores of people. As an intriguing bit of local culture the event was revived again in 2005, but under strict safety regulations and with anyone allowed to compete. The fastest to scale the tower in practice are then selected as competitors and given hours of training.
Now the buns on the tower are covered in plastic and the thousands of spectators that gather each year are kept at a safe distance.
None of this year's competitors met a sticky end and despite being one of the first to the top of the tower for the high-scoring buns, Yau's dreams of glory were extinguished by the aptly named, Chung Man-cheung, a local fireman.
FOLLOW THIS TOPIC