STORY HIGHLIGHTS
Summer vacation season can unearth family fault lines
When traveling with small children, be prepared
Opportunities are to be had with teens, staying with family
(CNN) -- There's the fantasy of family vacations: happy children playing games, contented parents, doting grandparents, smooth roads, short lines, easy-to-schedule bathroom breaks -- and all reasonably priced, sturdily educational and wonderfully fulfilling.
And then, there's the reality.
Those adorable kids? Fighting in the back seat. Mom is weary, dad upset. The car, loaded down with luggage, electronics, junk food, cheap paperbacks and undisposed trash, feels smaller than an '64 Beetle and smells like a rest-stop bathroom. The airport is an endless hassle. And vacations, to be enjoyed by the whole family, turn into maddeningly hellish experiences.
It was perhaps best captured in the 1983 movie "National Lampoon's Vacation," which follows the all-American Griswolds as they drive the family station wagon on a cross-country trip to visit the Walley World theme park.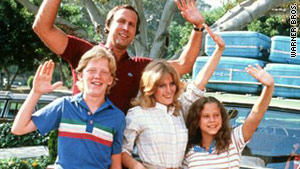 The Griswolds of "National Lampoon's Vacation" may be fictional, but some of their experiences are all too familiar.
At one point, Clark Griswold (played by Chevy Chase) faces a mutiny by his family, who urge an immediate end to the vacation. "What do you think?" the wife asks.
Clark mashes the brakes. "I think you're all f---ed in the head," he says, before declaring they will have fun whether they want to or not. "This is no longer a vacation. It's a quest, it's a quest for fun!"
How can you cope?
As we head into the summer travel season, here are some tricks of the trade.
Planning for children
Even on road trips to Kansas City, a three-hour drive from their Omaha, Nebraska, home, Aaron and Virginia Ripley use strategic planning to mitigate the suffering of their three kids.
"We always plan our leaving times around nap times," says Aaron, a stay-at-home dad who has a 6-year-old, 4-year-old and 22-month-old. "We time it so that we drive for an hour, and they conk out for the rest."
The Ripleys go to Kansas City often for Royals baseball games and to see friends, but they also like to venture farther afield, aspiring to visit all 50 states with their kids by the time they graduate high school.
And on those longer trips, they get even more strategic about maintaining their kids' normal routines.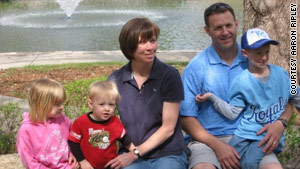 Aaron and Virginia Ripley plan carefully before traveling with their three young children.
Instead of staying at hotels, for instance, the Ripleys find a rental house or condo near their vacation destination. They rented on a recent beach trip to Hilton Head Island, South Carolina, and plan to do the same for their fall visit to Disney World in Orlando, Florida.
"By avoiding hotels, we don't have to worry about going out to eat with the kids -- we can just stock up at the grocery store," says Aaron, 37. "The kids are able to keep their normal sleep routines because there are separate bedrooms."
Plus, the rental route saves the Ripleys cash. Rather than shelling out $200 a night on a hotel, like they did when it was just the two of them, the Ripleys have grown accustomed to paying around $1,000 for a week for a vacation rental. His wife finds and books the properties through VRBO.com.
Such habits suggest that the Ripleys have mastered what parenting experts say are keys to happy travel with young kids: advance planning and a recognition of children's limits.
"When traveling, you're really at the mercy of your child's pace," says Dana Points, editor-in-chief of Parents magazine. "You can't push them beyond what they can sustain. Adults can go a long time without getting rest or sleep. Kids can't."
Still, parents can help kids push their travel limits by packing plenty of snacks and games for long trips.
Points recommends surprising a child with a new toy on a long flight. "It's a distraction, pure and simple," she says. "People like shiny, new things."
At the same time, any extra baggage -- plus equipment and supplies such as strollers and diapers -- can add up pretty quickly, which is why many parents prefer to buy, borrow or rent as much gear as possible at their vacation destinations.
Or you can take a tip from the Ripleys' playbook and travel exclusively on Southwest Airlines, which doesn't charge passengers for extra bags.
If all that planning can seem overwhelming, Points says it's essential for traveling parents to maintain a sense of humor -- and to surrender some control. Flights will be delayed. Car tires will go flat.
"A lot of problems people associate with traveling with children is really more about the adults' anxiety," says Points, who has two sons, ages 7 and 9. "The kids aren't bothered by running around and screaming in a long security line at the airport. It's the adult that feels uncomfortable."
"You have to let go of thinking that everybody is judging you because you're not able to calm your kid," she says. "As long as everyone's safe, you're fine."
Dealing with teenagers
The spring of 2006 is when vacations "just got mindboggling bad" for Mary Treybig of Texas.
That's when her two sons, 13 and 15, drove her batty. They went for a weeklong skiing trip in Idaho. The summer before, they had a wonderful trip there. Yet this time, it was "no this, no that."
"It was endless. Everything was negative," she says. "They know how to make you miserable."
After that trip, she "wasn't going to take any more vacations with children who didn't want to go." She and her husband would plan trips; the kids would reject them. So, the couple hired a sitter and hit the road without their two sons.
It was cheaper and more enjoyable. Sans kids, she and her husband traveled to Grand Cayman, Belize and twice to Honduras over the next four years.
"We felt really guilty the first time we left them," she says. "Then, we realized, 'Wow, this is so much fun!' "
It was also a lesson for her children, she says, teaching them that actions have consequences.
For any parent going through this experience, Treybig says, there is a "light at the end of that tunnel." Her kids have matured and moved out of that phase. Last summer, they had a wonderful family vacation to Cozumel. They plan to return in a couple weeks.
"We're better now. We're having fun again."
Dr. Arthur Bodin, a past president of the Society for Family Psychology, a division of the American Psychological Association, says it's perfectly common for teens to not want to go on family vacations.
But he suggests four steps that can help:
-- Have a family conference in which everyone participates in planning where to go and what to do.
-- Have some sort of rotation on the vacation decision-making. Some of the time the parents decide, some of the time the kids decide (and within that option, there can be some turn-taking among the children).
-- Cater to the adults for part of the trip, and cater to the children's wishes for another portion of the vacation.
-- Allow each child to invite a friend along.
Still, there are no guarantees, Bodin says.
"The concern of some parents may be heightened by their feeling hurt or rejected by their children not wanting to be part of a family vacation. It may help the parents if they recognize in their children's reluctance an age-appropriate striving toward independence."
For most children, he says, "it's a natural phase that they go through."
"I don't want to imply that it's a disease if your children don't want to come with you," adds Bodin, a psychologist practicing in Palo Alto, California, and a senior research fellow at the Mental Research Institute there.
"For parents to fight it is like trying to hold back the tide. The four suggestions offered here are more like swimming with the tide."
Kayt Sukel, second from right, and son Chet, center, occasionally stay with Sukel's sister Lisa Schill and Schill's family.
Staying with family
Staying with family can be a big plus, says Kayt Sukel. You save money; you and your kids get to spend quality time with your parents, siblings and in-laws.
It can also be a hassle.
"There has been tension," admits Sukel, a Texas-based freelance writer and contributor to the family travel blog Travelsavvymom.com, of the times she's stayed with relatives while traveling.
When the single mother and her young son have stayed with her sister's family in New Jersey, minor disputes have erupted.
"You've got guests waking up in the morning while some kids are still in school, other kids aren't, and you're saying, 'Do we have any food?' " she laughs.
"She has a three-ring circus going on, which I think any modern family sort of does," she adds. "And inserting guests into that, especially guests who are going to be there for awhile -- I'm amazed she hasn't banned us from the house, because it would make her life a lot easier."
The key, she says, is communicating.
"You have to respect that you're a guest, but I think that you have to be clear that this is a trip with dual purposes -- yes we want to see you, but we're also going to do some of these other things, too," she says. "Communication is a big, big thing."
Indeed, communication is at the heart of any family lodging arrangement, says social psychologist Susan Newman, author of "Under One Roof Again: All Grown Up and (Re)learning to Live Together Happily." Both guest and host should be supportive of one another and not lapse into old roles.
"It's a good idea to talk," she says. "Bringing issues up (in advance) will help immensely. ... You really want to be aware of falling back into parent-child mode" or reliving old sibling rivalries.
"Many parents don't realize they're trying to take control -- it's a pattern from all the years of raising you."
Which doesn't mean that children should flout their parents' authority, she says. Children may have moved away from mom and dad's religious beliefs or changed their eating habits, but when under someone else's roof, they should be considerate of their host.
In the case of Suzette Mack, a San Jose, California-based travel adviser and blogger of Adventures for Families, that meant separate sleeping arrangements before she was married.
"My husband and I would go back and visit family members and we abided by the rules of the house," she says. "We just did it out of respect. It wasn't even a big controversy or anything."
Sometimes family doesn't give you a choice of where to stay, says Sukel, no matter how inconvenient. Indeed, in some cultures it's an insult to look elsewhere; in Germany, Sukel says, it would be unthinkable to stay at a hotel if family or friends are nearby.
Which brings up another piece of advice: Always have an exit strategy.
"Don't rely on other people for your freedom," she says. "You're saving a couple hundred bucks a night on a hotel room? That means get the rental car. Make sure you have your own way of getting around, because that's probably the biggest thing you'll end up fighting about -- and it's the last thing you want to deal with especially with cranky kids or cranky grandparents."
Above all, says Mack, be aware that you're a guest. Pitch in with chores. Include the entire crew on an outing. Buy a tank of gas. If your host turns you down -- you're family, after all -- find a quiet way of doing something nice.
"Think about how much of a burden it is for your host," Mack says.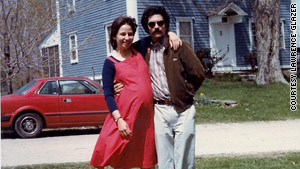 Ilana Glazer was "inspired" after traveling with her parents (above), Sandi and Larry.
Traveling with parents
Ilana Glazer is a 24-year-old writer and comedian with a thick New York accent and a habit of sprinkling curse words in every other sentence.
She's also a softie who made an important discovery about her parents when she decided to take a recent vacation with them.
"They're sick," she says jokingly. "They have a sick relationship. They are soooo happy together."
The single adult who is dragged off to vacations with the parents is a stock character in movies and short stories. While Glazer's parents won't allow her to play that part, many adults find themselves slipping back into the parent-child roles they had growing up, psychologist Newman said.
If ancient history rears up, Newman suggests reminding your parents that you've been living on your own for years and you're not the same person anymore. Focus on the positives about your parents and don't have unrealistic expectations for flawless family fun, she says.
Glazer says she doesn't feel awkward or bored when vacationing with her parents. She's inspired.
"They're like each other's first true love," she says.
Glazer's father, Larry, works in insurance and finance. Her mother, Sandi, works with him. Both met in 1976 when her father, then a skinny, bearded college undergrad with curly hair, was introduced to her mother.
When Glazer recently vacationed with her parents at their Long Island, New York, home, she realized she didn't just love them. She also liked them.
Not every family trip is chock full of positive feelings. Steer clear of hot topics or pleasantly say "let's not go there," if a tense subject comes up, Newman advises. And if money is an issue, offer to contribute what you can, she says.
Glazer says her relationship with her parents wasn't always so inspired. She was a tomboy teenager who was socially awkward and depressed.
She turned away from the warmth of her parents' relationship and absorbed her adolescent angst. Glazer says she never liked the idea that parents should be their children's buddies. She wasn't going to open up too much to her parents.
"I didn't want them to be my best friends," she says. "I wanted them to be my mom and dad. They're best at that."
Glazer's brother, Eliot, was so inspired by his parents that he recently wrote a book, "My Parents Were Awesome," based on a blog that he created.
Of course, even Ilene's interactions with her parents aren't all great. While on vacation, she has asked her parents for dating advice about men. Unfortunately for her, their experience with dysfunctional romantic relationships is limited.
She had to tell them something that few parents ever hear:
"You're both so perfect. You don't get it."
CNN's Dan Gilgoff, Wayne Drash, Todd Leopold and John Blake contributed to this article.
FOLLOW THIS TOPIC