STORY HIGHLIGHTS
Big Sur is a 90-mile stretch of spectacular California coastline

Part of Highway 1 is closed, but Nacimiento-Fergusson Road offers a white-knuckled detour

Henry Miller was among the area's famous bohemian residents

Brendan Francis Newnam hosts a national public radio show called The Dinner Party Download produced by American Public Media. He's the author of the CNN.com travel column "The State I'm In." Follow him on Twitter @bnewnam.
Big Sur, California (CNN) -- "You're not going to write about this place are you?" I've heard this more than once while traveling.
People are protective of special spots, and I try to be mindful about not ruining a secret, but the truth is, thanks to the Internet, most secret spots aren't so secret. Besides, It's rare to find a truly special place.
But I found one. It's the greatest bench in America. It's better than a throne. I'd venture to say it delivers the most pleasure a human can receive from simply sitting down.
But before I don't tell you about it, I'll tell you how I got there.
I was heading to Big Sur, a spectacular collision of land and ocean just below the midpoint of California. The "face of the earth as the Creator intended it to look" according to Henry Miller, its most famous resident. And, from what I've read, he knew a thing or two about beauty.
Between seasons on Martha's Vineyard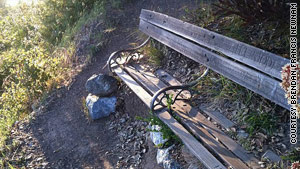 The best bench in America.
It's not a town, it's a 90-mile stretch of land defined by the Santa Lucia mountains to the east and the Pacific to the west. The aptly named Highway 1 is the only road that runs through it. Mid-March, after a storm, the mountains and the ocean kissed and sent half of the highway into the water.
The road is now closed for repair, and people approaching from the south are left with only two options: Take a several-hour detour by overshooting the area and descend upon it from the north, or brave a tough, swoopy road, rife with blind turns, across the Santa Lucia range.
The road's name is Nacimiento-Fergusson. Locals call it the "Nasty Fergusson." I call it a great way to see a part of California you'd never see otherwise. It's a white-knuckle squiggle through trout streams, ramrod redwoods and screensaver vistas. And it's worth it.
Nacimiento drops you onto the 1 not far past where it's closed off. With its cambers and turnouts, America's first scenic highway can feel like a wondrous amusement ride. To the east is granite, the hard foundation of the continent. To the west, a cold brew of kelp, foamy waves and murk smashing fantastically against the remnants of an earlier coastline. It's the end of America. And the waves are bringing it closer.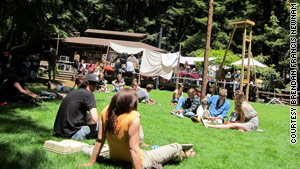 A relaxed gathering at the Henry Miller Memorial Library.
Memorial Day weekend in Big Sur: The snipped highway to the south has softened summer tourist season's opening bell. Good news: There are fewer RV's clogging the highway. Bad news: Prices have climbed a bit to make up for lost traffic. Ominous news? A local magazine says that the decreased traffic has emboldened animals.
Along with being a replica of Eden, Big Sur is home to a couple of thousand people -- not much more than the small tribe of Native Americans called the Esselen that originally inhabited the area. The natives were taken up, and ultimately done in by, the mission in Carmel, a town to the north. Later came the gold panners and the homesteaders.
The highway, built by convicts and Chinese immigrants, arrived in 1937, but the area didn't change much till after the war, when artists seeking isolation and tourists seeking wonderment started to arrive. It was then that the region developed its free-spirited reputation that remains to this day.
When writer and provocateur Henry Miller arrived in 1940, the region's bohemian bona fides were cemented. Miller first lived and wrote at a log cabin that is now Nepenthe, a popular food and drink spot with a nice perch overlooking the ocean. It's still one of the best places to encounter locals, who by nature are an introverted lot. Look for folks tucked at the end of the bar not wearing hiking pants.
"All cliches are truisms." So said Jack Kerouac. He didn't say it in "Big Sur," the autobiographical novel he wrote while living in a cabin here in 1960, but it came to me while I shedded a few hours at the Henry Miller Memorial Library tucked off a bend in the highway here.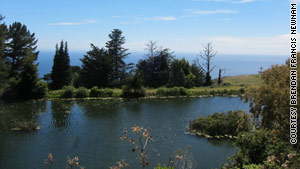 Big Sur stretches 90 miles along the central California coastline.
The library is not a library; instead, it's a laid-back monument to laid-back hedonism in the form of a cabin in a lush redwood grove. It feels like an off-season summer camp rec center. A ping-pong table sits outside, free coffee and tea are always available, there are games lying about and a stage to perform on. There is also a bookstore that sells all of Miller's books and books by those he influenced and who influenced him.
On a recent visit, there was a record fair, and the scene was a California truism: dappled sunshine illuminating twirling long-haired girls, denimed boys sipping beer and spinning records. The Grateful Dead, Merle Haggard, Jefferson Airplane. There's a couple lying, smiling in the middle of an empty bed frame that has a sign attached to it that says "time travel." That seems about right.
But the library isn't a remnant of what Big Sur was; it's the beating cultural heart of Big Sur right now. Popular bands like Arcade Fire perform here. And on any given weekend, you'll find a performance or a fair of some sort. But its default role is to be an oasis: Free coffee and ping-pong for the curious. A lush lawn to nap on.
Bikers, hippies and the polar-fleeced alike find reasons to linger here. After a day spent being humbled by the grandeur of Big Sur's natural bounty, checking in with fellow humans and the art they create can serve as a ballast.
Late afternoons, a lull overtakes the hills and the highway. It's as if the area is bracing for sunset, or the gloam that follows it. Where does everyone go? Are they lost? Are they napping?. Deetjens, the ramshackle lodge where I am staying, provides a clue.
Each room has a journal that guests are encouraged to contribute to. Past journals are housed in the top drawer of the dresser. These leather-bound books overflow with itineraries, thoughts, confessions and logs written by tourists, lovers, honeymooners, seekers and hitchhikers. Reading them is a voyeur's delight. A whisper down the lane across time and between fellow travelers.
In them I found the answer to one of the questions that plagues every traveler: What are they doing? Those folks we saw at breakfast. Those people we met at reception. What are they up to? Well, if the journals are accurate, they are having sex. That, and hiking. Nothing and eating are tied for third.
And it was in these journals that I learned about the greatest bench in America. The one I'm not going to tell you about.
FOLLOW THIS TOPIC