STORY HIGHLIGHTS
The best place to people-watch is the Malecon, Havana's sea wall, according to CNN correspondent, Shasta Darlington
Drinking a Cuban mojito cocktail is a must for visitors, she says
Since restrictions on businesses were relaxed in 2010, many local restaurants have sprung up, spurring a revival in the Havana food scene
Shasta Darlington is CNN's International Correspondent in Havana. Born in Boulder, Colorado, she has lived in Cuba for five-and-a-half years. Because of U.S. travel restrictions, very few American tourists make it to Cuba -- but for those that do and visitors from other countries, Shasta shares her tips for the Cuban capital.
Havana, Cuba (CNN) -- What is your favorite neighborhood? Why?
It's a touristy area but one that's really well kept is old Havana so when I haven't been for a while I get in a nice early morning or late afternoon stroll, get a cup of coffee, listen to the bands who play Buena Vista Social Club-style music, which is probably a bit touristy for Cubans but it's really nice.
Where is the best place to people-watch?
By far the best place is the Malecon, the sea wall. Think of it as Cuba's free bar. Every night, especially at weekends, hundreds of Cubans go down there, often with a bottle of rum, to sit on the wall. People promenade; others strum music.
It's crowded and rowdy in some areas and quieter and more romantic in other spots, so depending on your mood you can pick a place that suits.
Where can you get the best view of the city?
There's a building called FOCSA that has a bar and restaurant at the top. I'd skip the restaurant but the view is great, so go up and have a drink and look out over the city.
There's also an old Spanish colonial fort called El Morro on the other side of the bay from Havana. You can get there by car. It has a couple of state-run bars and restaurants. Again, I wouldn't eat there, but it's a nice place to go at sunset, have a drink and enjoy the view of the bay and the seafront.
How do tourists stick out and what's the best way to blend in?
You can't blend in. It's very difficult. And they don't want you to! If you get a tan and don't carry a camera, that'll help, but it's hard not to stand out.
What's the biggest misconception about your city?
Maybe the old cars. There are a lot of old cars but most people are surprised when they come that probably the most common are 1980s Russian Ladas because of Cuba's closeness to the Soviet Union. So you see lots of boxy cars driving around, and plenty of new cars.
The old American classics aren't disappearing, but so many other cars have hit the roads that they aren't as obvious as they used to be.
The best thing to do at night is go and listen to jazz -- there's lots of great Latin jazz in Cuba -- or go salsa dancing.
--Shasta Darlington, CNN
Where should people stay in Havana?
There are two ways to do Havana: hotels and private homes. All hotels are either state-run or joint ventures with big hotel chains.
Depending on your budget and what you're looking to experience, private homes are a great way to discover Cuban life.
From accommodation near old Havana, which can be a bit more basic as demand is higher there, or further afield, where some homes even have swimming pools, for around 25-45 bucks a night you'll get a room with air conditioning and a private bathroom.
Where do you go to relax?
To the Hotel Nacional -- it has an outdoor grassy lawn that overlooks the Malecon. It's a good place to take kids because they can chase the peacocks that wander around and roll around in the grass while you relax with a drink and watch the world go by.
What essential thing should visitors see/experience if they only have a few hours?
Old Havana in the day and the Malecon at night.
What's the biggest tourist trap? Is there a "tourist trap" that's actually worth seeing?
You have to recognize that tourism is an important source of income. You'll stick out, so everywhere you go, people will spark up a conversation with you. Generally they are looking for something -- commission from a restaurant for bringing you there, or to sell you some cigars, that sort of thing. You can't stop it, so recognize it for what it is -- people simply trying to make a living -- and take it with a bit of good humor.
Be aware that in some of the late-night dance places, as in many tourist spots, you can get hustled. If you want to avoid people trying to make a buck off a tourist, try and experiment with some private restaurants that aren't in old Havana -- you may have a more authentic, interesting experience too.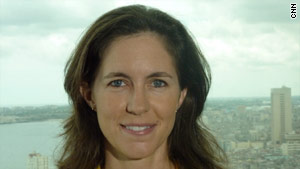 Shasta Darlington is an international correspondent in Havana
What's the food scene like in Havana?
It used to be a joke in the 1990s during the post-Soviet economic crisis that the three main failures of the Cuban revolution were breakfast, lunch and dinner -- that's not true any more.
Since the restrictions on private enterprise were relaxed last year, more businesses are opening up and the number of restaurants is mushrooming, so there are suddenly far more exciting places to visit. Often they're run out of people's homes (establishments known as "paladares"). You'll find good food, good service and it's a really nice experience.
Which restaurant would you take your loved one to for an anniversary or other special occasion?
One that's been around for a few years is La Guarida. It's in a sketchy part of town, a relatively poor part right in the center, but in Cuba everywhere's pretty safe. It's in a very typical Cuban building, the sort that you think of when you think of Havana -- falling down, crowded with people. You walk up three flights of stairs to get there. The movie "Strawberry and Chocolate" was filmed there, then it was turned into a restaurant. It has a great atmosphere, it's very romantic, there's great kitsch décor and you can really feel the culture dripping off the walls.
A new option is L'Atelier in the Vedado neighborhood. It has high ceilings, breezy curtains, very nice food and atmosphere and an outdoor space where you can lounge around on pillows and have drinks. It serves international cuisine that's more original than a lot of restaurants here -- a nice mix.
Are there local specialty dishes or drinks that visitors must try?
One typical dish that I really like is ropa vieja -- it means "old clothes" -- shredded beef with spices, usually served with rice and beans. Cubans do wonderful black beans. Another specialty is malanga fritters -- it's a tuber like a potato and they often mash it with garlic to make these amazing fritters.
The national drink is of course the mojito. Don't leave without trying one - they're delicious. Experiment with rum while you're here, too -- they make everything from cocktail white rum to some very nice dark aged rum that you can drink on its own -- sip that on the Malecon, it's a nice way to spend an evening.
Where's your favorite place to spend a night out on the town?
The best thing to do at night is go and listen to jazz -- there's lots of great Latin jazz in Cuba -- or go salsa dancing. Cubans are great salsa dancers and there are lots of quality venues. For a more authentic experience, go in the early evening, at around 7pm, to a matinee -- it's cheaper and that's often when Cubans go. Later on, towards midnight, you'll find more tourists. Restaurante 1830 is a great place for this. You can watch the dancing while relaxing under a mango tree in the garden.
What is a good local souvenir?
If you're not American, cigars and rum are terrific options. Obviously if you're American you can't bring most things home, but you can still buy art -- that doesn't break the embargo. There are lots of great crafters and artists and if you go to the arts and crafts market in old Havana you can find terrific photos or small paintings that easily cost under $20.
FOLLOW THIS TOPIC