STORY HIGHLIGHTS
Often only accessible from the sea, "floatels" are the sailing equivalent of a roadside inn
Top five based on range of categories from "sustainability" to "beauty therapies"
Highlights include guest dolphins, scents of the wilderness ... and lots of herring
(CNN) -- It's one thing to hear waves lap the shore of a nearby beach, quite another to hear them rumbling beneath you while you sleep.
Welcome to the world of the "floating hotel" -- encompassing all manner of lodgings built on floats, boats, rafts or even stilts.
Often only accessible from the sea, these so-called "floatels" are the sailing equivalent of a roadside inn, only much cooler.
Here's Mainsail's top five.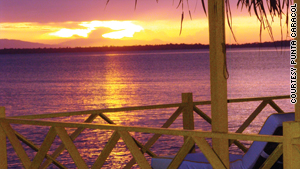 Best for: Sustainability
Punta Caracol Aqualodge, Panama

The "Punta Caracol Aqualodge" hovers across a mile-long coast of coral reef and is accessible only by a 15-minute boat ride from the nearest town on the rather unfortunately named Colon Island.
Facing out onto the Caribbean Sea with the Panama Canal Rainforest on its tail, the lodge consists of nine immaculately crafted huts carefully balanced over the water on thin but, we're assured, sturdy wooden stilts.
Developed with the eco-conscious traveler in mind, the "Punta Caracol" is built from local materials -- with thickly-layered palm-leaf roofs -- is powered entirely by solar energy, has its own sewage-treatment plant, and protects 148 acres of rain and mangrove forest into the bargain.
Highlight: Dolphins sneaking up to your veranda to share your breakfast in the morning.
Drawback: The 12-volt cabin lights are not ideal for bedtime book lovers.
Room prices from: $316/night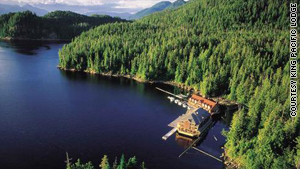 Best for: Wildlife
King Pacific Lodge, Canada

Unless you've come with your own sailboat, the only way to reach the floating "King Pacific Lodge" is by chartered hydroplane.
Ensconced within the pristine Great Bear Rainforest on the scarily remote western coast of British Colombia, the lodge is in fact a towering four-decker barge towed to the harbor of Princess Royal Island every year from May to October.
The King Pacific contrasts the extreme wilderness on its back door with the extraordinary luxury of its interior.
Venture from one of its 17 palatial bedrooms -- each with huge beds and stand-alone baths -- out into a surrounding area bustling with black bears, eagles, otters, sea-lions, humpback whales and orcas.
Highlight: The ever-present scent of pine and fir
Drawback: See room prices
Room prices from: $4750/3 nights (minimum stay)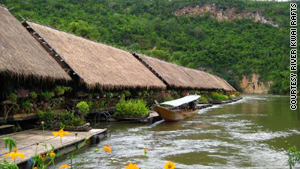 Best for: Tradition
River Kwai Jungle Raft, Thailand

While the "King Pacific" offers wildlife with luxury finishes, the "River Kwai Jungle Raft," in Thailand, is a back-to-basics affair.
Built in the local Mon style in the bosom of a tropical forest, the accommodation is set across two floating wings, with 55 bamboo twin-rooms perched on each.
The "floatel," which opened in 1978, has no electricity -- so the rooms are all "romantically" lit with traditional oil lamps and cooled by the river flowing beneath.
Highlight: Trekking through the jungle on elephant-back.
Drawback: The thick en-suite mosquito nets are there for a good reason.
Room prices from: 1750 THB ($57)/night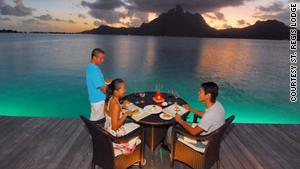 Best for: Beauty therapies
St. Regis Bora Bora Resort, French Polynesia

Fancy a "neuromuscular Taurumi massage?" How about an "illuminating pearl facial?" Or perhaps a "volcanic pedicure" is more your thing? If so, then head down to the floating St. Regis Bora Bora Resort on Motu Ome -- one of the many small Pacific islands that make up the Bora Bora archipelago.
Known for its exotic array of signature beauty treatments, the 44-acre property is lined with over-water bungalows that, you'd be surprised to hear, are only accessible by boat.
Highlight: The glass-topped coffee tables in each room, offering views of the lagoon beneath.
Drawback: No complimentary iPads (OK, we're scraping the barrel here).
Room prices from: 108,000 XPF ($1,200)/night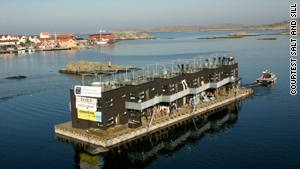 Best for: Herring
Salt and Sill, Sweden
Local sailors have been fishing herring here since the 15th century, so you'd expect them know a thing or two about how to cook it.
The "Salt and Sill" does not disappoint. Its award-winning restaurant offers up, among others, a starter with six different types of herring -- including "Herring marinated in mustard and malt whiskey," recently voted "Herring of the Year" in Sweden, as well as a breakfast of pickled herring, carefully flavored with blackcurrants.
Highlight: The rooms are the very epitome of minimalist Scandinavian chic. And did we mention the herring?
Drawback: Not a place to be if you have any herring allergies.
Room prices from: 1590 SEK ($244)/night
FOLLOW THIS TOPIC