Airlines score lowest in customer satisfaction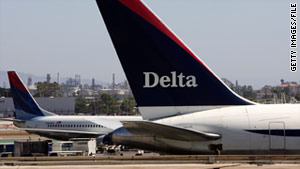 Satisfaction with Delta Air Lines dropped by 10%, according to a national customer satisfaction index.
STORY HIGHLIGHTS
Airline passenger satisfaction down 1.5% from last year

Airlines tie newspapers for the lowest customer satisfaction ratings

Hotel guests are 2.7% more satisfied than last year
(CNN) -- Airlines score lowest among 47 industries evaluated by the American Customer Satisfaction Index, according to a report released by the national index Tuesday.
Airlines tie newspapers for the lowest-satisfaction distinction.
Not surprisingly, bag fees play a big role in airline passenger disgruntlement. Those who pay for bags are much less satisfied than those who avoid the fees -- a score of 58 compared to 68. Poor service, other fees and higher fuel prices are also contributors.
Overall, airline passenger satisfaction is down 1.5% from last year with an industry score of 65. Southwest leads in passenger satisfaction among the major carriers evaluated, with a score of 81 -- up 3% from last year. Satisfaction with Delta Air Lines dropped by 10%, for a score of 56.
ACSI notes that mergers often have a negative impact on customer satisfaction. Delta merged with Northwest Airlines last year. The United-Continental merger seems to have dealt a blow to Continental, with satisfaction plunging 10% to a score of 64. Still, Continental comes in second place for satisfaction among major U.S. airlines. United so far seems unaffected -- up 2% for a score of 61.
Business travelers, the airlines' most profitable market, are the least satisfied, according to the index.
Airline to charge boarding pass fee
On the flip side, guest satisfaction with hotels is up 2.7% from last year, for a score of 77. Guests perceive greater value for the money due to lower rates and more perks, index analysis says. But despite a jump in satisfaction, hotels still have to fight for repeat customers.
"Although guest satisfaction has benefited from lower rates and various perks, there has been no effect on customer loyalty and repeat business," Claes Fornell, founder of the index, said in a statement. "Price-induced satisfaction tends to make people shop around for the best deal rather than promote loyalty."
Leisure traveler satisfaction with hotels is up 1%, while business travelers' satisfaction level is down by 1%. Hilton leads the pack with a score of 80, followed by Marriott and Starwood at 79.
FOLLOW THIS TOPIC