United flight diverted to Cuba due to 'unfamiliar' odor in plane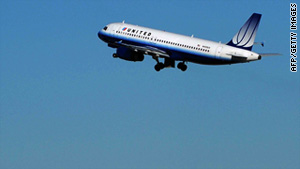 A United Airlines flight was diverted to Cuba after a reported strong odor in the cabin.
STORY HIGHLIGHTS
United Flight 831 took off around 9 a.m. from Dulles airport, the airline's website says
Its crew noticed a strong odor in the plane, says FAA and United spokesmen
As a result, the flight is diverted and lands at Havana airport around noon
United, which doesn't fly to Cuba, is sending a plane there to transport passengers
(CNN) -- A United Airlines flight was diverted to Cuba on Sunday after its crew reported a strong odor in the plane, U.S. aviation and airline spokesmen said.
Federal Aviation Administration spokesman Les Dorr said United Flight 831, an Airbus A320, landed safely at Jose Marti Airport in Havana at 12:07 p.m. local time.
The flight had left Washington Dulles airport, located in northern Virginia, just before 9 a.m., according to United's website. It was supposed to land at 11:27 a.m. in Cancun, Mexico.
But crew members "noticed an unfamiliar smell in the cabin," said United Airlines spokesman Charlie Hobart. Dorr noted that the crew detected a burning smell, saying it was in the cockpit.
"In an abundance of caution, the pilots decided to land the aircraft in the nearest available airport," Hobart said, explaining how the plane ended up in Cuba.
The aircraft had 135 passengers and five crew members -- two pilots and three flight attendants -- on board.
It remained on the ground, in the Caribbean nation, as of 5:15 p.m. Hobart said the airline is "working to reaccommodate our customers," saying another plane was being ferried in from Cancun that will then take the passengers there.
Normally, there are tight restrictions on the travel of U.S. citizens to the Communist state of Cuba, based on federal law. United does not typically fly to Cuba, according to its website.
FOLLOW THIS TOPIC