Smoke fills plane cabin, prompts emergency landing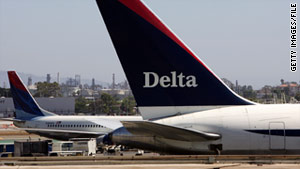 Passengers aboard Delta Flight 717 received $100 vouchers for their inconvenience.
STORY HIGHLIGHTS
Flames emerged from a Delta plane's engine during takeoff, passenger said
Smoke filled the cabin, and the flight returned to Atlanta's airport
There were no reported injuries among the 182 passengers
(CNN) -- Engine trouble during takeoff forced a Delta plane headed to the Bahamas to return to Atlanta's Hartsfield-Jackson International Airport on Thursday morning.
Passenger Angela Havely said flames emerged from the left engine on takeoff. "There was a lot of smoke," she said, adding that she feared for her life.
Delta Flight 717, bound for Nassau, departed about 10:40 a.m. with 182 passengers and six crew members on board, according to Delta spokesman Anthony Black. The plane turned around and landed at Hartsfield after problems with the engine, he said. No injuries were reported.
The Federal Aviation Administration said it would investigate the incident. In the meantime, the plane will be swapped with another aircraft, and passengers were scheduled to take off about 1:45 p.m.
Havely said she and the passengers received $100 vouchers for the inconvenience.
FOLLOW THIS TOPIC