Airlines roll back fare increases as federal taxes return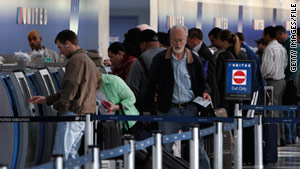 It won't be clear until later Monday whether airlines will completely roll back their fares.
STORY HIGHLIGHTS
Airlines rolled back fares Monday as federal taxes returned to airline tickets

Many U.S. carriers raised fares last month when federal ticket tax collection was suspended

The airlines collected an extra $25 million a day because of suspension, fare increases

(CNN) -- The tax holiday is over for U.S. airlines.
Many carriers dropped fares Monday as federal taxes were added back into the total ticket price for travelers after a 16-day Federal Aviation Administration shutdown. Most U.S. airlines raised base fares last month when taxes were suspended, pocketing the money that would have gone to the government and swallowing the potential price break for consumers.
Southwest Airlines and its subsidiary AirTran were the first carriers to drop fares to account for reinstated taxes, according to FareCompare founder Rick Seaney.
Airline spokeswoman Brandy King confirmed the fare drop for Southwest and AirTran Airways. "Customers will not see a difference in fare," she said.
American Airlines said it has "reduced some fares in certain markets based on competitive action by other airlines. As always, we cannot discuss any future action that may or may not occur."
It won't be clear until Tuesday whether airlines will do a complete rollback across geographic areas to pre-shutdown levels, Seaney said.
"Consumers should be careful about pulling the trigger on ticket purchases today as prices will continue to drop by 10-15% over the next 24 hours," Seaney said.
FareCompare also lists Delta, Frontier, JetBlue, US Airways, Virgin America and United/Continental among airlines that lowered fares Monday.
The Internal Revenue Service ordered airlines to resume collecting taxes by 12:01 a.m. Monday after Friday's temporary extension of FAA funding.
U.S. airlines collected an estimated $25 million a day during the more than two-week shutdown. Alaska and Spirit Airlines did not raise fares, passing the tax break on to consumers.
Fliers won't get air travel tax refund
Despite previous indications to the contrary, travelers who paid ticket taxes in advance for travel completed during the shutdown are not eligible for refunds, according to IRS guidance issued Friday.
Congress retroactively reinstated the ticket taxes during the lapse in funding. Passengers who paid the taxes won't receive refunds, the IRS said, and taxes that were not paid by airlines and passengers won't be collected.