STORY HIGHLIGHTS
Couple leaves comfortable life in Pennsylvania to pursue happiness in Costa Rica
They quit their jobs, sold everything and now live off interest and savings
Costa Rica is "paradise," Nadine Hays Pisani says
She recommends visitors see Arenal Volcano, Guanacaste beaches and Punta Uva
(CNN) -- Nadine Hays Pisani was desperately seeking a permanent vacation.
She and her husband, Rob, both chiropractors, had a comfortable life in York, Pennsylvania, but they were miserable. Both were working long hours, hated their jobs and felt burned-out.
So they came up with a bold plan: Sell everything and find a country with a warm climate where they could live for about $1,000 a month. They would stop working and live off their savings and interest.
They settled on Costa Rica.
The Pisanis put their home on the market and moved to the lush, verdant Central American country in 2007. (They were lucky; they sold everything just before the economy tanked.)
Pisani chronicles her adventures in the new book, "Happier Than a Billionaire: Quitting My Job, Moving to Costa Rica & Living the Zero Hour Work Week."
She self-published the memoir after she noticed that her stories were attracting a growing audience on her blog.
Pisani and her husband now live near the beach in Tamarindo in a house that they rent for $150 a month. They have few possessions, but they spend much less to support themselves than they thought they would have to. They don't work but plan to find jobs eventually.
"It's paradise," Pisani said. "I wake up. I have a great cup of coffee. There are parrots outside my window. There are monkeys in the trees. It's such an exceptional way to live."
Pisani, 41, recently spoke with CNN about her adopted home. The following is an edited version of that interview.
CNN: Many people would love to do what you did. How long did you plan for this move?
Pisani: Just a year. It was very risky, and I wish I could tell people that there's a guarantee that, at the end, it's all going to work out.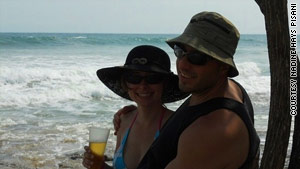 The couple enjoys a sunny day on Avellanas Beach.
But being in the health care industry, I realize there are two limiting factors in your life: health and age. And I realized you can't bank time.
If you look at life like that, then the risk doesn't seem so risky. It seemed like a good idea that when you're young and you want to do something, you say, "OK, it might not work out, but I believe in myself. And if I have to come back to the United States and start all over again, I know that I'll be able to do it."
CNN: You write that when you saw the film "Avatar," it reminded you a lot of Costa Rica. In what way?
Pisani: There was this beautiful animation in that movie of these sort of lit up fireflies, and it looked exactly like the landscape here. There are fireflies that are just like that (here).
The concept of "Avatar," where everything is connected, could have easily been filmed here, because Costa Rica offers that type of landscape, that type of wildlife, and if you respect it, it really gives a lot back into your life.
CNN: You say there's a different rhythm to Costa Rica; how so?
Pisani: It's a lot slower here. And with the slowness, there's also a lot of respect. If you go into the bank in Costa Rica, it could be hours, but even though you're waiting there for a long time, people are calm, and when an older person or a pregnant woman comes in, they always go to the front of the line. And nobody rolls their eyes.
In the States, we're rushing so much that we forget to be kind to the people around us.
CNN: Costa Rica is a really hot destination now for tourists. What itinerary would you suggest for a visitor?
Pisani: I would absolutely go to Arenal Volcano. It feels like it's the beginning of time there.
After a couple of days there, I would head to the Guanacaste beaches, and I would enjoy all the activities that happen here, canopy tours, catamaran tours. The fishing here is incredible.
Punta Uva is the best snorkeling anywhere in the country. There is a reef that's very close to the shoreline. Just walk right into the water, you put your face in, and you just see the most spectacular display of fish. You can pretty much snorkel there for hours, and it's free.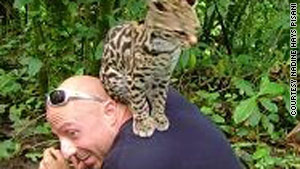 An ocelot jumped on Rob Pisani's back when the couple was visiting Arenal Volcano.
Manuel Antonio is a beautiful destination with a wonderful park, where you'll see toucans and parrots. The monkeys are funny there, because they climb down from the trees, and when you're not looking, they'll unzip your backpack, and they'll take your keys. They like them because they're shiny.
It's really a great park to hike through, and the diversity is beautiful.
Seven resorts with spectacular views
CNN: Any other advice for tourists?
Pisani: I would suggest, if it's in your budget, to rent a (four-wheel drive) car, because the best places in Costa Rica are always at the end of the worst road you have ever traveled on.
Tamarindo is a really great touristy area, but if you just went maybe 20 minutes to the north or south, you will find beaches where you don't see a soul, and it's just so wonderful and peaceful. If you had a car, you'd be able to find all these wonderful little spots to explore. And that's what Costa Rica is all about: exploring.
CNN: What food do you enjoy in Costa Rica?
Pisani: The fresh fruit here is exceptional. The pineapples do not taste like any pineapple you have back in the States. They pick them here so fresh that they taste like a Jolly Rancher piece of candy. It's so sweet, and I would say that of a lot of their fruits, the melons, the papayas -- so sweet and so rich that that alone can be a meal.
Most of the meals they have here, it's always a bean and rice dish. They also have great tuna.
CNN: You write that you gave up a lot to experience a different way of living. Has it been worth it?
Pisani: I've had a very, very good experience. I don't know if I could go back to how I lived before.
I made a mistake by thinking I always had to have something new to make myself happy. I never considered that nature can make you happy, being outside can make you happy. I worked a 10-12 hour day. I was never outside.
This experience has taught us that happiness is completely inversely proportional to more things. You need to have less, I believe, to have a life filled with gratitude. And right now, I do, I have a life filled with gratitude. I'm happy for the small things.
FOLLOW THIS TOPIC