STORY HIGHLIGHTS
The Trans-Siberian Railway is the longest in the world with a track 9,300 km long
The route goes from Russia's capital Moscow to the eastern port town of Vladivostok
Highlights include the UNESCO World Heritage site of Lake Baikal
(CNN) -- Considered one of the greatest train journeys in the world, the Trans-Siberian railway is a voyage into the heart and soul of Mother Russia.
Longer than the Great Wall of China and America's historic Route 66, the 9,300 km track snakes its away across Russia, connecting Moscow to the far eastern port town of Vladivostok.
While highlights include scenes of astounding natural beauty including the UNESCO World Heritage site of Lake Baikal -- the world's oldest and deepest freshwater lake -- the real stars of the journey are the Russian people, according to Robert Reid, U.S. travel editor of Lonely Planet.
"Russians are a misunderstood people and I've heard complaints that they are hard to get to know," said Reid, a veteran Trans-Siberian traveller. "But when you're on a train with a Russian, they will treat you like family, they will shame you with their kindness.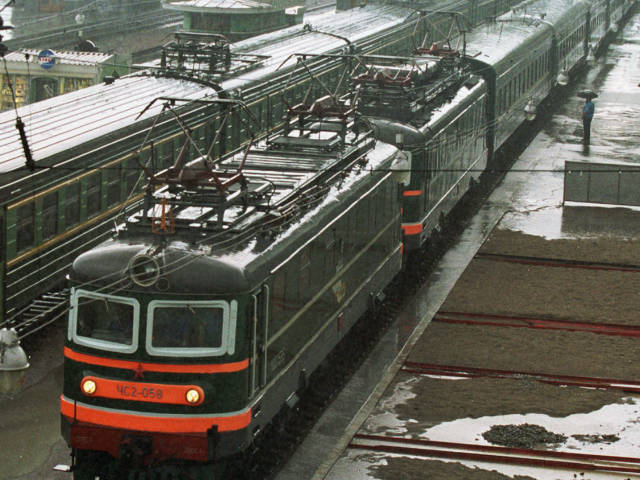 Terminus of the Trans-Siberian
"You'll have Siberians on the train with you for 30 hours; they will share the vegetables from their gardens and their vodka. They will treat you so well," he said.
"Remember," he continued, "a lot of the scenery can be monotonous after a while, but the people will not."
Crossing two continents and seven different time zones, 30 plus hours from one stop to another is not unusual on the Trans-Siberian route. In fact, to travel the entire distance with no stops would take around seven days straight.
But to really get to grips with the landscape and the people you'll need longer, says Reid.
"You don't want to think of doing the trip in anything less than 10 days and I think 14 works really well," he said.
"Too many people think of the journey as looking out the window the whole time," he continued. "But you've got to stop at least twice. I would stop three times, even if it's just a day stop.
Stock up on instant noodles
According to Reid, each carriage will provide a hot water heater for drinks and food and it's possible to buy packets of instant food on board. But try to purchase your "instant food" before your journey, it will be easier and most probably be better quality.
"You're in the middle of Siberia, when are you going to be there again?"
Popular stops include Ekaterinburg, where Russia's last Tsar and his family met their grisly end, the university town of Tomsk, famed for its stunning wooden architecture and the Tsar era town of Khabarosvsk, which also features Japanese pagodas, great sushi and a cafe next to the town's medical college that used to store cadavers.
But by far the biggest attraction is Lake Baikal -- a 25 million-year-old pre-historic lake, which contains 20% of all fresh running water on the planet.
In winter it can freeze to depths of 80 meters and it's not unusual to see Russians drive their cars across it during the coldest months of the year.
"If you're going to stop at one place it needs to be here," said Reid. "It really defies science.
"There are creatures in it that don't exist anywhere else. If you dropped a dead body in there, micro-organisms would eat every single part of the body. Its existence is amazing," he continued.
Pack plenty of books
Forget the Kindle, unless your battery never dies. Books are what's needed on the long train journey and plenty of them. It's not uncommon to travel 40-50 hours between stops and you'll need something to keep you occupied says Reid.
Many people choose to end their Trans-Siberian journey just past Lake Baikal, transferring to the popular Trans-Mongolian and Trans-Manchurian railways.
Both these routes thread down into the Chinese capital of Beijing, the first via Mongolia and its capital of Ulan Bator and the second via the northern Chinese city of Harbin --famous for its ice festival.
But no matter where you choose to end your Trans-Siberian adventure, there are a few "musts" to remember. Most importantly says Odette Fussey, marketing director of travel company The Russia Experience, is planning.
"Spontaneity for the independent traveller isn't an option," she warned.
"You can't just hop on and hop off where you choose, you are limited by what your visa says. So, pre-determining your stops is sadly part of the experience," she continued.
Safety
Travelling along the Trans-Siberian route is relatively safe according to Reid, especially if travelling in first or second class carriages, which have locks. For female travellers, you can ask your ticket seller to put you in a carriage with other women if you feel uneasy.
In order to gain a Russian visa, tourists are required to not only state their length of stay, but their exact itinerary including the amount of time they plan to stay in each location.
"Ample planning time is vital. A minimum of one visa is required, and possibly three if travelling to Mongolia and China. They don't happen easily and can take up to six to eight weeks to process."
Russia's railway tickets can also be confusing for many travellers says Fussey, because "each stop you make is a ticket in its own right."
"There is no single ticket from Moscow to Vladivostok, unless you want to travel the entire journey in one go. If you are planning a trip with two stops in the middle, you will actually have to buy three tickets," she explained.
If you do decided to jump off at a station before your stop, be aware, you will have to buy your ticket to your next destination all over again. But as Fussey points out, if you do make an unscheduled stop, it will no doubt be in violation of your visa.
When to go
Avoid the summer peak season -- Siberia gets very hot with lots of bitey insects around Lake Baikal. If you're travelling in the colder months, remember winter arrives late to Russia. If travelling before Christmas you may miss out on stunning scenes of snow and ice and be treated to only drab grey days and rain.
The Russian trains are basic but comfortable, says Reid.
"It is a very long trip and the standard trains are not the most glamorous in the world -- there are no showers for instance," he said.
Trains have three classes -- the first and second called "SV" and "kupe" with compartments holding two and four berths respectively. While third class, "platzkart," is an open carriage.
Both Reid and Fussey recommend "kupe" class.
"For the money it's the best deal and it's comfortable," said Reid. "You've got a lock on the door but you are going to have other people in your cabin, which I think is a plus. It enables you to meet more Russians."
He continued: "It's not like travelling the Orient Express and it's not going to be as pretty as Paris, but it's unique and worth seeing and that's what makes travel so great."
FOLLOW THIS TOPIC