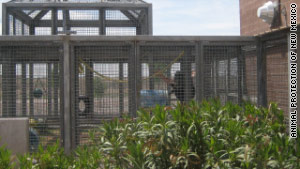 The chimpanzees will remain housed at the Alamogordo Primate Facility in Alamogordo, New Mexico.
STORY HIGHLIGHTS
An analysis will examine the need for the use of chimpanzees in research
Former New Mexico Gov. Bill Richardson had asked that a transfer be halted
Richardson says the move would cause further harm to the ill, aging chimps
(CNN) -- More than 180 chimpanzees, used in research testing for decades and set to be transferred from a New Mexico colony to a Texas research facility for possible use in further testing, will not be moved pending a review of the situation, officials said.
The chimps are housed at the nonresearch Alamogordo Primate Facility in Alamogordo, New Mexico. They "will remain there pending an Institute of Medicine in-depth analysis to reassess the scientific need for the continued use of chimpanzees to accelerate biomedical discoveries," the National Institutes of Health said in a statement Tuesday.
The 186 chimpanzees were set to be moved to the Southwest National Primate Research Center in San Antonio, Texas, where they could be used in additional experiments.
Former New Mexico Gov. Bill Richardson in November asked the U.S. Department of Agriculture to halt the scheduled transfer, claiming it would violate the Animal Welfare Act because of the chimps' age and poor health.
In addition, three senators -- New Mexico Democrats Tom Udall and Jeff Bingaman and Tom Harkin, D-Iowa -- wrote to National Academy of Sciences President Ralph Cicerone last month, calling for "an in-depth analysis of the current and future need for chimpanzee use in biomedical research." The Institute of Medicine is the health arm of the National Academy of Sciences, according to the National Institutes of Health statement.
Richardson was notified December 31 -- his last day in office -- that the chimps would not be transferred, spokesman Alarie Ray-Garcia told the Albuquerque Journal.
"This is great news for the chimpanzees and the people of Alamogordo," Richardson said in a statement, according to the newspaper. "I have worked hard to stop the transfer of the chimpanzees, and I am pleased that one of the last phone calls I received as governor was the NIH letting me know that they have agreed to this study."
The review is expected to postpone the transfer for about two years, Ray-Garcia told the Journal. While the review is being conducted, the NIH said, the Alamogordo chimpanzees will not be used in invasive research.
"The thoughtful analysis and rigorous review anticipated from the IOM report will be a valuable means to address this issue," the NIH statement said.
Richardson and other opponents of the transfer, including animal rights activists and the nonprofit Physicians Committee for Responsible Medicine, claimed that many of the chimpanzees suffered ill health as a result of their use in research studies. Those effects include "severe heart disease, liver disease, viral infections and diabetes," Richardson wrote in November to Agriculture Secretary Tom Vilsack. In addition, they likely suffer from psychological disorders, a result of being held captive for years and used as experimental subjects, he said.
But the NIH's National Center for Research Resources argued for continued use of chimpanzees in testing, saying they play an important role in research to develop a human vaccine for hepatitis C -- the most common reason for liver transplants in the United States.
"The development of a vaccine could protect future generations against infection with hepatitis C," it says on its website.
Richardson cited animals such as Flo, 53, who he said is at risk of dying under anesthesia because of her chronic weight loss, anemia, abnormal heart rhythm and age. Her medical records show the right side of her heart is enlarged, Richardson wrote. In her earlier years, Flo was injected with chemicals including the drugs angel dust and ketamine, he said.
In the letter to Vilsack, Richardson said that medical and veterinary experts from the Physicians Committee for Responsible Medicine had analyzed records detailing the medical histories of some of the Alamogordo chimps. USDA regulations say that if a primate is ill, injured or in physical distress, "it must not be transported in commerce, except to receive veterinary care," he said.
The National Center for Research Resources said all NIH-supported animals are "cared for by animal care teams that include veterinarians as well as integrated animal behavior and enrichment specialists." It said on its website that before transfer, each animal would be evaluated by veterinarians with chimpanzee expertise, and "if there is any medical reason not to move the animal, then the transfer of that animal will be postponed."
CNN's Ashley Hayes contributed to this report.
FOLLOW THIS TOPIC