WikiLeaks contributes to Manning defense, support group says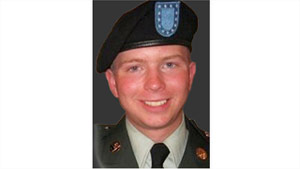 Army Pfc. Bradley Manning is charged with leaking secret material to Wikileaks.
STORY HIGHLIGHTS
More than $100,000 total is collected, group says
The minimum necessary for a "vigorous" defense is $115,000, support network says
The Army private accused of leaks faces most of rest of his life in prison if convicted
(CNN) -- WikiLeaks has contributed to the legal defense of Army Pfc. Bradley Manning, an online group supporting Manning announced Thursday.
WikiLeaks transferred $15,100 to the legal trust account of Manning's attorney, the Bradley Manning Support Network said in a news release.
Manning, 23, is facing eight counts of violating U.S. Criminal Code for allegedly leaking a secret military video from the Iraq war that made its way to WikiLeaks.org. He is the suspected leaker of cables and other documents relating to the wars in Iraq and Afghanistan.
He is being held at Quantico, the Marine Corps base in Virginia.
WikiLeaks' contribution brings the total funds given to Manning's civilian legal defense team to over $100,000, the support network said, adding that the "minimum amount necessary to mount a vigorous defense for Bradley Manning is estimated to be $115,000."

Who is the intelligence leak suspect?

Rallies for, against WikiLeaks suspect
WikiLeaks has openly sought donations for Manning's defense. Courage to Resist, a California-based group that supports veterans and was collecting money for Manning's defense, said last year that WikiLeaks was expected to cover "about half" of the total cost, Wired.com reported.
The news release Thursday from the Bradley Manning Support Network said "in light of WikiLeaks' current fiscal challenges" it commended WikiLeaks for its contribution. "This donation from WikiLeaks is vital to our efforts to ensure Bradley receives a fair, open trial," founder and steering committee member Mike Gogulski said.
Another member of the group's steering committee, Jeff Patterson, said, "We have seen an enormous outpouring of support internationally, in donations as well as volunteers."
WikiLeaks, which frequently sends out announcements by Twitter, had not tweeted about the announcement from the support network as of Thursday morning.
WikiLeaks' founder, Julian Assange, said at a press conference in November that his group had been advised not to comment publicly on the issue, Wired reported.
If convicted, Manning could spend most of the rest of his life in prison.
U.S. military officials have accused WikiLeaks of endangering lives with the publication of confidential documents. Secretary of State Hillary Clinton called the exposure of secret diplomatic cables "an attack against the international community."