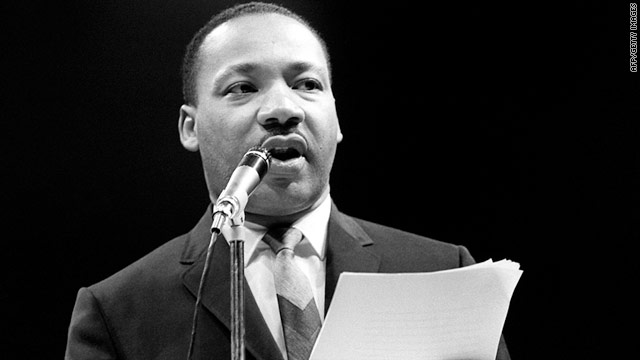 STORY HIGHLIGHTS
CIA director says "none of us truly can be free" if equality is not provided to all
Guest speaker Nikki Giovanni chooses to focus on Rosa Parks instead of King
"I'm a big fan of Martin, but ... where would Martin be without Rosa?" she asks
Washington (CNN) -- Most would not consider civil rights the top concern of the nation's spies, but it was standing room only this week as hundreds gathered in the Central Intelligence Agency auditorium attentively listening to speeches on the civil rights movement.
Even the CIA commemorates the Rev. Martin Luther King Jr. It was one of several agencies remembering the civil rights hero in advance of the federal King holiday on Monday.
Director Leon Panetta told the intelligence officers it is just as important today that all Americans follow the message of King, that "unless we provide equality to all, regardless of race, regardless of color or creed or gender or disability or sexual orientation, that none of us truly can be free."
Panetta called on everyone to rededicate themselves to the American dream King fought and died for, "an America of, by and for all people."
Panetta recounted his own lifelong commitment to the civil rights movement, from his days on Capitol Hill working on landmark civil rights legislation, to his service as the director of the U.S. Civil Rights office, to his time as President Clinton's chief of staff trying to protect affirmative action.
The CIA director then introduced the guest of honor, Nikki Giovanni, an acclaimed black poet and educator, whom he compared to King.
"It is very fitting that we celebrate the life of Dr. King -- a great orator, poet, activist, teacher and leader -- with words of wisdom from another great orator, poet, activist, teacher and leader," Panetta said.
Giovanni took the stage and immediately grabbed the attention of her audience by proclaiming, "I'm a big fan of slavery." While acknowledging slavery is bad, Giovanni said black Americans have an incredible history, having come through the period of slavery with their sanity intact.
"Every day I wake up and say I'm so damn glad I'm black," Giovanni said.
With passion and humor, Giovanni then explored a pivotal moment in the civil rights movement that didn't focus on King, but rather on Rosa Parks, the black woman whose refusal to give up her seat on a Montgomery, Alabama, bus in 1955 brought the national spotlight on the injustice of segregation and led to a change in the law.
"I'm a big fan of Martin, but ... where would Martin be without Rosa?" said the longtime Virginia Tech professor, who wants to see December 1 designated as Rosa Parks Day.
Giovanni, who was a friend of Parks for more than 20 years, shared her impressions and some personal stories about the civil rights icon.
She described Parks as a positive person with a sense of humor, always polite, a real Southern woman. She said Parks had an incredibly soft voice which just seemed to carry. She recalled a phone conversation with Parks about a sentence she wrote in "Rosa," a children's book chronicling the bus standoff. Parks told her she liked the book, but questioned Giovanni's characterization of her as having "fiddled for a dime," a reference to Parks' trying to find 10 cents to pay the bus driver.
"I've never fiddled in my life," said Parks, to which Giovanni responded, "Mrs. Parks, you're going to fiddle in my book."
She marveled at Parks' calm as she waited for police to come arrest her, her refusal of the officers' suggestion that she give up her seat on the bus.
Giovanni said she told Parks it was good it was her, because if she had been in that position, "I would have said, 'Do I look like your mama's sister?' I would have had to say something. Then they would have had to hit me. Then someone would have said 'don't hit Nikki.' Then someone else would have pulled out a gun. It would have changed -- totally different.
"Fortunately, it was Mrs. Parks."
Giovanni said Parks was a private person who kept her cards incredibly close. "She wouldn't be on Oprah talking about what she does and doesn't do," Giovanni joked.
She also referred to Parks as a beautiful woman and suggested actress Halle Berry would be a good choice to portray her.
Giovanni interspersed her remarks at the CIA with a spirited defense of black men.
She believed Raymond Parks, Rosa's husband, got a bad rap for excessive drinking. "Raymond didn't start drinking too much until someone started trying to kill his wife," Giovanni said, adding, "I get sick of people for picking on black men, because they are just people who are responding to things that are happening to them."
She maintained black men could never have started the Montgomery bus boycott that followed the arrest of Rosa Parks, because something "ugly" would have happened.
But she also is convinced the men were in a more difficult position than the women. They had to "go home and pray their wives would be OK -- had to be the most difficult time in a black man's life."
Giovanni marveled at the ingenuity of the black maids who, when asked by the white people they worked for if they supported the bus boycott, would respond, "No ma'am, and I'm staying off those buses until this trouble is over."