'Escort' services help bolster online classified site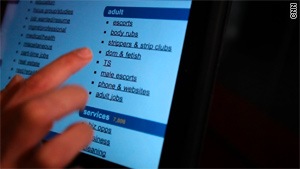 Many adult services ads have migrated from Craigslist to backpage.com.
STORY HIGHLIGHTS
In September, Craigslist ended its adult services ads in the U.S.
Those ads have migrated to websites such as backpage.com
Data shows backpage.com's ad revenues have jumped more than 25% since November
CNN's "Selling the Girl Next Door" airs at 8 and 11 p.m. ET Saturday
Editor's note: CNN's Amber Lyon reveals the devastating realities of the business of underage sex in CNN's "Selling the Girl Next Door," which airs at 8 and 11 p.m. ET Saturday.

In a statement dated December 28, backpage.com said it is "committed to preventing those who are intent on misusing the site for illegal purposes." Read an up-to-date list of the safety measures backpage.com says it is taking.
(CNN) -- When Craigslist pulled the plug on its adult services section last summer, it stepped out of a raging controversy over accusations its site had become a marketplace for pimps to sell underage girls.
The ads left Craigslist, but they didn't go away.
Many simply migrated to other websites, most notably, backpage.com. Backpage is owned by the Village Voice Media group. According to internet research firm the AIM Group, the website's adult ad revenues jumped to $2 million in December, up more than 25 percent from the previous month.
AIM Group founder Peter Zollman says the revenue jump is due in part to the fact that Backpage is now charging more money to post ads under its "escort" categories.
"They have taken advantage of Craigslist's departure from the marketplace, and they've raised their rates in a lot of places," Zollman says. "As a result, they've increased their revenue."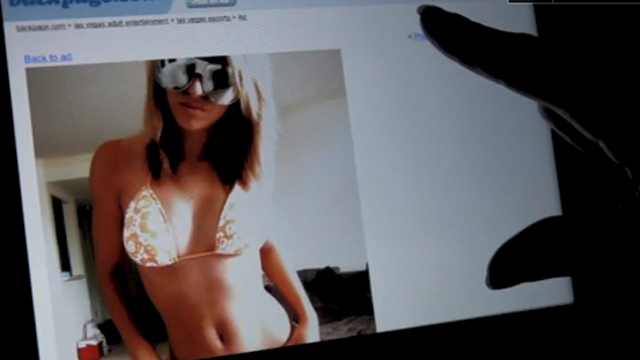 Uncovering America's dirty little secret

Girls bought and sold online

Men who buy sex
The AIM Group also reports that overall traffic on Craigslist, the nation's most popular classified ad site, has dropped by more than 10 percent since it took its adult ads down.
CNN investigated allegations that backpage.com is facilitating the sale of underage girls for sex across America, by providing a convenient and cheap marketplace for pimps who sell the girls and the men who buy them.
CNN found cases of underage girls sex trafficked all over the country, from the suburbs of Washington to Las Vegas, where a 13-year-old girl was sold on backpage last fall, according to law enforcement authorities.
Underage sex trade still flourishing online
She says she was advertised on backpage by a pimp, seeing four or five men a day.
"It made me feel so nasty," she says. "I always just want a shower and get it off; I was like oh it's so disgusting."
Backpage and its parent company, Village Voice Media, have consistently refused CNN's requests for an interview.
On the company's blog, backpage says it is taking steps to clean up the site, including reviewing ads to try to screen out underage women.
FOLLOW THIS TOPIC