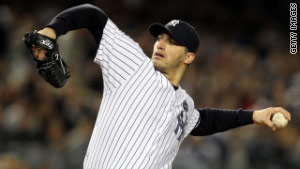 Andy Pettitte has played for the Yankees on and off since 1995.
STORY HIGHLIGHTS
Pettitte ends his career after 16 seasons, 13 of them with the Yankees
Pettitte: "The last four years I can honestly tell you have been amazing"
He holds the major league record for the most postseason wins
New York (CNN) -- Andy Pettitte, whose pitching helped the New York Yankees to five World Series championships, announced his retirement from Major League Baseball at a news conference Friday morning at Yankee Stadium.
"I'm done with baseball," he said. "I'm going to not be pitching for the Yankees every fifth day anymore."
"He had a really hard time making this decision," Pettitte's wife, Laura, added.
Pettitte explained that it was not his physical condition that led to his decision, but that his "heart is not where it needs to be."
Pettitte thanked the Steinbrenner family, which owns the team, and the Yankee organization for not only allowing him to start his career in pinstripes, but also for bringing him back to New York.
"The last four years I can honestly tell you have been amazing," he said.
The 38-year-old left-hander fan favorite joined the Yankees in 1995, the same year captain Derek Jeter and closer Mariano Rivera started playing for the storied franchise. He helped the team to four World Series championships before going to the Houston Astros in 2004, and then returned to New York, helping the team to another championship in 2009.
Overall, Pettitte appeared in eight World Series -- seven as a Yankee and one as an Astro.
After 16 years in the major leagues -- 13 with the Yankees and three with the Astros -- Pettitte leaves the majors with 240 career wins and a 3.88 ERA. In Yankees franchise history, he ranks second in strikeouts and starts, third in wins, fourth in innings pitched and eight in appearances with 405.
He also holds the major league record for 19 postseason victories. He was a three-time All-Star, in 1996, 2001 and 2010, and was the most valuable player of the 2001 American League Championship Series.
"I am looking forward to this next chapter in my life," he said Friday. "And right now I don't want it to be anything except hanging out with my family."
Pettitte's career was not without controversy.
In December 2007 he was included by a group led by former Sen. George Mitchell in a report on illegal use of performance-enhancing drugs in baseball. Pettitte was among dozens named in its findings and the report became the basis of a hearing two months later by the House Committee on Oversight and Government Reform.
He later admitted to using growth hormones in 2002 and 2004.
In a sworn statement to a House committee, Pettitte also said that seven-time Cy Young Award winner and close friend Roger Clemens, who was also named in the report, admitted that he used the hormone during a conversation the two had in 1999 or 2000.
Pettitte denied that this has affected his decision to retire.
"I would never let that interfere with a life decision I am going to make for me and my family," he said.
The two men, both native Texans, were close friends before the fallout from the federal investigation. Clemens was indicted on six charges last August -- one count of obstruction of justice, three of making false statements, and two of perjury -- for lying to Congress during that 2008 hearing, when he denied using steroids, growth hormones or other such performance-enhancing drugs. Clemens' criminal trial starts in July.