Ohio governor says collective bargaining bill not meant to kill unions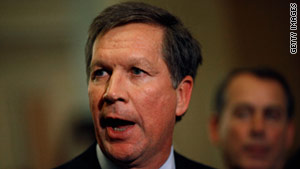 John Kasich says he wants to ensure "that management has some power and some tools to create to control their costs."
STORY HIGHLIGHTS
The governor says a bill to curb collective bargaining rights isn't an effort to destroy unions
The Ohio measure would eliminate tenure as protection against layoffs
Like Wisconsin, the Ohio proposal sparks protests
(CNN) -- Republican Ohio Gov. John Kasich said Monday that proposed curbs on the collective bargaining rights of public employees in the state are meant to "restore some balance to the system," not destroy unions.
"It's right for them to be able to negotiate their own salary," Kasich said in an interview with CNN, "but we need to let managers be able to determine things like keeping the pension systems healthy, making sure that that the costs related to health care are consistent with private sector workers."
The Ohio General Assembly is a considering a proposal similar to legislation introduced by Republican Gov. Scott Walker in Wisconsin that would roll back collective bargaining rights for public employees, including teachers.
The Ohio proposal was was introduced by a Republican state senator. Like Walker's bill, the Ohio measure has generated protests from public employees' unions in that state.
Senate Bill 5 would eliminate tenure as a consideration in deciding who gets laid off. It would also require employees to pay 20% of their health insurance premiums and implement merit-based pay for some government workers.
Critics say the bill not only undercuts workers' rights, it also fails to address systemic deficit problems. Last week, crowds of protesters demonstrated against it at the state Capitol in Columbus.
In defending the bill, Kasich said, "We have have an $8 billion budget hole in Ohio. We have a third of our college students that leave Ohio after three years. We've lost 600,000 jobs in the last 10 years."
"We frankly want to give the managers in the local communities and our schools the ability to control their costs so they don't have to raise taxes and drive businesses and more jobs out," Kasich said. "What we're trying to do here is to balance it out, to make sure that management has some power and some tools to create to control their costs."
"If the unions want to keep talking and negotiating, that's fine, but we don't want binding arbitration, where an outsider comes in and imposes a settlement on a community that the community can't afford," Kasich said.
FOLLOW THIS TOPIC