Indiana state prosecutor fired over remarks about Wisconsin protests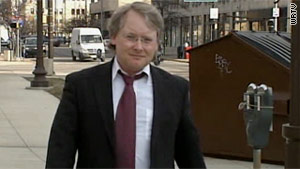 Jeffrey Cox concedes that his "use live ammunition" tweet was not a good idea.
STORY HIGHLIGHTS
Indiana deputy attorney general fired for suggesting on Twitter that Wisconsin police use "live ammunition" to disperse protesters
Jeffrey Cox was fired within hours of publication of Mother Jones article about his online postings
Mother Jones reported Wednesday that Cox had called demonstrators "political enemies" and "thugs"
(CNN) -- An Indiana deputy attorney general lost his job Wednesday after commenting online that authorities should use "live ammunition" to run off the throngs of protesters railing over union collective bargaining rights two states away in Wisconsin.
The former state prosecutor, Jeffrey Cox, attached the comment "Use Live Ammunition" in response to a Feb. 19 Twitter posting by a writer for Mother Jones magazine. The writer, Adam Weinstein, wrote that riot police officers had been ordered to clear protesters from the Wisconsin state capitol in Madison.
The rumored 2 a.m. Sunday expulsion of protesters in Madison never happened.
Mother Jones on Wednesday published an article about Cox's Twitter posting and other inflammatory remarks the former state prosecutor had made online. By the end of the day, Cox had been fired from his job.
"Civility and courtesy toward all members of the public are very important to the Indiana Attorney General's Office," the agency said in a prepared statement. "We respect individuals' First Amendment right to express their personal views on private online forums, but as public servants we are held by the public to a higher standard, and we should strive for civility."
Cox's initial Twitter remark Saturday night set off a pointed online exchange between the prosecutor and the author of the Mother Jones article.
Cox, according to Weinstein, called the demonstrators "political enemies" and "thugs" who were threatening to injure elected officials.
"You're damned right I advocate deadly force," Cox purportedly wrote, according to the Mother Jones article. He also called the author a "typical leftist," and wrote, "liberals hate police."
Cox, who was contacted by Mother Jones Sunday morning, confirmed that he was an Indiana deputy attorney general.
"All my comments on twitter & my blog are my own and no one else's," Cox wrote, according to Mother Jones. "You will probably try to demonize me. But that comes with the territory."
After his firing, Cox's tone appeared more conciliatory.
"I think that in this day and age that tweet was not a good idea." Cox told CNN affiliate WRTV in Indianapolis
"And in terms of that language," Cox said. "I'm not going to use it any more."
FOLLOW THIS TOPIC