Mental tests ordered for Arizona shooting suspect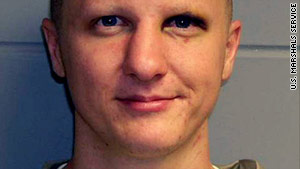 Jared Loughner is accused of shooting Arizona Rep. Gabrielle Giffords and 18 others at a grocery store in January.
STORY HIGHLIGHTS
Loughner's attorneys say moving the suspect out of state could disrupt his mental state
The judge says the move is inconvenient but "unavoidable"
The judge rules that the evaluation should happen no later than April 29
(CNN) -- A judge has ordered Jared Lee Loughner to undergo a mental evaluation at a specialized facility in Springfield, Missouri, as soon as possible to help determine if he is competent to stand trial, according to the U.S. Attorney's Office in Tucson, Arizona.
Loughner, an Arizona man, faces 49 counts -- including murder and attempted murder -- related to the January 8 mass shooting in a grocery store parking lot.
Six people were killed in the shooting and 13 others were wounded, including Arizona Rep. Gabrielle Giffords.
Loughner's defense attorneys argued that the suspect should not be moved to Springfield because he is "'seriously ill' and that physically transferring him from Tuscon could worsen his mental state and disrupt counsel's relationship with him," according to court documents.

Jared Lee Loughner indicted on 49 counts

Loughner's college defends policies
But U.S. District Judge Larry Burns sided with prosecutors stating in his order that he "acknowledges that moving the defendant to Springfield for a relatively short period of time will be temporarily inconvenient for the defense team. But the inconvenience is unavoidable ..."
Burns said the mental evaluation should happen no later than April 29.
A competency hearing in the case has been scheduled for May 25.
Loughner is accused of killing John M. Roll, a federal district judge; Gabriel M. Zimmerman, a staff member for Giffords; Dorothy J. Morris, Phyllis C. Schneck, Dorwan C. Stoddard and nine-year-old Christina-Taylor Green.
Loughner has pleaded not guilty to the charges.
CNN's Leslie Tripp contributed to this report.
FOLLOW THIS TOPIC


Part of complete coverage on

In the days and weeks to come, Rep. Gabrielle Giffords' recovery from a gunshot wound to the head will be a marathon, not a sprint, doctors say.

Doctors for Rep. Gabrielle Giffords have upgraded her condition from serious to good, and said she may be transferred to a nearby rehabilitation hospital Wednesday morning.

A federal judge entered a plea of not guilty Monday on behalf of Jared Lee Loughner to three counts of attempted murder in the mass shooting that wounded U.S. Rep. Gabrielle Giffords earlier this month.

Gabrielle Giffords has been able to stand with assistance. "She's activating her muscles even more than what I had anticipated," one doctor says.

Rep. Gabrielle Giffords arrived in Houston, Texas, on Friday to continue her recovery from a gunshot wound to the brain, her office said.

The next phase of recovery for U.S. Rep. Gabrielle Giffords is likely to begin later this week when she will be transported to a rehabilitation hospital in Houston.

Rep. Gabrielle Giffords was worried about her safety long before she was critically wounded in a mass shooting that killed six people in Arizona, her husband said in a new interview.

Arizona shooting suspect Jared Loughner photographed himself posing with a 9mm handgun while wearing a red G-string, a law enforcement source said.


Today's five most popular stories