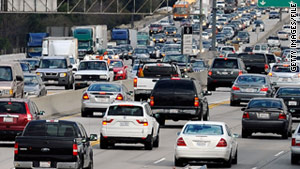 Experts say changes in car design and campaigns to create better drivers contributed to the decline in traffic deaths.
STORY HIGHLIGHTS
Experts cite numerous factors in the drop
Emphasis on distracted driving has helped, transportation secretary says
The recession and high gas prices are also a factor
At the end of 2010, fatalities began to trend back up
Washington (CNN) -- The number of traffic fatalities continued its welcomed downward trajectory last year, falling 3% to its lowest levels since 1949, and a 25 percent drop from 2005, according to U.S. Department of Transportation estimates released Friday.
Preliminary figures show that 32,788 people died in traffic accidents last year, down from the 33,808 killed the previous year and significantly below the 43,510 people killed only six years ago, according to the DOT's National Highway Traffic Safety Administration.
Experts attribute the change to a variety of reasons, including changes to cars -- such as vehicle rollover protection -- and programs to change driver behavior -- such as campaigns addressing drunk driving, distracted driving and seat belt use. Laws aimed at young people also likely have had an impact, notably older minimum drinking ages and graduated drivers' licenses.
"I think I'm going to take a little bit of credit here on our two years of really hammering on distracted driving," said Transportation Secretary Ray LaHood. "We're not where we want to be, but we know with good laws and good enforcement, people will put their cell phones down and their Blackberries."
He also gave credit to stricter enforcement of driving laws and drivers taking personal responsibility for their safety.
Traffic fatalities in the United States peaked in 1972, with 54,589 killed, according to the DOT. But the rise and decline of the grim number has numerous peaks and dips, influenced by direct changes such as the national speed limit and indirect causes such as recessions.
In recent history, the most notable change was a 9.7 percent plummet in deaths in 2008. In a report examining that drop, DOT officials gave credit to DOT safety programs, but also noted that the drop coincided with a recession in the economy. The recession, and high unemployment rates among the young workforce, probably had a big impact on travel among young drivers, and it probably accounts for a steep decline in fatalities involving younger people, the DOT said.
The 2010 drop is notable because the decline comes despite an increase in the number of miles driven.
But figures also suggest the downward trend may be at its end. DOT figures show that fatalities declined in the first quarter of the year (down 11.4 percent) and second quarter (down 5 percent) compared for the same quarters the previous year, but increased in the third and fourth quarters, up 1.6 percent and 1.8 percent respectively.
Terry Kline, a professor at the Traffic Safety Institute at Eastern Kentucky University, said so many factors influence crashes that its difficult to assign credit or blame.
"Each one wants to say, 'Yes, it's my program that did it,' but it's very hard to prove," Kline said.
A number of factors are "taking more 16 year olds off the road," which could be having a significant impact on the statistics, he said. In many states, young drivers can only drive with an adult in the car, he said. And the recession and the high cost of cars and gas also are keeping teen-agers from jumping in the driver's seat.
The lack of uniformed police reports makes it difficult to compile reliable statistics, Kline said.
Secretary LaHood said the up-tick in traffic deaths in late 2010 does not portend higher figures this year.
"Absolutely not," he said. "We can never sit back on our laurels. We can never take for granted that people have gotten the message, not when 30-thousand people have lost their lives. So we're going to continue our efforts."