Another active Atlantic hurricane season expected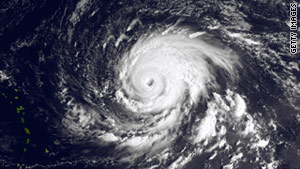 There's a high possibility of five major Atlantic Ocean hurricanes this year, according to Colorado State University.
STORY HIGHLIGHTS
Colorado State University team expects 16 named storms, 9 hurricanes
Five of them could become major
Federal government will put out its forecast next month
2010 was busy, but no hurricanes made landfall in the United States
(CNN) -- The 2011 Atlantic basin will see an above-average hurricane season, with the possibility of five major hurricanes, a nationally recognized forecast center said Wednesday.
The Colorado State University team slightly reduced its December outlook, but still calls for 16 named storms, with nine forming into hurricanes.
Coastal residents should expect another very active hurricane season.
The National Oceanic and Atmospheric Administration, which releases its annual forecast in May, called the busy 2010 Atlantic hurricane season a "gentle giant."
The season wrapped up with a total of 19 named storms, 12 hurricanes and five hurricanes that were Category 3 or higher. That made 2010 the third-busiest season when considering all named storms, and second-busiest season on record when considering hurricanes.
The Atlantic hurricane season, which runs from June 1 through the end of November, normally has six hurricanes per year.
Remarkably, there were zero U.S. hurricane landfalls in 2010. On average, approximately two hurricanes hit the United States per year.
Colorado State said probabilities indicate:
-- A 72% chance that at least one major hurricane will make landfall on the U.S. coastline in 2011.
-- A 48% chance that a major hurricane will make landfall on the U.S. East Coast, including the Florida peninsula.
-- A 47% chance that a major hurricane will make landfall on the Gulf Coast from the Florida Panhandle west to Brownsville, Texas.
"We expect that anomalously warm tropical Atlantic sea surface temperatures combined with neutral tropical Pacific sea surface temperatures will contribute to an active season," said Phil Klotzbach of Colorado State in a statement.
A hurricane is considered major (Category 3 or above) if it has sustained winds of greater than 110 miles per hour.
AccuWeather.com last week forecast 15 named tropical storms, eight of which will become hurricanes and three of which are expected be major.
Mexico was less fortunate in 2010. It was slammed with a number of storms including Hurricane Karl, which intensified into a major hurricane before hitting land -- the only hurricane to do so in the Bay of Campeche. Central America also had a share of the tropical activity, where storms caused deadly flooding and mudslides.
FOLLOW THIS TOPIC