STORY HIGHLIGHTS
Census shows number of multiracial Americans increased 32% since 2000
The Sorensen family has built a racial rainbow that spans three generations
Compare the multiracial experiences of a grandmother, a daughter and a grandson
Many multiracial college students say they're intensely proud of their racial backgrounds
(CNN) -- They met at a jazz bar in Los Angeles, California. The year was 1941. Billy was a ranch hand who dabbled as a singer. Lisa was a secretary.
It wasn't long before young Billy and Lisa crossed a line which, for most Americans, was unthinkable at the time.
Lisa was white. She had roots linking her to William Clark, the explorer who traveled to the Pacific Coast of the United States with Meriwether Lewis. Billy was black, the grandson of a former slave who had moved to California from Texas in the 19th century. They wanted to get married.
In some states, their love could have gotten them killed. Interracial marriages were outlawed in California at the time, so they were forced to travel to Mexico to make it legal.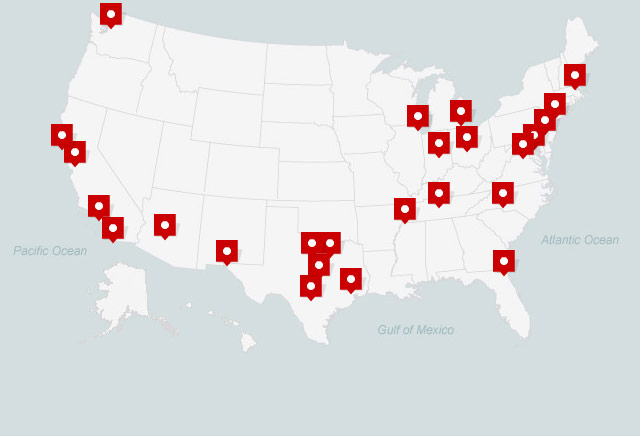 Where are multiracial populations growing?
"It was amusing how these extremely different and complex families ended up with my mother and my dad getting married," Leni Sorensen said from her home in rural Virginia."And then there was me."
Leni has long walked the tightrope between black America and white America. She was the first of her family's three generations of multiracial children. Society, friends and family have sometimes tried to classify them by race. But like a growing number of people, they won't check only one box.
9 million and counting
It's only been a decade since the census allowed people to identify themselves by multiple races, and new figures from the 2010 Census show a 32 percent increase in the number of people who did.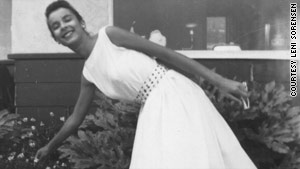 Leni Sorensen poses in 1958. A child of black and white parents, she later became a singer, actress and historian.
Multiracial people now number 9 million, about 2.9 percent of the total U.S. population. The nation's largest multiracial combination: black and white Americans, numbering 1.8 million.
Where multiracial populations are growing
The increase during the last 10 years shows how attitudes have shifted radically from the days of segregation the "one-drop rule," a defunct idea that said a person with one drop of nonwhite blood belonged only to a nonwhite race.
While many multiracial Americans of Leni's generation tried to blend into one race, Leni spent her life pushing against classification, refusing to be placed into "just one slot."
Share your stories through iReport's cultural census
Her path led her from a segregated California neighborhood to show business, motherhood and academia. Now 68, she settled near Thomas Jefferson's Monticello estate, where she works as a research historian.
One generation later, Leni's multiracial daughter, Winter, had to fight pressure to identify herself as white or black.
But it seems to be easier for Winter's multiracial son, 9-year-old Traevon. The family calls him the "brown Viking," reflecting his pride for his racial and ethnic background.
"More people are embracing their mixed backgrounds," Leni said. "That's fantastic."
Because it wasn't all that long ago when multiracial Americans had to check one box, and choose between two worlds.
Leni has been herself, 'to the greatest degree'
As a child growing up in the 1950s, Leni understood her family was unusual. She was 13 before she met another biracial child.
9 million: People belonging to at least two races, up 32% since 2000

4.2 million: People younger than 18 belonging to at least two races, up 45.9% since 2000

57: Race combinations marked on the 2010 Census

1.8 million: People who marked black and white

1.7 million: People who marked white and "some other race"

1.6 million: People who marked Asian and white

1.4 million: People who marked American Indian or Alaska Native and white

Note: The Census Bureau considers Hispanic/Latino an ethnicity, not a race. Respondents to the race question who reflected a Hispanic/Latino origin were classifed as "some other race."

Source: 2010 U.S. Census
Her parents divorced a few years after her father shipped out with the U.S. Army during World War II. Leni and her mother lived in an African-American neighborhood in then-segregated San Diego. There, much of a biracial child's life was determined by skin tone. Lighter-skinned people might be able to "pass" as a white person and avoid racial discrimination.
"Some people had been raised to feel guilty or embarrassed or whatever by their multiracial background, but I didn't," Leni said. "I've always been able to just be who I am to the greatest degree."
Leni remembers days spent at a beach in Santa Monica that was open to black and white people.
"It was called Salt and Pepper Beach," she recalled. "Segregation was part of the world, yes, but it wasn't as constantly in your face as it would have been in the South."
The times when race was shoved in her face remain powerful memories for Leni.
One day after school, an African-American friend whose family had recently relocated from the racially segregated South invited Leni over.
"Hi mom, this is Len," said the girl. What the girl said next left Leni in shock.
"Her mom's white," the girl blurted out.
For Leni, this comment translated: She's different. She's not one of us. We can't completely trust her.
"She wanted her parents ... to know why I looked the way I looked," explained Leni, who said she never grew close to the friend. "It was just really annoying."
Leni's relationship with her white grandmother was limited, more a matter of personality than of race. But she did grow close to her father's family, forging happy memories of her grandmother and her grandfather, who was a scrap-metal dealer outside Los Angeles.
"I knew him really well and he was wonderful," Leni said, laughing. "He could roll a Bull Durham cigarette with one hand while driving his truck."
As a young adult she began a career as a counterculture folk singer with The Womenfolk and later as an actress.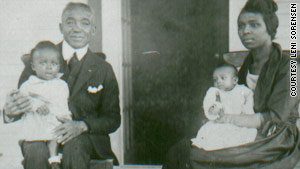 Leni's grandparents hold her infant father, Billy, left, and her infant aunt, Norma Jean, right, in 1922.
Two marriages yielded sons who are both professional artists: Kierk, whose father is African-American, and Nik, whose father is white. Leni then married her current husband, Kip Sorensen, who's also white, and had their daughter, Winter, and another son, Bjorn.
Their rainbow family -- including Leni's three grandchildren -- now live in rural Virginia. Sorensen earned a Ph.D. at the College of William & Mary, writes a blog and teaches classes on American culinary history in addition to her work at Monticello.
"In this country we're a look-ist society," Leni said. "We've been taught to judge people on really obscure, minor, visual things that come out of the deep worry that somebody's trying to pass for something."
Still, the multiracial experience for Leni's generation was very different than her children and grandchildren's.
Winter's world
For Leni's 33-year-old daughter Winter, race isn't a "big deal." They talk about it, but it remains "very low key," she said.
That's not to say that growing up multiracial in the 1980s and 90s wasn't without complications or ugliness. Once in a while, she was the target of a racial slur. She sometimes felt singled out from both her black and white friends, and even her own relatives.
"It was a kind of confusing time as far as, 'How do I identify myself, because I look white?' But now I identify myself as mixed," Winter said. "I've had experiences where I either wasn't black enough to hang out with the black girls or they assumed I was trying to 'act black.' But also, I've had groups of friends who were mixed or primarily black, and then you're not white enough to hang out with the white folks."
At age 10, during an extended reunion of the black side of her family in North Carolina, some of Winter's younger, darker-skinned relatives made fun of her lighter skin.
Leni had learned from her grandparents the value of standing up for herself and confronting wrongdoing. It was time for Winter to learn the same. It was a talk mother and daughter would remember always.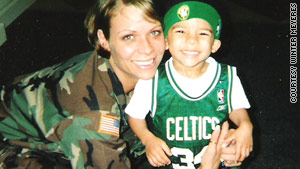 Leni's daughter, Winter, has a white father. Winter's 9-year-old son, Traevon, has an African-American father.
"You're going to be a person that nobody knows is of African-American descent," Leni told Winter at the time. "And they're going to often speak badly about black people or gay people or whatever in front of you because they feel they can express those things safely -- because they think you're one of them. Your job will be to defy that, to stand up and say, 'Hey, when you're talking about black people, you're talking about me, too.'"
Winter listened to her mother. As children, there was a time when an alteraction on the school bus led to "the N-word" being thrown at her brother, Bjorn, who has darker skin and hair.
"I definitely stood up for him and I was like, 'We don't play that at our house,'" she said.
Years later, Winter watched as a clerk marked "white" for Winter's race on a driver's license application. She asked the clerk to change her race to "other."
"If I don't identify myself as mixed, I feel like I'm being disrespectful to one or the other of my parents," Winter said.
And when it came to dating, Winter learned that many men, black and white, were uncomfortable with the idea of dating a multiracial woman.
If I don't identify myself as mixed, I feel like I'm being disrespectful to one or the other of my parents.
--Winter Meyeres
Winter said she "presents as white," but felt she had more in common with men who were black or multiracial. She met her son's father, who is black, while they were both serving in the U.S. Army. Her current husband is white.
Winter developed a keen sensitivity to how men really felt about her multiracial background, and said she's thankful she picked up on it.
"It avoided a lot of emotional trouble," she said. "Sometimes they were uncomfortable because they knew their family would have problems with it. Sometimes they were uncomfortable because it was a cultural thing. I never had any tolerance for either one of those, because that's ridiculous."
Trae, the 'brown Viking'
For a younger generation, the perspective is still changing. The latest Census figures show there are 4.2 million kids whose parents identified them as multiracial. That's a 45.9% increase since 2000.
Winter's son, Traevon, knows about his ancestors in Africa, in slavery and in freedom, but connects with this Danish ancestry from his grandfather.
"I call Trae my brown Viking," Winter laughed. "When he's been asked to do papers at school he always does it on Vikings, and as far as he's concerned that's what he is -- he is a brown Viking."
Winter says she and Traevon have had brief discussions about what races he identifies with.
"I don't know how much of a concept he really has of the whole thing, because I'd like to think that the subject doesn't really occur to him," she said. "I think kids are learning younger and younger now that none of that stuff really matters.
We feel very intense about being multiracial. I feel like older generations of multiracial people didn't embrace it the same way.
--Jackie Okolie, head of NYU multiracial advocacy group
"Kids nowadays just see each other and the world far more openly."
But questions about race are far from answered. Among the generation currently on America's college campuses, some multiracial men and women struggle to fit in, while others feel they've found their place.
Many multiracial students share the experience of "'I don't know where the hell I belong,' because they're constantly questioning whether they belong," said Liza Talusan, who counsels multiracial students at mostly white Stonehill College in Massachusetts.
At New York University, another campus group wants to spread the word that being multiracial is identity enough.
"We feel very intense about being multiracial," said Jackie Okolie, president of NYU's Biracial and Multiracial Students Association. "I feel like older generations of multiracial people didn't embrace it the same way."

Being part of more than one racial group "makes you extra special because usually people are curious. They want to know, 'What are you?'" she said.
By the time Trae is old enough for college, Winter hopes her son won't feel like he has to make a choice about who he is based on his racial heritage.
"I think racism is going to be less of an issue in his generation then mine -- and it was definitely less in mine than my mom's," Winter said. "Hopefully, in his generation, it won't be tolerated at all."
FOLLOW THIS TOPIC