STORY HIGHLIGHTS
NEW: More than 170 homes have been destroyed by fires
Aerial images show homes near Possum Kingdom Lake burned to the ground
Officials say high winds and low humidity Tuesday complicate containment efforts
Air National Guard C-130s are on the scene to drop fire retardant
Are you there? Share photos, video on CNN iReport
Dallas (CNN) -- Firefighters in Texas had to contend with 11 new fires Tuesday in addition to carryover blazes that have claimed more than 170 homes and burned more than 1 million acres in the past two weeks, state officials said.
Massive flames forced the evacuation of at least three towns and brought widespread damage to several parched counties west of the Dallas-Fort Worth metropolitan area Tuesday, authorities said. Helicopters and other aircraft aided the firefighting.
One of the largest fires plaguing Texas rampaged between the towns of Graham and Graford.
That fire, less than 70 miles west of the Dallas-Fort Worth metropolitan area, burned into residential areas surrounding Possum Kingdom Lake Monday night, destroying and damaging homes in four or five neighborhoods, according to Marq Webb, a spokesman with the Texas Forest Service.
The Forest Service reported Tuesday night that 149 homes and one church have been destroyed by that fire.

Fighting wildfires in Texas

Hundreds of fires threaten Texas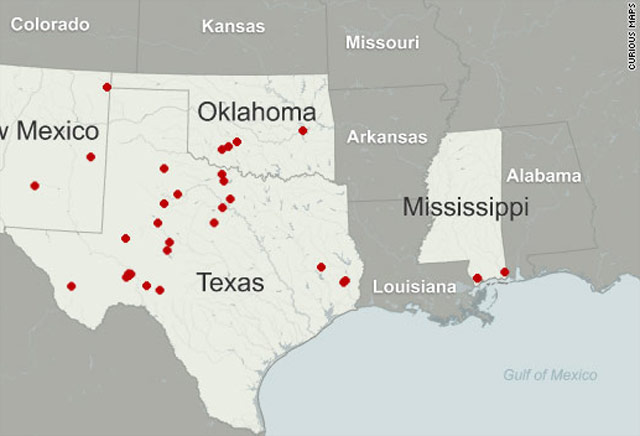 Where wildfires are burning
Two dozen residences were lost elsewhere in the region. Dozens of homes and other structures were damaged or threatened by flames.
Aerial images shot Tuesday by CNN affiliate WFAA showed some homes on the edge of Possum Kingdom Lake burned down to the foundations, swaths of charred vegetation and heavy smoke hanging over parts of the area. Still, numerous homes appeared to have escaped the flames, some of them next to houses that had been destroyed.
Other aerial video shot nearby by CNN affiliate KTVT showed massive flames and smoke still in the area. Helicopters and Air National Guard C-130 aircraft outfitted with specialized firefighting equipment roared overhead, dumping water and fire retardant on the flames.
More than 600 homes were threatened by the fire, which involved more than 147,065 acres in Stephens, Palo Pinto and Young counties on Tuesday, the Forest Service said earlier.
Young County Sheriff Bryan Walls estimated the fire covered 200,000 acres in the three counties.
Thick smoke caused visibility problems in some areas, the Brazos River Authority reported, and all roads leading into the area were closed, officials said.
The Palo Pinto County Sheriff's office said it evacuated 200 residents in the town of Palo Pinto, about 70 miles west of Fort Worth, and moved them to shelters.
Two buses were sent to evacuate jail inmates, said Deputy Randy Hunter.
The community of Graford also was evacuated, the Forest Service said.
The town of Strawn was evacuated and the fire closed to within two miles of Graham, where resident Bailey Barnett already had to flee her home once after ash as thick as snow began falling around her home.
The area remained under threat, but Barnett, who is pregnant with her first child, had another reason to worry: Her husband, she said, is a volunteer working on the fires with the Graham Fire Department.
"It's been really, really, stressful," Barnett said Tuesday. "I don't think a lot of people realize how bad it is."
On Monday, state Air National Guard units from California, Wyoming and North Carolina sent C-130 aircraft capable of carrying specialized firefighting equipment to help fight the wide-ranging fires, which have affected or threatened virtually every county in the state, according to the governor's office.
The aircraft, flying out of Dyess Air Force Base near Abilene, join Texas National Guard units flying Black Hawk helicopters dumping buckets of water on the matchstick-dry landscape of western and central Texas.
The C-130s can carry firefighting modules that allow them to douse an area one-quarter of a mile long by 60 feet wide with fire retardant or water in less than five seconds, the National Guard said.
While welcome, the aircraft aren't likely to be enough to get the fires under control. Unprecedented conditions for Texas -- high spring winds and temperatures combined with dry tinder more reminiscent of late summer -- have allowed dozens of large fires to burn out of control across the state.
More than 1,400 people were fighting the fires, Webb said. The U.S. military has 113 people, mostly from the National Guard, helping the effort.
The state has seen fires in 252 of its 254 counties since December 21, 2010.
FOLLOW THIS TOPIC