STORY HIGHLIGHTS
Many of Louisiana's barrier islands are still covered with oil
Propane-fueled sound cannons are used to keep birds away
Scientists fear for endangered species
Port Sulfur, Louisiana (CNN) -- The average gun nozzle is painted red, stretches about three feet long and is as round as a softball. Powered by propane, there's an explosion in the base that, by the time the rush of hot air leaves the nozzle, fills the air with a sound similar to cannon fire.
Hundreds of guns guard Louisiana barrier islands like sentries, standing 50 feet apart, booming sporadically as though the islands are under constant attack by the weary fowl looking for a place to rest and hatch their young.
The explosions are designed to ward off the birds that nest in the marsh grasses. Sometimes the guns work.
But some birds, many of which fly from hundreds of miles away year after year, are stubborn in their ways, so hundreds of guns have to be used.
Barataria Bay's barrier islands are accessible only by boat. Many of these small patches of land that rise and fade from the bay lack proper names. But most share common characteristics:
- The shorelines are black with oil.
- They are loud from the sound of the propane guns.
- Stubby, brown pencil-thick roots stick up from the oily ground to serve as a reminder that grass once grew there.
- Between these roots are puddles of thick tar with pink and purple sheens circling the top, much like bubbles.
- There are trails of plywood placed along the shore so people can walk.
And they all smell like the dirty part of a Jiffy Lube.
"It's a very strong scent of oil," says Todd Baker, a state biologist with the Louisiana Department of Wildlife and Fisheries. The state organized this trip for media members, and Baker is the point man. There are about a dozen people dragging cables and cameras and recorders, trying to capture the perfect picture while navigating the plywood trail.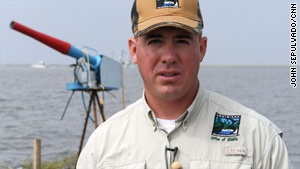 Todd Baker, biologist with Louisiana Wildlife and Fisheries.
Baker has been answering questions for two hours, but every time he appears to tire, he catches a second wind, and powers through with new words for the old answer. He seems to relish each opportunity to get news of the "oil islands" out to the public through multiple media outlets.
"I mean, there's certainly restoration that could be going on right now!" Baker tells a reporter. "We know we have impacts, you can see them here. So there should be restoration ongoing as soon as possible."
Someone asks, "Isn't that a conversation you should have with BP?"
Baker shrugs.
After the BP oil spill, these islands turned black. It will be years, Baker says, before the ecological damage is assessed.
"Look around you, we still have oil here," says Baker, "...so to take an assessment, a snapshot right now, and call it done, we can't do that. ... This has to be cleaned up."
On the boat ride out to this link in the island chain, there are several cleanup workers carrying shovels and rakes and trash cans. They wear yellow boots and white T-shirts, which makes for quite the contrast with any black oil splatter their uniform may absorb. Baker says he can't remember the last time he saw one of those crews.
"You know I really don't know," Baker says. "They've been here. ... However, the fact they're not working here (at this particular island) may lead you to believe that they're not coming back."
While Baker is talking, on the other end of the plywood trail, two grown men are chasing a thumb-sized crab the way young boys chase lightning bugs. One is a state biologist, the other a photographer.
They search for the crab in the green part of the grasses. They are persistent in their search and quite thrilled when they finally capture a picture of the critter in the grass above a deep oil puddle.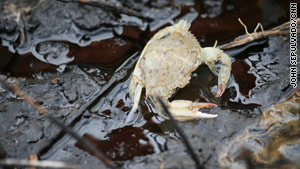 The exoskeleton of a dead crab is a common site here. Living crabs are much harder to find.
"We have a live animal here," says the state biologist, Harry Blanchet. "A live animal in a situation that looks as desolate as this is just something that's noteworthy. This particular crab is not anything that has any economic value itself, but it's going to be food for a lot of marsh-dwelling birds."
Well, not if the guns are doing their jobs. The boatload of reporters sets out for another island. Unlike the previous island, this one is untouched by cleanup crews. It looks exactly the same.
A woman who works for the Audubon Society, Melanie Driscoll, pulls out her iPhone and it begins emitting loud chirps and clicks. "It's a bird call app," Driscoll explains. "I'm trying to see what birds may be here."
She points to the thick grasses inland, away from the shore. Searching for birds, Driscoll says many of the other barrier islands around Louisiana look similar.
She goes on to tell me strange things are happening on these islands. For example, she says, there were these very odd tar balls found a couple of weeks ago during a routine beach comb.
"We were seeing perfectly cylindrical holes all the way through the tar. And then we broke up the tar ball and found the worm, and we thought, 'Oh my gosh, what's that going to do to the Wilson's Plover?'
"There are only 6,000 Wilson's Plovers in the world. And then we recognized there is this direct threat where the worms are eating the oil and the birds are eating the worms. It's just sickening, and it made me very sad and very angry."
A small brown bird with a triangle beak hid in the tall inland grasses. Then a gun went off and it flew away.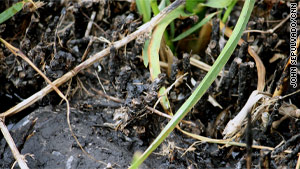 A standing pool of oil on a Barataria Bay barrier island.
BP issued a statement saying it is committed to cleaning up these islands. They didn't elaborate on the specifics of any particular island.
There are some independent scientists who say things actually could be worse. More grass could have died. The grass roots keep the island dirt from eroding right back into Barataria Bay and sinking like Atlantis. These scientists say it could be 10 years before anybody has an idea of what damage has been done.
In the meantime, on the "oil islands" there is a new ecological reality: Small crabs are celebrated because they are alive, and worms eat oil.
On the way back in to port, the boat captain gets a call. They found an oiled bird. We turn back around to get pictures as it's transported. It is a large bird with a white head and brown body covered in black oil. The TV crew is interviewing Baker about the downed bird. The reporter asks him how common it is to find oiled birds.
"It's not unusual," Baker tells them with the same energy he had four hours prior. "It has de-escalated a lot lately. But we're still picking up dead birds now ... with traces and spots and light oil on them. But it's not rare by any stretch, but it's not common either."
Sometimes the guns work.
FOLLOW THIS TOPIC